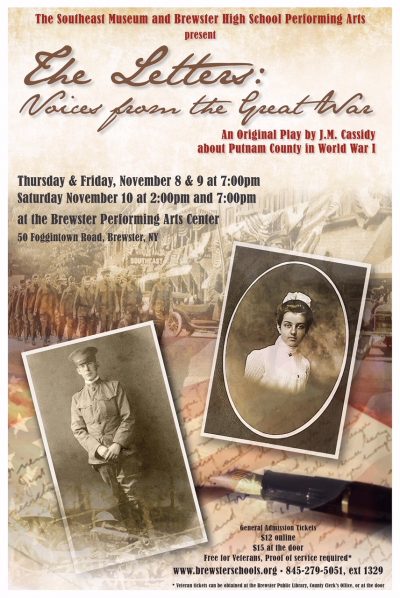 We are a storytelling species. Sometimes stories can be told orally by a single individual. Sometimes stories can be told through exhibits. And sometimes stories can be told through plays. Plays provide an opportunity for local participation as well. I am not referring to the musical "Hamilton," unless your site happens to be one where Hamilton lived or had a connection. Instead I am referring to the stories of the local community itself, stories that can be brought to life, especially ones that can be brought to life with local high school students performing in the roles of real people from their own community.
BREWSTER HIGH SCHOOL PRODUCES ORIGINAL STAGE DRAMA ABOUT WORLD WAR I
This November, during the centennial of the armistice from the war to end all wars, the students at Brewster High School performed in an original play about the participation of Brewster residents in World War I. The drama was performed on November 8-10 at the Brewster High School almost exactly 100 years to the day since the Armistice.
The play drew on the newspapers, diaries, letters, and archives in the community. A partnership was forged between the Performing Arts department at the high school and the Southeast Museum located in the downtown to conduct the necessary research and to write the play.  The stories included such people as:
Brewster High School alumnus Sergeant Daniel Brandon, Putnam County's only prisoner of war,
Ruby Heartfield, a YWCA volunteer in the hospitals of Paris,
Sergeant Clinton Peterson of Kent, a mixed race soldier who served with the 369th Harlem Hellfighters.
According to Amy Campanaro, Executive Director of the Southeast Museum:
We are in an extraordinary position to celebrate local history through the voices of those who served through their actual letters and diaries kept during the Great War.  These compelling tales of service, along with the atrocities of a new kind of unimaginable war, came together as voices from the past worthy of commemoration.
Andrea Perdicho, Brewster High School Performing Arts Theatre Teacher, Co-Creator and Produce, said:
These letters and diaries came together to tell an amazing story of service from a war that was unprecedented for its time. These letters speak from the training camps, trenches, prison camps, aerial dogfights, hospitals and gravesides.  Each letter is a historic treasure that was amalgamated into an insightful and very entertaining script.  
The show director Alex Siriani, Ph.D., Educational Theatre, NYU Steinhardt, said:
We are excited to reinvent the traditional fall drama utilizing local history. We're investing in hometown stories and doing something totally original.  It's challenging but equally satisfying and exciting at the same time.  Plus, the students on stage, in the crew and operating tech are all getting the experience of building a production from the ground up, and doing an amazing job.
The play was written by local resident J. M. Cassidy of the Southeast Museum.
As you might expect, the performance generated good local publicity. I cannot help but wonder how many possible descendants of these people in the play were in the audience or perhaps even performing in the role of an ancestor. Here we have an excellent example of how an historical society can reach out to engage an audience beyond the routine fourth-grade field trip. This is an experience the high school students will never forget…and can include on their college applications. Those World War I memorials that so many towns have will take on a different meaning from this point forward.
Every community has a World War I story to tell about their own community. And that is just one of many stories in a community which can be brought to life.
LIVE IN THE LANDSCAPE: "PERFORMING OLANA"
Another possibility for a performance is to use the historical site itself as the stage. Not all sites can do this, but many have grounds where such performances can be held as the newspaper headline above indicates. In this instance, the Ancram Opera House collaborated with The Olana Partnership to create a newly devised theater performance to take place on the grounds of Frederic Church's masterpiece, Olana. Letters, landscape, and paintings combined to create an immersive event in which performer and audience journeyed together into Church's art. As a matter of policy, the Ancram Opera House's intention is to develop innovative works that capture life in the region and connect residents and visitors through locally developed performing arts experiences.
This artistic production was a professionally produced play. It was a work of historical fiction drawing on Church's paintings, letters and family life. It challenged the audience to respond to the question of how to live artfully in rapidly changing and polarized times. It did so by having the audience move through the landscape with the actors. These wanderings took them to the site's orchard, barns, lake, meadows and forest. The idea was that each stop, each vignette, would resemble a living painting.
The playwright and directors worked with Olana Partnership's Director of Education Amy Hufnagel. She believes Church was trying to answer these questions during his time at Olana.
With a theater project, we can really go into untold narratives. A site like Olana should never have one story, one official house tour. We should always be adding voices, handing interpretation over to other people. My experience to date has been that amazing things happen when you do that.
STORYHORSE THEATER
The final example also comes from the Hudson Valley. Storyhorse Theater was cofounded by local residents and professional actors Jeremy Davidson and Mary Stuart Masterson, best known for her role in "Some Kind of Wonderful," a high-school based story. The theater presents dramatic readings of regional stories, performed in venues meaningful to the narrative. All performances are followed by "talkbacks," where the audience members are invited to join in conversation with the Storyhorse Theater staff, performers, and the invited experts to discuss their own experiences related to the topic. History-related performances include:
THE QUIET EXECUTION OF FRANK L. TEAL
This reading was based on interviews, letters and the investigation into the unsolved murder of surveyor Frank Teal. The production was written by Jeremy Davidson and produced and directed by Mary Stuart Masterson & Jeremy in association with Historic Red Hook. What community does not have a good murder mystery?
THE KEPT PRIVATE
This performance was based on American Revolutionary War pension application of a 93 year old black farmer from Milan named Andrew Frazier submitted in 1834. Information came from an Earth Science survey of the African American burial grounds in Rhinebeck, historical documents, conversations about race in the communities, and the Rhinebeck Historical Society. One issue was whether he had been a free black entitled to a pension or a slave and not entitled.
According to the Storyhorse Theater website:
We would love to bring our stories to your school, community, church group, or fundraiser.
Please contact us.
It seems to me here is a terrific opportunity for a collaborative effort with high schools following the Brewster High School example of working with a historical society to bring to life the stories of a community. Based on telephone conversation with Jeremy Davidson, Storyhorse Theater would consider a workshop for high school arts/drama/history clubs on how to do this.
In fact, I propose that a workshop for schools and history organizations be held with presentations by Brewster High School/Southeast Museum, Olana, and Storyhorse Theater. The sharing of knowledge of how do create such a performance would help other communities to do the same. Readers of my posts may recall individual Stockbridge Indians reading letters written by their own ancestors at a conference.
I am sure there are other examples of plays that have been performed based on the history of an individual community. If you have one, please share it with me and the history community. Perhaps workshops can be held in other regions and through state and regional organizations to show how local history storytelling can be used through plays and dramatic readings to engage a community audience including high school students.