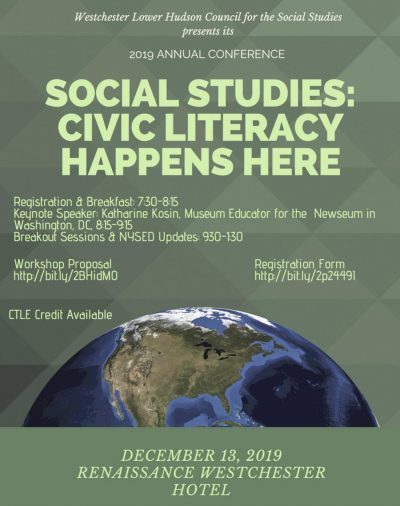 As the year draws to a close, so does my review of the conferences I attended or would like to have attended in 2019. The final one is the annual conference of the Westchester/Lower Hudson Council for the Social Studies held on December 13 at a hotel in West Harrison in Westchester County. I am on the board of this organization. In this blog I will focus on the sessions related to civics and to local history.
CONCURENT SESSIONS I
HUDSON VALLEY AND THE CIVIL WAR
Rob Buccheri and Keith Reilly, Carmel School District, Putnam County
The Hudson Valley was vital for providing the manpower and manufacturing power to defeat the Confederacy. The presentation will highlight the people and places of the Hudson Valley that contributed to the cause. The presentation will also examine how the issues of the war still resonate today.
Both Rob and Keith have participated in IHARE Teacherhostels/Historyhostels and are re-enactors. They are well-traveled throughout the sites in the Hudson Valley and have offered professional development classes of their own. Unfortunately I cannot comment on what they presented since my own session was concurrent with this one. I can note that many counties have Civil War stories to tell. Just because the war was fought elsewhere does not mean there are no historical records here.
There were people involved who wrote letters from the battlefield and who tried to maintain life at home while their loved ones were away.
There were Confederate prisoners of war held in northern prisons.
There were draft riots.
There were presidential elections which should have produced newspaper coverage as well as vote totals.
Here is a perfect area where history organizations and schools should be working together. The Civil War is in the curriculum so why not make sure the story of your community is part of those lessons?
NYS SENATE EDUCATION COMMITTEE UPDATE
It just so happens that the chair of Senate Education Committee is Shelley Mayer, the State Senator of my own district. For the second year in a row, I invited her (with Board approval) to present at the conference. As best I understand, this is the only such conference she attends where she can speak directly to the social studies teachers (and probably does not any history conferences either).
She is keenly interested in civics. Much of her presentation was about her own efforts in support of various civic initiatives. One was for voter registration in the schools…and all the opposition to it. And yes, at times the discussion did veer off strictly social studies matters into more general education matters such as the funding of schools by the state.
Local history in the classroom was a topic but in New York State the Regents has more to do with setting the curriculum than the Legislature. The Regent representative for our region recently died. This led to the State Senator asking the attendees if they had had anyone they would like to nominate for the position. Appointments do have to be approved. Her preference is for someone with recent school experience. This means not someone drawing on their experience when they were a student decades ago or even a former teacher from a previous century and millennium. Rather she seeks someone who knows what is going on now in the schools.
My favor part of the session was when she referred to "my bill." As regular readers of my blog know, I have taken exception to the emphasis to what has happened with slavery outside the state while ignoring what has happened inside the state. The historical organizations in the state have little material based on events in Virginia in 1619 or Texas in 1865. Therefore I have recommended a focus on what happened here: the upcoming Bicentennial of the legal end of slavery on July 4, 1827. I am pleased to say that State Senator Mayor responded favorably to that suggestion. She will be introducing a bill which I partially wrote (hence her references to "my bill" during this session) to create such a commission. I will be writing more about this in January.
CONCURENT SESSIONS II

ROUNDTABLE: TEACHING ABOUT IMPEACHENT
Mary Ellen Klock, Somers Middle School and Debbie Minchin, New Rochelle High School, Westchester
Join teachers in a discussion on how they have approached the impeachment hearings and proceedings in the middle school and high school social studies classes. Share ideas and materials that work effectively.
We are living in historic times. One day, schools and historical organizations will be looking back on this time just as we are doing to the Civil War as noted in an earlier session…or for that matter just as today in the centennial we look back on women's suffrage. What records should municipal historical societies and historians keep about the local activity in their communities on suffrage, impeachment, or the current civil/culture war? Since so many local newspapers have disappeared (another future blog) and so much is expressed online, the challenge for municipal historical societies and historians on how to maintain records of current events that will become historical is a great one assuming you even want to. The reality is that it often much easier to ignore the history around us than to document it.
In a political blog which I do not disseminate to the history lists (The Gospel According to Rick Perry and the Rule of Law), I referred to the Declaration of Independence as an impeachment document. We were born as a country when we itemized a list of abuses of power by King George III and voted to remove him from office over us. I mention this because we are beginning preparations for the 250th birthday of the country and if you do not think the present circumstances will filter into discussions about the American Revolution, think again.
Speaking of the American Revolution…
THE SHOT HEARD AROUND THE WORLD: ARE YOU READY FOR THE 250TH ANNIVERSARY OF THE AMERICAN REVOLUTION?
Joe Ryan and Bill Wienecke, Living History Education Foundation
A Living History approach to the opening shots of the American Revolution: is there a reason why? Did the technology of death and the mathematics of murder play a role in starting the Revolution? The weapons and tactics of the 18th century are key factors in what happened at Lexington Green and the Bridge at Concord.
These two people are re-enactors and Bill participated in IHARE Teacherhostels/Historyhostels before he retired as a social studies teacher from the Somers Middle School (Westchester). The Living History Education Foundation has enormous physical resources for re-enactment. It used to offer programs at sites such as Fort Ticonderoga but now is more of a school visit and local operation. I was unable to attend this session since my own presentation was at the same time.
SLAVERY IN WETCHESTER COUNTY: FROM RYE TO PHILIPSBURG MANOR
This year marks the 400th anniversary of the beginning of slavery in the British colonies. What is the Westchester story? Juneteenth commemorates an event in Texas. What about July 4, 1827? What is Westchester's African, especially Angolan, history? Where is it in the curriculum? Let's talk.
My own PowerPoint presentation is an outgrowth of my involvement in Westchester's observation of the 400th anniversary of 1619. My investigations led me to realize how much more important Angola was than Ghana here. In 1685 voyage chartered by Frederick Philipse led to nine Angolans being brought ashore in the Town of Rye where I live. Most of my talk actually focused on Africa itself and its connection with Portugal. There will be a followup program on April 15, 2020, at New Rochelle High School to concentrate on events in Westchester and how to include local slavery history in the curriculum.
CONCURENT SESSIONS III
CHOOSING SIDES AT THE START OF THE AMERICAN REVOLUTION IN WESTCHESTER COUNTY
Rick Forliano, Saint Paul's National Historic Site, Eastchester Historical Society
After viewing a power point presentation consisting of recently uncovered documents, paintings, illustrations, pictures, maps, and political cartoons, participants will be asked to decide at the start of the American Revolution whether they would be a Patriot, Loyalist, or decide to remain neutral.
Rick also is a retired middle school social studies teacher, the Town of Eastchester historian, and part of the Westchester American Revolution 250th organization.
I think the informal consensus of the attendees was "Go away and don't bother me." That actually was the decision of many colonists but sometimes it was hard to avoid taking sides. Here in Westchester we were known as the Neutral Zone: north of the British in New York and south of George Washington. There were a number of lesser-known battles here. Perhaps the most famous example of the three geographical regions in the County occurred when John André attempted unsuccessfully to cross from the Patriot north to the British south and was caught in between.
Lately we have been hearing a lot about "loyalty," treason," "spies," and how they took care of such people in the old days. At some point the Supreme Court will be ruling on how much a king the office of President really is. For better and for worse, one can easily speculate based on where people stand today, where they would have stood 250 years ago. In another political blog which I did not disseminate to the history community, I broached this subject in "You'll Be Back": Hamilton's King George III Got It Right." We may be able to get through the 2020 elections without the issue of which side would you have chosen back then, but my prediction is the question may become asked more and more prominent as the years pass. It is not only social studies teachers in the classroom who will have to deal with who would have been a Loyalist and who would have been a Patriot and how does it relate to the present political battles, it is the historical organizations as well.