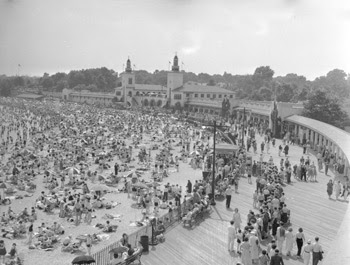 When I was growing up in New Rochelle, more years ago than I care to remember, one required trip in the new suburban world which was being created was to Rye Playland. It was a standard family and summer camp trip from a more innocent time. I wasn't even able to enjoy all the rides since I wasn't tall enough to reach the red line that marked the difference between childhood and adulthood. Of course, soon after crossing that threshold, the summer camp trip ended and there were other places to go.
One of those places was Davids Island in New Rochelle better known as Fort Slocum. I only went there once and with my father to a site that had already seen better days. My father, Boris "Bob" Feinman, who was active in the civic affairs of New Rochelle, had an idea for the site long before Con Ed, Trump, and Xanadu were proposed and shot down. He envisioned a Huguenot Village. After all, if Rockefeller could create a colonial village in Virginia and Ford could create an industrial one in Michigan, why couldn't New Rochelle, Queen City of the Sound and home to Dick Van Dyke, create a village in the image of its ancestral mother, La Rochelle, France?
In the years that have passed since then, not much has happened. Davids Island deteriorated more and more each year until the years became decades and emergency cleanup was required. Now there is nothing historical left to preserve. Still it remains an island of dreams where it is possible to imagine something creative, something bold, something visionary one day emerging from its dilapidated and abandoned present.
There is a third site to consider in this survey of historical sites along the Sound: the proposed Westchester Children's Museum (WCM) on the Playland boardwalk right where Tom Hanks became Big. The renovated New-York Historical Society building will be opening November 11 and it includes a children's history museum. Since I have not yet had the opportunity to see it, I can't comment on its particulars. I can say as an education trustee of the WCM, I have long advocated that it not simply be a children's museum that happens to be in Westchester but that it be a Westchester children's museum that draws on the history and ecology of the region and works with the local historical societies.
So what would I like to see happen:
1. Huguenot Village as a cultural and heritage center designed in the style of a French village, affiliated with a college promoting French and international studies, and as a destination point that brings revenue and tax dollars into the community.
2. Playland Theater on the Sound, like the Shakespeare summer stock at Boscobel overlooking the Hudson River.
3. Playland Long Island Sound Institute in affiliation with college, like the Beacon Institute for Rivers and Estuaries in Beacon.
4. Playland Film Center, like the Jacob Burns Film Center in Pleasantville.
5. Playland Chautauqua, like the original Chautauqua — still going strong and where people used to arrive by boat.
6. A trolley from the Rye train station — as Cold Spring and Garrison have — to the Rye Cultural and Recreation Center with stops at the Rye Historical Society (Square House), Rye Nature Center, Jay Heritage Center and Marshlands Conservancy.
7. Westchester Children's Museum based on the history and ecology of the region perhaps drawing on the model of the New-York Historical Society.
We do not need to reinvent the wheel, we just need to benchmark what has worked elsewhere in New York and to create the Long Island Sound Environmental and Cultural Center (LISECC) as a year-round destination point. Let's see what happens.
Photo: Rye Playland circa 1930.