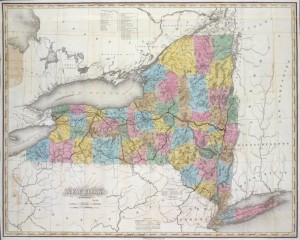 New York State Historian Bob Weible recently asked if New York State History Month was dead. History Month was born in 1997 by an act of the New York State Legislature as an addition to the Arts and Cultural Affairs Law. It designated November as the month and defined the purpose of the event to celebrate state history including to recognize state and local historians.
In addition, the Education Department was authorized to promote the month although no specific suggestions were made beyond having student essay contests. The program limped along on a scattered and haphazard basis until 2002 when it apparently died without even the benefit of a funeral.
Bob is a strong advocate of public history. Previously he was president of the National Council on Public History. He wrote an article he wrote in 2008 entitled "Defining Public History: Is It Possible? Is It Necessary?" where he notes that at one time the American Historical Association sought to professionalize history, including historical societies, teachers, and amateur historians, but that it became a professional organization for scholars. The American Association for State and Local History (AASLH) split from the AHA in 1940 to address the other groups. I confess to not being too familiar with this organization, but they did ask me to contribute an article for its winter issue based on my piece "Bedford Falls Historical Society". It might be interesting to know how the other states are handling such things as state history months.
Bob's own personal experience sheds light on what New York State might do if it were serious about promoting local history. He sent me an article he wrote in 2011 for the Public Historian entitled "Vision and Reality: Reconsidering the Creation and Development of Lowell's National Park, 1966-1992" which draws on his own work there. He cites the Superintendent of Schools in Lowell maintaining that the city's cultural heritage was the key to its future. Lowell's buildings were to be props to tell "human stories" and the city itself was a living museum or "urban laboratory." The Superintendent's vision was to create a master narrative for the people so Lowell would be a place "that created a oneness among all the ethnic groups and a great sense of pride among all Lowell's residents."  Isn't this exactly what the Common Core Curriculum and Path through History should do? This approach was even intended to "develop a lively tourist industry."
One early advocate of this approach was Lowell City Councilman Paul E. Tsongas who would later go on to national fame. Tsongas grew up in Lowell and in a speech he declared, "What I do regret is that I never learned about Lowell."  He didn't know about the canals which ran through the city, the redbrick mills, or the immigrant groups which came to his city. Identity was not important in education said Tsongas or today we might say "a sense of place." Weible quotes Tsongas as saying, "We can help many Americans rediscover a much neglected past." The remainder of the article describes the trials and tribulations in making this vision of Lowell as a national center for the study of industrial history a reality.
This Lowell experience provides some insight into the types of things the new State Historian would have liked to accomplish in New York. It hasn't worked out that way. The budget for the New York State Historian does not provide for the resources, including staff and travel, for the State Historian to become a leading advocate for local and state history. Much of his time is consumed by being a museum curator at the New York State Museum. There is insufficient time and staff to attend/create regional meetings that the 1600+ municipal historians can attend. He does not appear to be a lobbyist with the Tourist or Education (Curriculum) departments and your guess about his involvement in the Path through History project is as a good as mine.
For example, Bob only learned of the New York History Month through New York History when Bruce Dearstyne, formerly of the New York State Archives, wrote a post in 2012 mentioning it. Since that time 2012 and 2013 have come and gone with little being done to revive it. The Governor certainly didn't include any shout outs to state and local historians in his State of the State address. Perhaps since municipal historians are another unfunded mandate from Albany, it is just as well. Even with all the fuss about the Path through History and the taking credit for June events that organizations would do even if the Path didn't exist, the State did nothing about State History Month.
Bob would like to see New York State History Month revived and made healthy. In his post, he challenged the history community to work together with open minds to make it work. He referred to the dialog which began last June at the NYSHA meeting in Cooperstown in a private meeting with the heads of various historical organizations and the realization of the need to work together.
Gerry Smith, APHNYS president who participated in that meeting, expressed similar views in the newsletter to the public historians. With the upcoming APHNYS, MANY, NYSCSS, and NYSHA conferences with Bob delivering the "State of the State's History" address at APHNYS, there are plenty of opportunities to continue the dialog. Even the Path through History Summit could be a setting for productive discussion and not just a self-congratulatory PR extravaganza. I am sure we all look forward to hearing about the results of the Cooperstown meeting and having the dialog Bob wrote about last October.