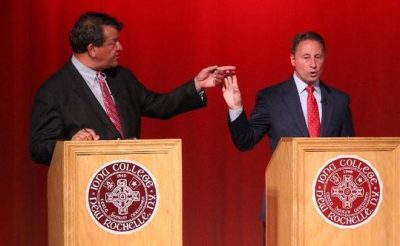 Westchester County where I live is holding an election for county executive this year. The two candidates are the incumbent Republican Rob Astorino who previously ran for governor and did well upstate but not downstate and State Senator George Latimer who has a long political career from local to county to state offices and has supported IHARE with Member Items for educational programs.
A few days, a rather vigorous debate was held at Iona College. Prior to the debate, a local newspaper invited people to submit questions. I submitted something on local history in the county. When the topic was not raised at the debate which I attended, I sent an email to both candidates, the Westchester history community, the media, and elected officials.
Here are the questions I asked:
Thank you for an invigorating event just a few hours ago at Iona. I would like to take this time to ask about an issue which didn't make the tax-based debate.
As county executive what will you do to support Westchester residents developing a sense of place, a sense of belonging, a sense of community in the county and in their municipalities during this time of division?
1. Will you support creating full-time county historian as the smaller Dutchess, Orange, and Putnam counties have? [Note – these counties have Republican county executives as does Rockland which has a county historian who has a fulltime day-job.]
2. Will you encourage Westchester municipalities to have historians as required by law?
3. Will you support holding an annual Westchester County history conference? [This draws on the county conferences I initiated in Dutchess, Greene, Orange, Putnam and Ulster too many years to count.]
4. Will you support holding an annual high school local history conference? [As Rockland County has held in lieu of the county history conference and attended by the two Republican county executives.]
5. Will you support developing cultural heritage tourism especially in the Hudson River towns and by making better use of the Ramble and Path through History?
6. Would you speak at the annual conference of Westchester Social Studies teachers in December on local history in the schools if it can be arranged?
Below are the responses I received.
Responses from the people who also sent them to the two candidates and/or the media
1. Thank you, Peter. These are questions at the core of our identity and our economy, and I do hope George Latimer takes them seriously (Marilyn Johnson, author and historian).
2. I agree with Peter. It is important to have a full time historian funded by the County. That person should work hand and hand with the Westchester County Historical Society to promote the rich historical heritage of Westchester County. I have been the Eastchester Town Historian for 30 years. When I first was appointed town historian we had a county historian who coordinated work of the many different municipalities. Westchester County does not take advantage of its historical heritage and potential for tourism because we do not have a single individual with secretarial support to do the job (Rich Forliano, town historian, social studies teacher).
3. Excellent questions that beg for affirmative replies! The candidates should take notice.
The past is more often than not the wise guide for the future. And even when that is not true, the stories, documents, footprints, deeds, battles, etc. are our priceless heritage. We need to celebrate and remember it and preserve it for the next generations. Elected officials can and should help. Sharing history is free and is not a political football! Thank you for all you do.
(Susan J. Thompson, Town Historian North Salem)
4. BRAVO!!!!! Currently, it is my understanding they pay a stipend to the Westchester County Historical Society, a 501 (c)(3). That is not the same, in my view, as having a single person serve as historian. All those counties have wonderful historians…especially Orange County. To my mind, that is exactly what a County historian should be doing!
And BRAVO for the other questions, as well. How can I champion this effort? Can I ask the same questions, via email? I've copied two younger members who are on the "same team." This [the Orange County Historian monthly enewsletter which I also receive] exemplifies what a County Historian should be doing, in my view. I am using this as I prepare a letter to my elected officials, this weekend (Grace Zimmerman, president of the Somers Historical Society – we are pursuing the possibility of having a teacher local history county conference at the local high school).
Reponses from people who only sent the reply to me
1. Excellent (from an active local historian who also forwarded the original post)
2. Good for you, Peter (officer in a local historical society).
3. These ideas sound great. As you may know, Peter, I have a PhD in history from the CUNY Graduate Center. I'll be happy to be supportive however I can (a county legislator – we will pursue after the election if the incumbent wins re-election).
4. As a former history teacher of 38 years, 22 of which were here in Westchester, I certainly hope all the answers to your 6 questions are yes (also a volunteer for Latimer).
5. None of these things need to be supported by tax dollars because they are all happening already. People in Westchester want fewer public expenses, not more. Just because something is mandated by law, doesn't make it worthwhile. American history is the history of bad laws that needed to change and the brutally difficult work of changing those laws. I think we need to do a better job promoting the resources we have. Middle and working class Westchester residents are drowning in taxes and housing costs or leaving altogether. There are already many historians, many conferences, and many ways to study local history (board member of a local historical society).
6. Very nice Peter. I'm glad you did it (re-enactor and retired social studies teacher).
7. Very important questions which I hope are/were addressed. Thank you (retired teacher)
So far, I have had no response from the two candidates. It is quite possible that neither of them are even aware of the questions. The email was sent simultaneously to the two candidates to their official email addresses as county executive and state senator. That means most likely a member of the staff opened the email. At that point it may have been filed in the circular file, filed as pending depending on the election results next week, or passed on the candidate. Given how close we are to the election it is understandable why a candidate might not chose to open a new issue at this time. However even a pro forma thank you and we will look into it after the election would have been nice. Another possibility is a candidate spoke with/emailed the president of the county historical society whose organization does receive a stipend from the county and is located on county premises. We have not had an individual county historian in decades.
I did receive an email from and spoke with someone from the campaign staff of one of the candidates. The individual professed a personal interest in history and that we would revisit the questions I raised after the election depending on the results. My impression was this person became aware of my email not through the candidate but from one of the other people who received the message, a member of the history community or an elected official, who thought it was important and decided to contact the campaign staff directly. Maybe after the election if that candidate wins I will learn the identity of this person.
So that's the story so far. Now it means waiting for the election.
Readers of this post are invited to raise these questions in their own county revised to take into account any relevant local developments. It would be interesting to learn how other county executives might respond. There also will be a new state legislative session starting in January. What should be ask of our state representatives?
P.S. As it turns out the two candidates have other problems to address. The above-the-fold headline in the paper today, October 28, 2017, is "GOT SOME EXPLAINING TO DO" about two separate scandals, one for each candidate. Perhaps the election will become part of county history in a way neither anticipated.