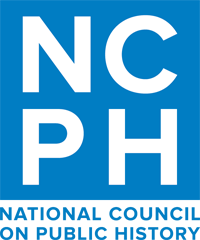 WHO DOES PUBLIC HISTORY?
Public historians come in all shapes and sizes. They call themselves historical consultants, museum professionals, government historians, archivists, oral historians, cultural resource managers, curators, film and media producers, historical interpreters, historic preservationists, policy advisers, local historians, and community activists, among many many other job descriptions. All share an interest and commitment to making history relevant and useful in the public sphere. The vast array of positions available can be seen on our Jobs page, updated weekly. [from the NCPH website]
The National Council on Public History held its annual meeting in April in Indianapolis. I did not attend but New Yorkers did. Most prominently Christine Ridarksy, the City of Rochester historian and Association of New York State Public Historian (APHNYS) board member, presented at the conference. She reported on the NCPH at the annual APHNYS conference including the creation of a mini-NCPH conference to be held in conjunction with the annual APHNYS conference in 2018 in Rochester.
Below are the relevant sessions from the review of the program. You will notice that some require an additional payment.
Public History Educators' Forum – Ticket – $25
This annual event is an opportunity for faculty to share ideas about running graduate and undergraduate public history programs and to talk about university, departmental, and a wide variety of other issues. The discussion is always lively. Organized by the Curriculum and Training Committee and co-sponsored by The American West Center, University of Utah and Amherst College American Studies Department.
QUESTION – HOW MANY COLLEGES IN THE STATE OFFER PUBLIC HISTORY PROGRAMS AND ARE THERE EVER SIMILAR SESSIONS TO THIS ONE HELD AT ANY OF THE STATE CONFERENCES?
States of Incarceration Traveling Exhibit Opening Reception (Evening)
FREE and Open to the Public [with the development of a museum at Sing Sing this topic may be of relevance here in New York]
States of Incarceration, a project of the Humanities Action Lab, is a traveling exhibit representing the efforts of over 500 people in 17 states to document and explore the past, present, and future of incarceration in America. Teams of students and community partners across twenty cities, including Indianapolis, collaborated to explore incarceration in their hometowns. In April, coinciding with the NCPH conference, the exhibit will make its local debut at the Central Library. Indiana-specific content was designed by public history and museum studies students at Indiana University – Purdue University Indianapolis, in partnership with the Indiana Medical History Museum and the National Alliance on Mental Illness. NCPH attendees are invited to attend the reception, which will include a viewing of the exhibit, a program, and light refreshments.
Strategize Me! Personal Career Planning for Mid-Career Professionals
Ticket – $55
Facilitators: [New Yorkers] Anne Ackerson, Leading by Design; Linda Norris, Independent Consultant
The one thing that can be almost universally said about people who work in public history is that we're here by choice—but once you're in the profession, what then? "Strategize Me! Personal Career Planning for Mid-Career Professionals" is a participatory workshop that invites mid-career public historians to re-energize their career aspirations by giving them tools, ideas, and the space to bring a fresh focus to shaping the next stage of their career. Co-sponsored by the University of Massachusetts Amherst. (Limit 60 participants)
QUESTION – WHAT ARE THE CAREER PATHS AVAILABLE TO PUBLIC HISTORIANS IN THE STATE? ARE THERE ANY SESSIONS AT ANY OF THE STATE CONFERENCES THAT ADDRESS THIS ISSUE? NOT EVERYONE IN THE HISTORY COMMUNITY IS RETIRED OR HAS A SECONDARY JOB WHILE THE SPOUSE EARNS THE REAL MONEY AND HAD A CAREER.
Shared Authority, Edited Stories: Wikipedia GLAM Experiences in Nashville
This session explores how GLAM (galleries, libraries, archives, and museum) institutions in Nashville have collaborated to train Wikipedia editors and build a growing community of diverse editathons across the city. Each participant brings questions about the uses of digital formats like Wikipedia as teaching tools, how collections objects can tell neglected stories on Wikipedia, how specific collaborations to build citizen-historian-editors worked, and connections between Nashville and the African American art scene in the early 20th century.
Facilitator: Mary Anne Caton, Vanderbilt University
Participants: Glenda Alvin, Tennessee State University Clifford Anderson, Vanderbilt University
Deborah Lilton, Vanderbilt University, Rebecca VanDiver, Vanderbilt University, Amber Williams, Nashville Public Library
QUESTION – IS THIS SOMETHING CITIES IN THE STATE COULD DO?
Doing Prison Public History: Examples and Challenges
How are the histories of prisons, criminal justice, and mass incarceration conveyed to the public? Prison history is integral to, yet strangely invisible in, the history of the United States, internationally notorious for its penal system. From public historians' role in the media regarding contemporary prisons, to interpreting incarceration in museums, to revealing the ubiquity of prison labor, this panel will examine how prison is intertwined in American history, life, and culture.
Facilitator: Clarence Jefferson Hall, Jr., Queensborough Community College (CUNY)
Panelists:
Developing Prisons Today: Questions in the Age of Mass Incarceration at Eastern State Penitentiary, Annie Anderson, Eastern State Penitentiary [THE ROLE MODEL FOR THE SING SING MUSEUM]
Made in the USA: Prison Labor and the Invisible Foundation of Philadelphia, Joanna Arruda and Holly Genovese, Temple University
Doing Prison History in Prisonland: The New York Experience, Clarence Jefferson Hall, Jr.
Interpreting Incarceration: Penal Tourism at the Museum of Colorado Prisons, Julie Peterson, University of Massachusetts Amherst
Podcasts and Public History: A Roundtable
Podcasting gives historians an opportunity to engage with the public in their everyday lives, yet questions remain about why, when, and how to create a podcast. In this roundtable, public historians who have created and managed podcasts will discuss strategies, tips, methods, and reasons why podcasting is a powerful tool to connect multiple fields of history to larger audiences.
Facilitator: Robert Cassanello, University of Central Florida
Participants: Beth English, Princeton University
T. Evan Faulkenbury, State University of New York at Cortland
Edward T. O'Donnell, Holy Cross College
Lesley Skousen, Southern New Hampshire University
At present we have at least two radio history shows in the Mohawk Valley and Rockland County with the broadcasts then being made available as podcasts. I have advocated for a state history podcast and my understanding is the state historian is looking in to it (not necessarily because I suggested it; I am hardly the only person to be aware of them)
Stepping Out of the Reading Room: Public Historians in Libraries
Libraries often exist at the crossroads of communities, acting as a place for research, study, meetings, and much more as the diversity of services offered by libraries continues to expand. As interlocutors between the public, scholars, and authors, staff at libraries often find themselves at the intersection of multiple roles, including librarian, archivist, public historian, and event planner. Drawing from their experiences working in public and academic libraries, each panelist will discuss the diverse ways in which they act as public historians in their libraries. This includes planning lectures, exhibits, and workshops, as well as archives work and engaging in community projects and partnerships. Panelists hope to demonstrate the diversity of public history work being done in libraries as well as inspire the audience to implement new or strengthen existing programming and outreach initiatives at their own institutions.
Facilitator: Hannah Schmidl, Princeton Public Library
Panelists: "They're Just Like Us": Using College Archives in Documentary Research Classes to Increase Student Engagement and Transliteracy, Susan Falciani, Muhlenberg College
Engaging and Educating Citizens throughout the Commonwealth and Beyond: Outreach Programs, Projects, and Partnerships at the Library of Virginia, Catherine Fitzgerald Wyatt, Library of Virginia
Primary Sources before Primary School: Introducing Primary Source Literacy to Pre-Kindergarten Patrons of Chicago Public Library, Johanna Russ, Chicago Public Library
Connecting Community and Humanities: NEH Challenge Grant at Princeton Public Library, Hannah Schmidl
Many of our municipal historians are librarians. I consider the local library to be the ideal setting for the municipal historian. It has more extended hours than the municipal hall and is more accessible to the public. It often has space for books and objects the municipal hall lacks. We should be encouraging the library to be the home of the municipal historian. Remember Mary Bailey was a librarian in the alternate reality and she would have become the Bedford Falls archivist in the sequel after George returned to the real world.
Caught in the Middle: Public Historians, the Government, and the Public
As historians serving the state and public, we often feel "caught in the middle," navigating between governmental aims and our professional goals to actively engage the communities we serve. As a roundtable of government-affiliated public historians, we will discuss case studies from all levels of government, successes and lessons learned, helping one another problem solve this sometimes-tenuous relationship and brainstorm best practices for effectively engaging the community while upholding the goals of our governing agencies.
Facilitator: Sue Hall Nguyen, City of Huntington Beach Historic Resources Board Emily McEwen, Orange County Parks
Participants: Thomas King, Indiana State Museum and Historic Sites
David Pfeiffer, Johnson County Museum of History
Christine Ridarsky, City of Rochester, NY
Kelly Spradley-Kurowski, National Maritime Heritage Program, NPS
In addition to the annual conference the NCPH is an advocacy organization. The following comes from its website.
NCPH participates in a variety of advocacy efforts, as outlined in the NCPH Advocacy Policy, to represent the interests of public history practitioners and promote historical understanding, which is of essential value in civil society.
The NCPH Board of Directors speaks out on behalf of the membership by:
• Developing partnerships and relationships with other organizations, professions and professionals, and communities;
• Engaging our many publics in conversation about the relevance of history;
• Being a strong advocate for the interests of public history practitioners in service to the public; and
• Supporting history education with a public historical perspective at all levels.
These sessions provide some insight into current issues among public historians. They are especially relevant here where we pay lip service to the idea that every municipality should have an historian. The sessions highlight the need to work more closely with the librarians in the state both by attending their conference and their attending the APHNYS one.