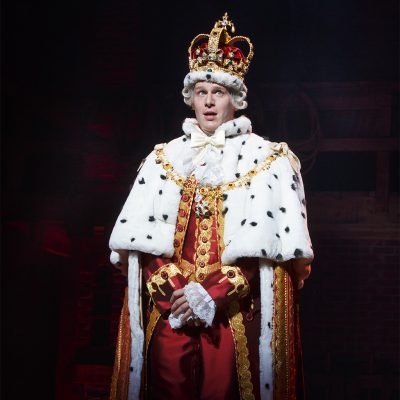 I attended the opening night of Hamilton on Broadway. It was easy. The tickets went for sale at 9:00. At one second after 9:00, I was on the website. The theater was empty. I had my choice of seats as none were taken. I could have bought as many as I wanted…and for as many performances as I wanted. If I had known better, I would have cashed in my IRA!
At the opening performance everyone was excited. The buzz was palpable. Ron Chernow was there looking somewhat shell-shocked that his book was a Broadway musical. Then the musical began. Suddenly something strange happened. A white guy appeared on stage. He was singing British pop not hip hop. He was King George III. The song he was singing was "You'll Be Back." He brought down the house. Apparently, it was the first song Lin-Manuel Miranda wrote for Hamilton and he did so on his honeymoon. Even though Jonathan Groff's performance lasted a mere nine minutes per show, he received a nomination for the Tony Award for Best Featured Actor in a Musical.
The tone and much of the language for this song appears to come from an actual address King George III made to Parliament on October 27, 1775. In the address, as in the song, George uses the words "loyal" and "subject" several times, followed by a proclamation that he will use force to put a speedy end to the revolt in America. From the address:
They have raised troops, and are collecting a naval force; they have seized the public revenue, and assumed to themselves legislative, executive and judicial powers, which they already exercise in the most arbitrary manner, over the persons and property of their fellow-subjects: And altho' many of these unhappy people may still retain their loyalty, and may be too wise not to see the fatal consequence of this usurpation, and wish to resist it, yet the torrent of violence has been strong enough to compel their acquiescence, till a sufficient force shall appear to support them.
King George III may yet prove right. As we approach the 250th anniversary of the Declaration of Independence from England, the desire for a monarchy, a life-long position where you are legally untouchable, looms large with the current president.
Let's look at the record as Shepard Smith would have reported it.
But when a long train of abuses and usurpations, pursuing invariably the same Object evinces a design to reduce We the People under absolute Despotism, it is our right, it is our duty, to impeach such Government, and to provide new Constitutional and statutory guards for our future security.–Such has been the patient sufferance of We the People; and such is now the necessity which constrains us to impeach the current Government. The history of the present President of the United States of America is a history of repeated injuries and usurpations, all having in direct object the establishment of an absolute Tyranny over We the People. To prove this, let Facts be submitted to a candid world.
He has disparaged the first President of the United States because he did not name anything after himself the way the great kings of ancient Egypt and Mesopotamia had.
He has asserted that Article II gives him the authority and power to do whatever he wants.
He has asserted that as President he cannot even be investigated yet alone indicted, tried, or convicted.
He has asserted that as President he and he alone can decide what checks and balances are to be adhered to.
He has asserted that as President he and he alone can decide what subpoenas to obey and what legislative requests to follow.
He has asserted that as President he and he alone can decide if an impeachment inquiry is valid.
He has asserted that as President that he cannot be guilty of obstruction since everybody who works for him or who is directly connected to him or by six degrees of separation is connected to him is covered by executive privilege and not subject to Congressional subpoenas.
He has asserted that whistle-blowers are traitors and should be treated as spies who should be executed.
In every stage of these Oppressions We have Petitioned for Redress in the most humble terms: Our repeated Petitions have been answered only by repeated injury. A President whose character is thus marked by every act which may define a Tyrant, is unfit to be the ruler of a free people.
We, therefore, the Representatives of the united States of America, in General Congress, Assembled, appealing to the Supreme Judge of the world for the rectitude of our intentions, do, in the Name, and by Authority of the good People of the Country, solemnly publish and declare, That We the People are, and of Right ought to be Free and Independent People; that We are Absolved from all Allegiance to this President, and that all political connection between We the People and Donald Trump, is and ought to be totally dissolved. And for the support of this Declaration, with a firm reliance on the protection of divine Providence, we mutually pledge to each other our Lives, our Fortunes and our sacred Honor.
Not exactly. On a recent Erin Burnett show, Kim Wehle, author of How to Read the Constitution and Why, expressed the view that Americans should be familiar with the Constitution. We are not a monarchy. She was correct to point out that was true in 1776 but that does not mean it is true in 2019. Maybe Hamilton's King George III was right after all and we do want a king…or at least many Americans do.
A judge found the behavior of the current President to be "repugnant" and at odds with the Constitution – but where were the lawyers to tell their client the President that it was repugnant and in gross violation of the Constitution?
A judge regurgitated the Fox talking points in legalese in a 2-1 defeat of the President – but suppose there were more Trump-appointed judges on the bench were called upon to rule in such cases, who would win then?
Trump-appointed judges still have cases to adjudicate – how will they rule on 'L'etat c'est moi' cases?
Suppose 'L'etat c'est moi' cases reach the Supreme Court – how will the Court rule?
Already people speculate on how the Supreme Court judges might rule. It is taken for granted that the Trump-appointed judges will rule in favor of their leader. It is taken for granted that the Republican-appointed judges also will rule on behalf of THE DONALD…except maybe for the Chief Justice in an otherwise tie. It may well be that the continued existence of the United States as a Constitutional country depends on the continued existence of RBG.
King George III demanded loyalty. So does THE DONALD. King George III demanded loyalty to him as an individual. So does THE DONALD. As we begin the celebration of the 250th anniversary of the Declaration of Independence, we have the opportunity not only to remember what happened but to relive it. We know there are many LOYALISTS. We have just seen them in Minnesota and Louisiana. They are united. They are passionate. They are committed. They are dedicated. And just maybe they will demonstrate that Hamilton's King George III was right.