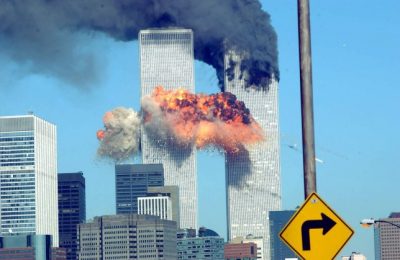 "40 Wall Street actually was the second-tallest building in downtown Manhattan, and it was actually, before the World Trade Center, was the tallest — and then, when they built the World Trade Center, it became known as the second tallest. And now it's the tallest." [Donald Trump in radio interview with WWOR as reported by Timothy Bella, The Washington Post: it's always about him]
From time to time, Presidents of the United States become known for their foreign policy doctrines. Washington had "no entangling alliances." Monroe had the Monroe Doctrine. Teddy Roosevelt spoke softly and carried a big stick. Truman had the Truman Doctrine.
Certainly, it is not incumbent on a President to develop a formal doctrine or set of principles by which he is guided in his foreign policy decisions. Sometimes it is only after the fact when outsiders seek to make sense of what has occurred can some semblance of a coherent doctrine be determined. On the other hand, sometimes people lurch from event to event as they occur simply reacting to the chance circumstances of whatever happens.
And then there is the Trump Doctrine. It wasn't always clear that there was a Trump Doctrine. So much of his decision-making seems impulsive and happenstance devoid of any coherent principles. Perhaps the best known and most consistent policy has been his submissiveness to Putin and other alpha males plus his love of theatricality centered on him. He does love playing with his Hollywood-casted toy soldiers. At least until they think they are actual people with minds of the own with loyalties to the Constitution and have to be fired/resigned.
Foreign policy has not been a big part of his administration until now. As I have written, for THE DONALD except for Mueller much of his presidency has been playtime. Now he is operating in the adult world and he is out of his league. The continual revealing of his actions taken in the Ukraine and to cover up those actions are important for two reasons. One, they will lead directly to his impeachment. Two, they provide insight into how this President who eviscerated the State Department conducts foreign affairs. His actions in Syria are a beacon to the world: he can be rolled by dictators and abandons allies without any awareness of there being consequences to his actions – there are no adults in the White House.
What does this all mean?
MIKE MULVANEY
Let's begin with Mike Mulvaney, a former adult who regressed into being a babbling baby. He actually was a pretty good predictor of his own situation.
Mulvaney added he believed Trump's emotional appeals and cavalier attitude might prompt him to try going around the Constitution.
"I wonder who is more interested in going around the Constitution in order to get things done. Barack Obama or Donald Trump," Mulvaney said. [CNN, December 21, 2018]
We all know the answer to that debate! We all know that once Mulvaney became a member of this administration he had no qualms about circumventing the Constitution. Of course there was a quid pro quo! Get over it – perhaps the very words that will define him for all eternity on his tombstone.
In my blog entitled Mick Mulvaney Parachutes onto a Ship in Chaos the Rats Are Abandoning, written at the same time as the CNN article, I wrote the following about Syria then:
The more the real world presses in, the more the immature child president will lash out without any concern for the consequences. He lacks the mental necessities to understand the concept of consequences or even to care. He must give in to the impulse of the hissy fit not just in his tweets but in his decision-making. Consider his decisions to withdraw from Syria and half-withdraw from Afghanistan. Far from being well-thought decisions carefully implemented, they are case studies in the decision-making process of our immature child president who feels more and more trapped by the real world. Look at what has happened in just a tweet.
– He has granted Recep Tayyip Erdoğan the coveted 00 O.J, license to kill previously awarded to Putin and MBS.
– He has shown no loyalty to the Kurds who put their lives on the line to fight with us as allies against ISIS.
– He has shown that the very concept of "allies" has no meaning to the transactional President – unless you can offer something to him he could not care less about you.
– He has no interest in America being a world leader and does not care who fills in the vacuum.
All things considered, I think I nailed that one. While I did not exactly predict the current situation, I think I described a reasonable facsimile of what has and is transpiring.
What I did not formulate was the Trump Doctrine of foreign policy that now can be seen more clearly.
1. Be submissive to alpha males especially if there is the prospect of a business deal with them.
2. Actions 7,000 miles away do not matter.
3. There are no allies, everything is transactional.
4. There are no alliances, everything is individually transactional.
5. We should only help people fighting for their land if they were with us at Normandy.
6. We should only help people fighting for their land if they cover our costs.
7. We will ask you to provide dirt on political opponents even if it is not true.
Hard as I may seem to believe, these guidelines one day will be studied in school along with the other doctrines previously mentioned. Students will even be tested on their ability to recall and recite the Trump Doctrine.
In the present, countries have no problem understanding what the Trump Doctrine is. They may have grave fears about what it means for them but they have no doubts that as long as the current President remains in office, these guidelines remain in place.
Saudi Arabia can afford us even though it was not at Normandy. And it buys Trump properties. Yet we did nothing when Iran attacked it. One has to wonder what our President will do even if our troops are paid for when Iran attacks again.
The Baltic States cannot afford us and they were not at Normandy. If Russia ever decides it has the resources to invade the Baltics, we will do nothing. In this regard, the Ukraine imbroglio works to the advantage of the Baltic States. The longer Russia is bogged down there and the sanctions remain, the less likely it is to attack any Baltic State.
Taiwan can afford us but was not at Normandy. Even if it does not pay us now, China is probably too preoccupied at present to invade so there is no urgency to Taiwan paying us. However, if that moment of truth comes in the present administration, Taiwan better cough up the money fast if it wants our assistance.
Israel can afford us but was not at Normandy. Even if it does not pay us now, Iran is probably aware of what Israel would do in retaliation to an attack. In addition, Hezbollah is too busy trying to maintain control in Lebanon to attack Israel now even if it acquires sufficient precision missiles to eliminate Israel's retaliatory ability.
The Trump Doctrine marks the end of the post-World War II era of international diplomacy. We have been in transition since the fall of the Iron Curtain and the "end of history." Now a new doctrine has been implemented. Coalitions and alliances have been replaced by the rule of alpha males, transactional relationships, and foreign interference in American Presidential elections on behalf of the President. The old saying of "commander in chief and leader of the free world" is obsolete.
Allies are abandoned, enemies are emboldened. They don't watch Fox, They don't attend his professional political rallies. They don't worship THE DONALD. They know the truth of the immature child masquerading as the adult THE DONALD. Trumpicans are still living the lie. Perhaps by the time of the impeachment and the trial to remove him, the Trumpicans finally will see the truth behind the act. Perhaps watching THE DONALD be rolled will achieve what the Mueller report did not. Perhaps the sacrifice of the Kurds will achieve what the Democrats have been unable to do. Perhaps the real world will expose the lie that is THE DONALD and bring this show to a close.