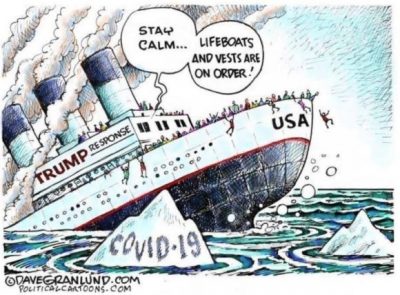 There isn't any iceberg.
There was an iceberg but it's in a totally different ocean.
The iceberg is in this ocean but it will melt very soon.
There is an iceberg but we didn't hit the iceberg.
We hit the iceberg, but the damage will be repaired very shortly.
The iceberg is a Chinese iceberg.
We are taking on water but every passenger who wants a lifeboat can get a lifeboat, and they are beautiful lifeboats.
Look, passengers need to ask nicely for the lifeboats if they want them.
We don't have any lifeboats, we're not lifeboat distributors.
Passengers should have planned for icebergs and brought their own lifeboats.
I really don't think we need that many lifeboats.
We have lifeboats and they're supposed to be our lifeboats, not the passengers' lifeboats.
The lifeboats were left on shore by the last captain of this ship.
Nobody could have foreseen the iceberg.
Dave Granlund
The Trumptanic has hit the coronavirus iceberg. Who will sink? Who will swim?
Lately I have been watching segments of The Morning Joe Show. During the recent shows, the hosts have referred to the "erratic" behavior of the President of the United States who appears to be having a "meltdown." That term triggered the Titanic link in my mind. The hosts claimed this erratic behavior was showing up in the polls. They show Biden ahead nationally and in battleground states and even tied in Texas. And this is before the number of coronavirus deaths increases faster and well-beyond the 60,000 limit once communicated.
While this banter can be informative and entertaining, it suffers from a serious flaw. This flaw is not unique to this one show, but its presence undermines the message the hosts are delivering about the inept and incompetent crisis management of the ignorant self-centered wartime President. The flaw is the persistent attempt to analyze and understand the decisions and actions of our immature child President as if he were an adult. The result is an analysis that borders on useless. He is feeling the stress as all the techniques he uses to maintain his imaginary world are not working with the coronavirus. To get his mojo back, he needs to develop a new set of rules for his imaginary world that can carry him to November (see below).
Let's recap the situation.
Fred Trump: places 13-year old son in military school in the vain hope that he would man-up. He knows there is something wrong.
Melania Trump: "Sometimes I said I have two boys at home — I have my young son and I have my husband," 10/17/16 to Anderson Cooper. She knows the truth and just doesn't care.
Anonymous: "It may be cold comfort in this chaotic era, but Americans should know that there are adults in the room. . . . And we are trying to do what's right even when Donald Trump won't," 9/5/2018 in NYT. This person knows the truth and does care.
The Toddler in Chief: What Donald Trump Teaches Us about the Modern Presidency by Daniel Drezner, March 2020
Book description: Every president faces criticism and caricature. Donald Trump, however, is unique in that he is routinely characterized in ways more suitable for a toddler. What's more, it is not just Democrats, pundits, or protestors who compare the president to a child; Trump's staffers, subordinates, and allies on Capitol Hill also describe Trump like a small, badly behaved preschooler. [ARE YOU LISTENING THE MORNING JOE SHOW HOSTS?]
In April 2017, Daniel W. Drezner began curating every example he could find of a Trump ally describing the president like a toddler. So far, he's collected more than one thousand tweets—a rate of more than one a day. In The Toddler-in-Chief, Drezner draws on these examples to take readers through the different dimensions of Trump's infantile behavior, from temper tantrums to poor impulse control to the possibility that the President has had too much screen time. How much damage can really be done by a giant man-baby? Quite a lot, Drezner argues, due to the winnowing away of presidential checks and balances over the past fifty years. In these pages, Drezner follows his theme—the specific ways in which sharing some of the traits of a toddler makes a person ill-suited to the presidency—to show the lasting, deleterious impact the Trump administration will have on American foreign policy and democracy.
The "adults in the room" may not be able to rein in Trump's toddler-like behavior, but, with the 2020 election fast approaching, the American people can think about whether they want the most powerful office turned into a poorly run political day care facility. Drezner exhorts us to elect a commander-in-chief, not a toddler-in-chief. And along the way, he shows how we must rethink the terrifying powers we have given the presidency.
"Based on Trump's behavior as catalogued in this book, the idea of Trump coping with a true crisis ⸺ a terrorist attack, a global pandemic, a great power clash with China ⸺ is truly frightening." Obviously the book was written before the coronavirus virus exposed the toddler for all the world to see and laugh at.
The question here is the ability of the immature child to process information in the adult world without resorting to an imaginary world where he can make up the rules. Let's look at the example which triggered the recent outburst of insulting criticisms on The Morning Joe Show.
Polls
Back on July 30, 2019, I wrote in the blog The Unpresidential Library: The Adolescent Room after polls showed him losing to Joe Biden:
Naturally those polls were fake news.
Now imagine being a pollster in the campaign, an actual professional pollster who lives in the real world. Just as the proposed Trumpican director of intelligence will tell the commander in chief only what he wants to hear until it is too late, so the campaign pollsters are required to provide only good polls as Fox is supposed to do. Suppose these fake news results continue week after week, month after month, how long can the immature child live in his pretend world?
So far the real world has been very kind to the adolescent in chief. Almost all his problems are of his own doing. What happens if he starts having external problems in the real world that he cannot successfully pretend do not exist?  What happens if all the polls are fake news even on Fox and from his own pollsters? What happens if he needs to act as an adult in the real world? Whatever does happen, the Unpresidential Library will exhibit the story of the adolescent who became Commander in Chief in the real world and only had childish ideas of what to do.      
Now ten months later we have seen the answers. When a professional pollster showed him polls from the real world, the immature child naturally erupted. What else would you expect?
How could his polls be bad when his ratings were so good? Here one may observe the limited necessities of the simple-minded child. At his level of thinking there was a direct correlation between the TV ratings and his popularity. The very stable genius, the smartest person in a room as long as it is a morgue or a nursery school with no adults in it, is genuinely unable to understand why during a crisis people might tune in to see what the wartime President has to say. He can't understand how the ratings of governors could increase and his did not. The polls must be Fake News. Produce good polls or you will go the way of the people who testified against me in the Impeachment Hoax or who provided the public with incorrect information on testing or how I handled the coronavirus. If I can muzzle Time Magazine's Person of the Year from telling the truth in public, guess what I can do to a pollster?
Suppose then you are the person who has to explain to the Impeached President that the death toll probably is thousands of people higher than is publicly reported. Suppose you show him the charts created by The New York Times comparing the death rates from March 8 to April 11 in 2019 to 2020. In just seven states, it shows an additional 9,000 people died…and that is just until April 11, over three weeks ago. Try to explain to the immature child that people are dying of coronavirus at home or elsewhere with it being reported as a coronavirus death. What will be the reaction of the child struggling to live in his fantasy world be? We know what the reaction has been when he is confronted with the truth at a press conference: FAKE NEWS from the NASTY CUTIE PIE!
The only time he is not a child is when he is an adolescent (see Omarosa and the President:  A Case of Arrested Development – Suppose Life Is Not a Journey? August 17, 2018). There is no constructive purpose to be gained by talking about him as if he were an adult. The media is doing America a great disservice by failing to deal with the reality of who he is. It is not fair to judge him by adult standards since he isn't one.
However, the real world keeps forcing the immature child's hand. No more down to "zero." No more miracle cure. No more "gamechanger" drugs because his uncle was a supergenius. No more "Every one of those doctors said, 'How do you know so much about this. Maybe I have a natural ability" said Donnee Disinfectant. No more Easter Sunday opening.
But wait, if Putin says "The situation is under total control" then it must be under total control just as I said it was months ago even if the new low target is 75,000-100,000 and 3,000/deaths a day is a real possibility.
So let's look at his past record before turning to his new forecasts.
April 2011: Birtherism
To NBC host Meredith Vieira: "I have people that actually have been studying it and they cannot believe what they're finding."
"You have people now down there searching, I mean in Hawaii?" she asked.
"Absolutely. And they cannot believe what they're finding."
To ABC News' George Stephanopoulos: "It's none of your business right now. We are going to see what happens."
To Anderson Cooper: "I don't want to do that right now. It's not appropriate right now."
STILL WAITING – has anybody made list of all the "soons" and "we'll sees"?
October 2016: Trump to Sue All his Women Accusers
At Gettysburg: "Every woman lied when they came forward to hurt my campaign. Total fabrication. The events never happened. Never. All of these liars will be sued after the election is over…."simple phone call…gets them wall-to-wall coverage with virtually no fact-checking ever. It was probably the (Democratic National Committee) and Hillary's campaign who put forward these liars with their fabricated stories. But we'll probably find out later through litigation, which we're so looking forward to.
STILL WAITING – from Gettysburg to the Lincoln Memorial, he is still slinging the bull-trump. Can you imagine him putting himself in a position where he would be obligated to testify? Good thing Fox is going to interview each and every one of them.
Upcoming Events
June: Back to Normal
July: We're rockin'
Fall: Deep State Indicted
Fall: Deep State proves China responsible
January 20: Arrested by New York, spends night at Rikers.
The countdown continues.