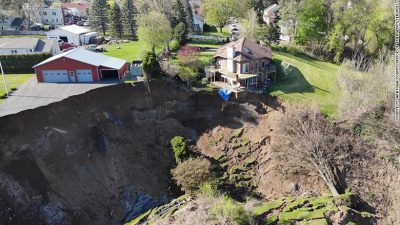 "The America We Need" is the title of a two-page editorial in the Sunday Review of the New York Times (April 19, 2020, print). The huge font size of the title and the location on pages 2-3 of the section deliver a message of importance that is diminished in the digital format. Although the editorial doesn't include the word "leadership" in the title, much of it is about leadership during crises in American history. As one might expect, Abraham Lincoln and Franklin Delano Roosevelt figure prominently in the discussion. Obviously their examples as well as Lincoln's Memorial have been in the news a lot lately.
One prominent name was missing: George Washington. It is easy to overlook his importance and fail to recognize that if he had not been the leader he was there would have been no Union for Lincoln to save and none for Roosevelt to rescue and protect. Truly Washington was "the indispensable man." Regardless of the French military contribution to American success in winning the American Revolution, the likelihood is that no other person could have kept the former colonies now states together for France to aid. Similarly without him as the expected first president, who knows if the delegates ever would have forged a compromise that constituted us as a country. It is not just the selection of the capital city site that now bears his name that kept the states together. They forged the country with a sense with the awareness that he was there to lead them. Finally, once he did lead the country, he established routines that minimized the possibility that the American President would be above the law or have the right to do whatever he wanted.
Turning to Lincoln and Roosevelt, there are some critical points to consider especially now that they have been abandoned.
1. The belief in a strong American role in human history and the global arena
2. The belief in allies and not zero-sum relationships except against actual enemies
3. The importance of home, education, and infrastructure
4. The recognition that not all Americans were sons and daughters of the American Revolution but that people who were Americans by choice stood as one with those who were sons and daughters.
They read. They were interested in history. They were capable of growth. They lived in the real world.
The opening line of the editorial is:
From some of its darkest hours, the United States has emerged stronger and more resilient.
The closing lines are:
The United States has a chance to emerge from this latest crisis as a stronger nation, more just, more free and more resilient. We must seize the opportunity.
"Chance" is not a strong expression of hope and confidence. It is not a ringing endorsement of the idea that we will emerge "more just, more free and more resilient." It is a recognition that we might not. The last sentence in the editorial with its imperative action highlights the urgency. The editorial mentions the current President but almost in passing:
After criticizing the actions of the "White House" regarding the procurement of the necessary medical supplies and equipment, the editorial backs into denigrating the wartime President. Because of "Trump's feckless leadership and the tattered condition of the government he heads" bad things are happening, bad things to use the sophisticated analytical terms preferred by the President. Almost hidden in the editorial is the call that "the country is burdened with weak leadership. There is an upcoming "chance" to replace that leadership as was done in the elections of Lincoln and Roosevelt. For an editorial entitled "The America We Need," these uses of "chance' poorly reflect on the "fierce urgency of now" that faces We the People.
Can a bro from Queens provide adult leadership to America?
Leadership We Need Not Just in New York State
You are living a moment in history. This is going to be one of those moments they're going to write and they are going to talk about for generations. This is a moment that is going to change this nation. This is a moment that forges character, forges people, changes people. … Ten years from now, you'll be talking about today to your children or your grandchildren and you will shed a tear because you remember the lives lost. You'll remember the faces and you'll remember the names and you'll remember how hard we worked and that we still lost loved ones. … But, you will also be proud. You'll be proud of what you did. You will be proud that you showed up. You showed up when other people played it safe, you had the courage to show up. You had the skill and professionalism to make a difference and save lives. That's what you will have done.
Governor Andrew Cuomo, to the National Guard, March 27, 2020
Leadership We Have
Now consider the words of the National Tweet in-chief.
In a Twitter message on May 4, 2020, on George W. Bush's three-minute call for national unity video the day before: "(W)here was he during Impeachment calling for putting partisanship aside. He was nowhere to be found in speaking up against the greatest Hoax in American history."
In a later Twitter re-tweet from a Trumpican: "Evidence has surfaced that Barack Obama was the one running the Russian hoax."
At a press conference after being informed that the Office of the Director of National Intelligence had just issued a report expressing the conclusion that the coronavirus was not man-made, the wartime President twice asked for the name of the person who had issued the report that contradicted what he had just said. Gosh, what do think was going to happen to her while no one was looking?
What can be learn from these recent incidents?
1. The wartime President is the first President in the last century who can't and doesn't want to consult past presidents in a time of crisis. He constantly berates and belittles them with no awareness that future American Presidents will be even more brutal about him.
2. It's always about him. No surprise there.
3. His simple-mindedness was on display. He always reverts to being the seventh-grade-smart-aleck-dumb- aleck because that who he really is. Notice he didn't simply castigate Bush for not being loyal during the attempted extortion of the Ukraine – it was "the greatest" hoax in the entirety of American history. Here he combines his simple-mindedness with his ignorance.
How many hoaxes in American history can he even name that don't involve him? The odds are in the Trumpican universe the claim is correct since the only other hoax he can name is the Russian one. Even if he used the term in reference to other events can he name them?
Notice also the use of the superlative. His simplemindedness operates on a binary basis. There is no nuance or in-between. It is all or nothing.
The worst trade deal ever… [How many does he even know about?]
The worst presidential campaign ever… [How many does he even know about?]
The worst Secretary of State ever… [How many does he even know about?]
The absolute worst Speaker of the House in United States history/maybe the worst speaker in the history of our country… [How many does he even know about?]
The greatest hoax ever perpetrated on our country (impeachment)… [How many does he even know about?]
I am greeted with a hostile press the likes of which no president has ever seen…I believe I am treated worse than Lincoln.
The pattern should be obvious. The historically-ignorant immature child only knows about 1 or 2 examples at the most anyway in each category. In his universe, the accusations may be true! Don't judge him by adult standards as if he is knowledgeable about American history.
Real Men Don't Cry
Our immature child President brings other characteristics to his leadership.
"When I see a man cry I view it as a weakness. The last time I cried was when I was a baby." (People magazine 2015)
No sympathy. No empathy. No mask. Real men don't get coronavirus.
Fox is Bonespur Boy's Westworld: a fantasy realm where the President can be the man he wants to be rather than the man he is (David Plouffe as told to Maureen Dowd, NYT March 6, 2020, print)
"He seems psychologically incapable of dealing with a virus that is complex and uncertain. The virus will be in every community and needs truth, honesty and intelligence ⸺ all absent from the unstable Trump, who at his core is a frightened boy and pretender." (Maureen Dowd, NYT March 6, 2020, print)
Exactly right. That's what happens when an immature child is forced to operate in the adult world and is out of his league.
"At a time of crisis, America is led by a whiny childlike man whose ego is too fragile to let him concede ever having made any kind of error." (Paul Krugman, NYT, May 5, 2020, print)
Almost right. He is not "childlike," he actually has the brain of a child. Check his brain scans. Talk to a child psychiatrist.
The stress on functioning in the adult world is too much for the immature child. It has become too difficult for him to make up imaginary rules that work even in his own mind. So what can Donnee Disinfectant do? Declare game over, muzzle the Time magazine Person of the Year, and start a new game of economic recovery. Because in his world, even a death toll of 3,000 Americans/day is acceptable as long as he thinks it will mean he is re-elected and maintains his immunity from jail.
Soon it will be May 25, Victory over Coronavirus Day.
I truly do believe that if we all continue to do that kind of social distancing and other guidance broadly from federal and state officials, that we're going to put this coronavirus in the past. I believe by early June we're going to see our nation largely past this epidemic. I think honestly, if you look at the trends today, that I think by Memorial Day weekend we will have this coronavirus epidemic behind us. (The most pathetic Vice President in American history on Geraldo Rivera's radio talk show, May 1, 2020)
Are you ready? Start making your celebration plans to party now.
Measuring His Performance: The Target Dates
April 2011: Birtherism – reveal Hawaii findings on Obama soon: STILL WAITING
October 2016: sue all his women accusers after the campaign: STILL WAITING
May 25 2020: celebrate the victory over the coronavirus: in 19 days!!!!!!!
June 2020: Back to Normal
July 2020: We're rockin' now
Fall 2020: Deep State Indicted
Fall 2020: Deep State proves China responsible for coronavirus
January 20, 2021: Arrested by New York, spends night at Rikers.
The countdown continues.