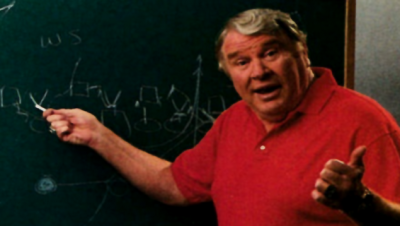 Female Latinx immigrant Aileen Cannon had the strength to go where home-grown Mike Pence feared to go. For weeks leading up to January 6 and in the time since then we have been hearing about the lack of strength of weak Mike Pence. Some of the accusations and appropriate repercussions voiced on January 6 were quite blunt and even frightening. When the moment of truth came, the so-called RINO let 45 down … and he still thinks he can be the nominee in 2024!
This time around, there was an opportunity to choose wisely. There is only vice president of the United States, so the presidential options were limited. By contrast there are multiple judges so why not shop around for the best deal? Why not bring the case before a Trump judge instead. The advantages in so doing are obvious.
I will not recount the legal issues raised by the case. I am not a lawyer and it has been done already by people who know what they are talking about. What I can say is that any time Bill Barr and Andrew Weissman are in agreement then truly legal hell has frozen over.
Another lesson to be learned is that is not just the Trump Supreme Court which is the issue. The focus so far has been on voter suppression and the election of Secretaries of State and Governors. Judges have been overlooked. Many judges were appointed by the former president. In the initial go around of stop-the-steal court cases led by the comedy act of Giuliani and Powell, the judges held firm. The Constitution prevailed against the rule of Trump. That may still happen in Mar-a-Largogate as it winds it ways up the judicial system. It is still too early to tell as this unfolding story.
ELISE STEFANIK PRECEDENT
There is a precedent, actually more than one, for the actions of Judge Cannon.  It was only a short time ago when Elise Stefanik was part of Republican Team Normal. In fact she seemed to be a breath of fresh air to rejuvenate the Republican Party. For a while she seemed to be such a person, one who would help the Party reach out to white women. Suddenly, it all went South both literally and metaphorically in her case as she joined Confederates who pledged their loyalty to Donald Trump and not to the Constitution.
Since her transformation from Republican to Trumpican RINO, she has been quite adamant and vocal in her positions. She is always ready with a tweet or press release in the most outrageous language possible as if Marjorie Taylor Greene was looking over her shoulder. Her decision has paid off for her in the House of Representatives. If Trumpicans take control after the 2022 election, her power may grow even more.
And then there is 2024. His Vice-Presidential selection is going to be a woman. The 2024 Vice-Presidential nominee will have the inside track for the 2028 Trumpican Party presidential election so while it remains a gamble it is not an unreasonable one for Stefanik. And the beauty is she did not even have to sell her soul to align herself for the possible rewards.
I am not saying Lawrence O'Donnell is right when he claims that Judge Cannon has put herself on the short list for Supreme Court nominations in the event of a Republican presidency. But clearly she is no longer an obscure rural district judge no one has ever heard on before. She has made a name for herself.
CANNON AS MARJORIE TAYLOR GREENE
Unfortunately for Cannon, she has made a name for herself in a way from being taken seriously as a judge outside the Trumpican orbit. While one may or may not applaud her blatant efforts to support 45 in Mar-a-Lagogate she may have done so in too egregious a manner even for a Trumpican Senate. In this regard her ruling more resembles the submissions of Giuliani and Powell to the various courts than a serious legal ruling. However there is one big difference – she is the Judge. Therefore she has set in motion various trajectories which may simultaneously highlight the absurdity of the ruling while still forcing the action.
For example, as many commentators have noted, given the decision to have a "special master" vet for executive and legal privilege issues the material taken, how exactly would that work? Given the classification issues involved who would even be qualified? Some suggestions that come to mind are former Vice President Mike Pence and former President Barrack Obama who just visited the legitimately elected President. I am eager to learn the names of the actual candidates proposed by the two sides. Once again it will be a news cycle that Donald Trump owns at the expense of the Republicans. Only the death of the longest ruling Queen of England can displace him from his rightful place at the center of the news media circus.
Secondly, how does the examination work? This is not a Michael Cohen situation where the documents in his residence were clearly his documents and some of them were subject to attorney-client privilege (but interestingly not executive privilege). In this case, the documents are not even owned by the plaintiff save for some personal items accidentally thrown into the mix.
In other words, in her desire to help the former President, she did not think through what the implementation of her ruling actually means. The result is people scrambling to figure out what to do.
LIZ CHENEY, CASSIDY HUTCHINSON, AILEEN CANNON, AND MARJORIE TAYLOR GREENE
Why do people make the decisions they do? I do not have an answer for that. What I can say is that scholars of this period will ask that question and investigate these four individuals. I picked these four women to create a definable group. One could do the same for Mike Pence, Matt Gaetz, Kevin McCarthy, and Jim Jordan among others. How come Rusty Bowers made the decision he did while the Arizona Trump triplets made diametrically different decisions?
As we approach the 250th anniversary of the birth of the country, these questions of motivations and politics have and will be raised again and again. For historians, there are the written records of the past. While the figures named in this paragraph might not compare to those from our birth, they will be part of the attempt to understand the history of this time period. Aileen Cannon thus has leapt from obscurity to historical personage in a single ruling that no one anticipated.