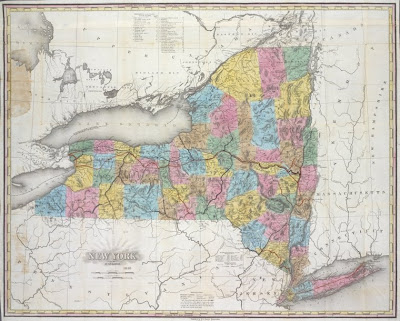 The new legislative season is upon us. That means it is time to start lobbying. What are the history community "asks"? What is it the history community would like to see happen? For the museums the answer is clear. There is a Museum Education Act. Erika Sanger, Executive Director of the Museum Association of New York (MANY) has been keeping the museum community, which includes history museums, apprised of the political situation as the bill winds its way through the legislative process.
Other sectors of the state also are advancing their "asks."  March 5th is Park Advocacy Day. On that day, people from around the state will meet in Albany under the auspices of Parks & Trails NY in partnership with the New York State Office of Parks, Recreation, and Historic Preservation (NYSOPRHP) to lobby legislators on specific legislation, mainly the budget.  March 12th is Tourism Industry Coalition advocacy day where that sector will lobby. Needless to say over the course of the session, numerous others sectors will lobby as well.
What about the history community? The history community has no "asks." The history community has no advocacy day. The history community has no state organization to organize the state history community. One might think that once upon a time the New York State Historical Association (NYSHA) would take the lead but it didn't and has officially withdrawn from any role in the history community except as a museum in its own right.
The withdrawal of NYSHA with its legal name change has been the subject of some recent posts. The situation now is ugly and with no hope of resolution. The recent chain of events began with a letter posted here by Ken Jackson, Columbia University and founder of the New York Academy of History, signed by dozens of people in history community both in and out of New York State. That letter lead to a reply by Paul D'Ambrosio, Fenimore Art Museum, also posted here.
His response didn't go over so well with one reader. Normally, I would not post an anonymous comment but how many concerned New York State Historians are there in Chestertown who have been involved with NYSHA? His comment originally posted on New York History Blog which had reposted my original blog is presented below:
Paul is gaslighting here.
The letter above is signed by the President of the Society of American Historians and a Past President of the Organization of American Historians; two former trustees of the New York State Historical Association and nine Editorial Board members of NYSHA's journal New York History; the current and former Chairs of the New York Council for the Humanities (now Humanities New York); the President emeritus and a former Executive Vice-President and Library Director of The New-York Historical Society; the President, former President, and Secretary of the New York Academy of History; the founders of the New Netherland Research Center, the Jacob Leisler Institute, and Gotham Center for New York City History; a Retired New York State Deputy Commissioner for Historic Preservation; a Senior Historian emeritus of the New York State Education Department; a former Manhattan Borough Historian; two Pulitzer Prize winners and a National Book Award recipient, and most of New York State's most distinguished historians.
Let's review what they are asking for:
"We ask you as an important public official to contact Paul D'Ambrosio (email to: president@nysha.org or phone (607) 547-1400) and the Board of Directors (Douglas E. Evelyn, Kathleen Flanagan, Nellie Gipson, Shelley Graham, Robert S. Hanft, Josef E. Jelinek, Erna Morgan McReynolds, Anne G. Older, Jeffrey H. Pressman MD, Thomas O. Putnam, John B. Stetson, Ellen Tillapaugh, Richard Vanison, and Charles B. Kieler) of the newly-named Fenimore Art Museum to urge them to take actions to preserve not simply the name NYSHA, which he insists belongs to FAM, but also the duties and responsibilities of NYSHA. Please urge him to do the following: 
Continue NYSHA as an organization with real functions;
Enable New York History to keep publishing by placing it in the hands of a reliable not-for profit publisher who will invest in it and expand it;
Resurrect education programs for public school students;
Request that NYSHA strengthen its ties with the State Historian office, the State Museum, the New York Academy of History, and local historians/librarians, to ensure a real and active state network;
Continue all other established activities such as the Dixon Ryan Fox Prize."
I would encourage readers to read the original announcement which outlines what has in fact happened to what was the New York State Historical Association.
Personally, I think the comment is of no value except to vent or to have the objections listed for the record. I don't doubt the depth of passion, sincerity of conviction, or extent of hostility by the author towards Paul D'Ambrosio. What I question is the benefit of writing. The Fenimore Art Museum when it legally was NYSHA was a failure as a leader in the history community. Why would you want to try to force it be something it has no interest in doing and no ability to succeed at it? NYSHA can't be reformed; it is time to move on.
The same applies to the December response by Ken Jackson to Paul's response to Ken's initial letter.
It gives me no pleasure to write this letter.  For years, even decades, I loved Cooperstown – its 1950s style Main Street, its grand hotel, its picturesque lake, its spectacular golf course, its famous Hall of Fame, and its quirky bookstores.  And I was especially fond of the New York State Historical Association – its lectures, its week-long seminars, its unforgettable journal editor (Wendell Tripp), its grand headquarters, and its tradition of excellence in all that it did.
 But that was then.  Since you took over the presidency of NYSHA in 2011 and since Jane Clark ended her term as board chair more than a decade ago, NYSHA has gone steadily downhill.  In particular, you have been a terrible steward for the institution.  I would go further and say that you have said one thing and done another and been duplicitous and dishonest at every turn.  I know of no one who has done more to undermine history in the Empire State than you have.
 Allow me to respond to your "Dear Colleague" letter of 29 November. 
You complain that you were not allowed to comment on my general letter of 15 October. How laughable. You changed the name of a century-old institution in the middle of the night without consulting anyone in the history community, but you want me to consult you prior to writing a letter protesting your nefarious, unjustifiable, and despicable action.  The fact that the Board of Regents and the Internal Revenue Service have somehow endorsed your moves only proves that they had no idea what they were doing.

You argue that the name change from the New York State Historical Association to the Fenimore Art Museum was intended to remove confusion with the New-York Historical Society in Manhattan. How odd that the two institutions managed to survive for more than one hundred years in the same state without suffering the consequences.  But in any case you should wish for such confusion.  Although it has (or did have) a smaller endowment than NYSHA, it has at least ten times your impact, your attendance, your programming, your educational outreach, and your influence.  It has a larger and more valuable art collection than NYSHA.  But the NYHS has never denied that it is first and foremost about history.

You boast of 7,000 school children visits every year. I will not waste our time by reminding you that that is not a number to boast about.  In fact, you have eviscerated your education staff, which no longer has a respected leader or professionally trained educators.  And your commitment to National History Day is similar to your other windbag claims.  It is paid for by New York State taxpayers and hangs on the coattails of the national organization.  NYSHA formerly was involved in teacher education with in-service and pre-service programs and with a highly-regarded statewide teacher's conference.  No more.

You speak of your "vital resource" research library of 100,000 volumes. First-class libraries add that many books every year, but you would not know that because you do not care about the library, as evidenced by your piecemeal reduction of its staff.  Now there is little professional work that the survivors can perform, such as accessioning materials, working with patrons, and responding to research questions.  Uncatalogued documents are stored in any empty space.  One former staff member estimated the backlog to be about thirty years, and that was several years ago when you had more library employees.

You refer to The Farmers' Museum as a "prominent history museum." Surely you jest.  It is not a farm, and was never a village.  It is a bunch of old structures dragged from different places and cobbled together into some kind of imaginary arrangement.  It is really a zombie museum with no director, curator, or Ph.D. trained educator.  I actually like the place and think it probably works for elementary school children, but a prominent place it is not.

Then, there is the quarterly journal, New York History, the one serious enterprise that solidified NYSHA's claim to represent a big state with a great tradition. Unfortunately, you have slowly strangled the journal as well.  You eliminated the print version and then moved it briefly to SUNY Oneonta.  Now you are moving it to Albany and plan to divest it completely in 2019.  You made a deal for the State Historian to edit and care for it, but he has no staff, no budget, and no reputation in the field.  You did not consult the editorial board, many of whose members had served for decades without compensation, about your plans.  Why was this a stealth decision?  Meanwhile, you continue to publish a glossy, four-color magazine, Heritage, which is expensive to print and distribute.  The state has many art history publications, but only one periodical which represents the entire state.

Finally, and most importantly, there is the little matter of the endowment. Two years ago, NYSHA had an endowment of about $50 million, which would make it among the wealthiest historical societies in the United States (and more by the way than the more successful New York Historical Society).  Somehow, those monies have been transferred to the Fenimore Art Museum, which is an institution of an entirely different color.  You say it will teach history through art, but no serious person thinks that is the only or best way to teach history.  And in any case, over many decades, that money, most of it from Stephen Clark, was given to the NEW YORK STATE HISTORICAL ASSOCIATION, not the Fenimore Art Museum.  I do not think I am alone in wondering how this bait and switch happened, but I suspect there is more to be said on the issue.
I could go on and on about all of the things you should have done to celebrate and recognize the history of this great state.  It saddens me.  But you are correct about one thing.  The history of New York State is far too important to be left to any institution that you might lead.
Sadly,
Kenneth T. Jackson
Jacques Barzun Professor of History, Columbia University
Director, Herbert H. Lehman Center for American History, Columbia University
President, New York Academy of History
President Emeritus, New-York Historical Society
Former trustee, New York State Historical Association
Let's assume as with the anonymous comment above that everything Ken writes is true both on a personal level and as a performance analysis, so what? Unless legal action of some kind is contemplated, there is nothing anyone can do to force Paul D'Ambrosio and the organization he leads to take a leadership role in the state history community. It seems more likely that he and his board have no such interest and there is no way to compel them to develop one. Why even try? Instead of wasting any time and effort and trying to transform the Fenimore Art Museum into an effective NYSHA, the history community is better off saying good riddance and creating an alternative: the New York Association for State and Local History NYASLH), a name suggested by Doug Kendall, Hartwick College, in partnership with the American Association for State and Local History (AASLH).  But that is a subject for another post.