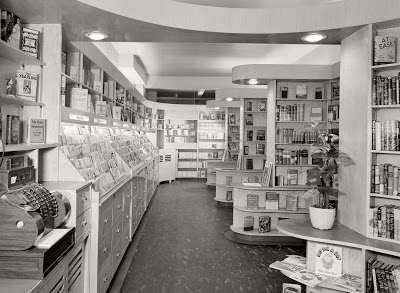 Another one bites the dust. That was the message of a recent article in the New York Times (Mourning a Cultural Hub Disguised as a Used Bookstore, November 28, 2011) about the closing of a book store in Metuchen, NJ. As one patron of the bookstore noted of the owner, "(H)e turned it into a kind of a clubhouse for the community [where everyone knew your name] and somehow it worked."
Another customer added, "The Raconteur was not just a book store. It was what a bookstore should be, with an owner who used it as [a] place to enlighten, delight, and inspire." The passing of the bookstore generated this eulogy from a third customer: "I really felt as if someone had just died. You have given this community a soul and heart."
Similar stories could be told of the closing in bookstores in other communities [I finally get to use the file of articles I have been accumulating!] Consider the following title from March 21, 2009, from the same newspaper and by the same author about an event in his own home town: "A Bookstore Closes in Chappaqua, and a Town Is Poorer for It." A similar story occurred in the village of Cold Spring, with its picturesque Main Street leading to the Hudson River in Putnam County. I have walked that street with teachers as part of an immersion experience in local history in a single community. Bookstores were part of the fabric of the community, part of its web of life, a way of life that has become not just boxed-stored but digitized.
Near the Salmagundi Book store in Cold Spring was what once was the local Bijou or one-screen movie theater that every town had. How far do you have to travel now to see a movie? To the mailbox to get the delivery from Netflix! To your couch/chair to turn on the computer to stream a movie. The pace of change has been extraordinary and the sense of community, the sense of place, the feeling of belonging has suffered accordingly.
The first article I cut out of the newspaper [how's that for quaint?] on this subject was the closing of the Shakespeare & Company bookstore on the Upper West Side in Manhattan in 1996. The venerable store was located one block from the new Barnes & Noble box store that had been plunked down and which created a brand new reading experience for the residents of Woody Allen country. As this new life form matured it sucked the life out of the now obsolete neighborhood stores that it dwarfed. Sounds like the story would make a good movie, which in a way it did with You've Got Mail.
But this wave of the future proved short-lived. Amazon showed there was another way to purchase books, one requiring no human contact or even leaving one's home. Borders then bit the dust and Barnes & Noble tottered as it tried to play catchup with Amazon. Then along came Kindle and even the physicality of the book was rendered "so 20th-century." It's hard to believe Fahrenheit 451 was WRITTEN not even 60 years ago.
What does this all mean for history in general and New York history in particular? We are a story-telling species with the need to gather, to assemble, to share. The more we learn about the stone-structures of the neolithic age when people first lived with people to whom they were not related, the more we realize the defining importance to humanity of bonding through shared-storytelling. Once upon a time, long before Oprah, the Chautauqua Literary & Scientific Circle used the mails to educate millions across the country and then bring them together in Chautauqua, NY to continue their enlightenment. Our archaeological society book club meets monthly at a local library to discuss the book the members have read. The New York Council for the Humanities offers "conversation" programs which can be about New York history.
So let's not reinvent the wheel, let's update it. Chautauqua created a reading list for its members which included extensive reading in history. What would a reading list for New York State history contain? For your region? For your county? For your municipality? How can these books be made available to the community? Can New York State history book clubs be created by our historical societies, municipal historians, museums, publishers, and bookstores? Of course this already is being done at different places throughout the state. Now we really need to work at it.
Photo: "Dover Book Shop, 2672 Broadway, New York" (March 23, 1945) by Sam Gottscho, courtesy Shorpy. Founded in 1941, Dover now focuses on catalog and online sales from its offices in Mineola, NY.