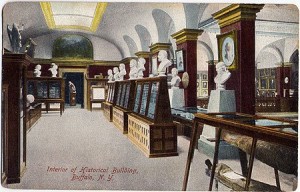 As the new year gets underway, it is appropriate to pause and reflect on open issues from years gone by. I am referring now to the role in 2013 of the county historian as a custodian for New York State history as we forge ahead with our Path through History Project.
The starting point for this investigation is an article which appeared on September 12, 2012 just after the summer launch in August entitled "New York State's Curious, Century-Old Law Requiring Every City and Town to Have a Historian" by Amanda Erickson in The Atlantic Cities.
She drew on her own memory of life in Sayville as child where the local historian was part of the quaintness of the community. As an adult she discovered that every municipality in the state was required to have one. Her investigations led her to conclude:
There is little continuity among the work of the historians, who aren't saddled with any particular task, and for the most part, receive no pay. Instead, they're free to serve their town's particular historical needs as they see fit. It's a relatively harmless, even sweet idea.
And then to ask:
But in an age when the contents of entire libraries can be made available to anyone with an internet connection, does having a town historian still matter?
To answer that question she researches the origin of the position particularly its aspect of local boosterism when communities took pride in their achievements in the 19th and early 20th centuries and wished to proclaim their hometown glory to the world. Times have changed.
As might be expected she identifies as critical finding the right person for the job. She defines the person as "someone with the enthusiasm and energy to come up with ideas that get communities excited about their history." Unfortunately she is well aware of the pitfalls in this quest writing "Not every historian has the right panache. Many focus instead on collecting old records and photographs. This can put them at odds with local historical societies, particularly when it comes to who gets to control what old letter or proclamation."
Gerald Smith, official historian for the city of Binghamton and Broome County as well as the president of Association of Public Historians of New York State is her source on the difficulty of finding replacements with a roughly 25% annual turnover rate and of the conflicts between local municipal historians and historical societies. According to the article, Smith would prefer that historians run public programs that get locals excited about a particular spot in town and to write for the local paper, and says "We're trying to get more from our historians. I tell municipalities to think outside the box. Historians don't all have to be 65-year-old retirees."
Erickson concludes her article on an optimistic note in part due to Cuomo's Path through History Project. The more the communities of the state tell their own story, the greater the role for the municipal historian and the more the opportunity for cultural heritage tourism and strengthening community identity. One positive development which should be supported is the effort of now retired state legislator and Albany historian Jack McEneny to create a state-wide program to certify historians. Unfortunately the measure stalled in the Senate and now that it chief advocate retired, who knows what its prospects are. Beyond a shadow of a doubt, McEneny is the ideal candidate to be the lobbyist for New York State history in the event the New York State History community was capable of getting its act together.
Let's look at some events in the real world. Approximately two months after this article, another one appeared with a quite different tenor. "Cutting county job called illegal President of state group argues against possible loss of historian position," Paul Nelson, in the Times Union.
The same Gerald Smith who was a source for the September article on New York's municipal historians leading a charge against the efforts of the Schenectady County government to eliminate $25,000 plus a supply stipend for the county historian in the 2013 budget. The Daily Gazette brought a more macabre sense of humor to its reporting:
Obituaries
SCHENECTADY COUNTY : County historian eliminated from budget
According to County Attorney Chris Gardner, although money for Schenectady County Historian Don Rittner's job was not earmarked in the 2013 budget, the position would still be filled in accordance with state law. "Nobody has ever said we won't have a county historian," Gardner said. He is reported as saying the county plans to appoint a professional organization to serve as county historian or could have someone from that group handle the job. A budget line of $15,000 for "professional services" was cited.
Putting aside for the moment any possible personality conflicts, we can all look forward to the March opening of the movie "The Place Beyond the Pines," with Ryan Gosling, Bradley Cooper and Eva Mendes, which according to the article, Don Rittner claimed he was instrumental in bringing to the county and the Capital Region for film shooting bringing in an estimated $2,000,000. Apparently he "died" once before when the city of Schenectady eliminated the $20,000 funding for the city historian position in 2011. No County Historian position is listed on the county's website.
As it turns out, although I have not met Don, we have emailed each other sometimes in response to one of posts here at New York History. I was particularly interested in his H4 Summit which in 2011 brought together historians, archeologist, planners and politicians together to discuss the plight of historic preservation in the four county area. He was even considering expanding it from a one to two day conference as the result of one of my postings. Obviously, this is exactly the type of meeting which I have been pushing for throughout the state. As readers might expect, it did not take place in 2012 and does seem like it is going to in 2013 either.
These developments led to a response by New York State Historian Bob Weible right here at New York History: "Making History in Difficult Times". While he recognized the right of municipalities to defund the position he also called on the local governments to remember the law requiring the position. His general comments remain quite pertinent to the challenge we are facing today in the slow journey on our Path through History.
My own sense is that some county and local officials probably don't appreciate the contributions historians make to the civic, cultural, and economic life of our communities as much as we would like.
Bob's comments, and he led two tours at the New York and the Civil War conference IHARE organized on January 12, speak to the same ideas of the importance of a sense of place, a sense of belonging, a sense of community which I have mentioned in numerous columns.
A good history program educates people and makes them better citizens. It builds an appreciation for our sense of place and raises the quality of life for everyone. And it helps promote economic growth. People form their individual identities as New Yorkers based on the history they share, and whether they know it or not, they all understand the future based on their understanding of the past.
While Bob cited some positive developments on the county historian front, there is another and bleaker side as well. Unlike Schenectady County, Otsego County does have a listing for the position of County Historian on is website, but it is vacant. However if one clicks on the listing for municipal historians, a name does appear as a county historian…which she was six years ago! And some of the people listed for the towns and villages from the 2007 list on the website are still alive and in those positions…but not all of them. The municipal list has been updated as part of the APHNYS project to create an up-to-date municipal historian list and maybe that will carry over to the websites of the municipalities in the county. The irony of Otsego County not having a county historian and having a webpage that has not been updated for years is twofold:
1. The New York State History Association is located in that county
2. There is a graduate program at Cooperstown designed to train people for work in historic museums.
You would like a county like this would have more respect for its own history. It would be easy to create a Path through History in Ostego County, but who at the county level is in charge?
These shortcomings are why Governor Cuomo's leadership is essential.
1. He should remind all County Executives of the need to have an individual human being in the position of county historian in their county.
2. He should call upon those individual county historians in partnership with the county tourist office to be part of the Path through History project in their respective regions.
3. He should challenge each county to create a Path through History with county passport for the historic sites in their own county.
4. He should staff the Path through History project so it can take a pro-active role in generating paths through history throughout the state.
Calling Jack McEneny. You are too young to retire. The history community needs you.
This topic will be continued following the meeting on the Mid-Hudson region for the Path through History Project, which happened today, and I hope to make the one for the Mohawk Valley, January 31.