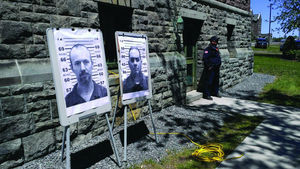 The hunt by law enforcement officials for two escaped convicts from the Clinton Correctional Facility in Dannemora became a nonstop reality show in the media. For several weeks, each and every movement of the convict hunters was chronicled. When one was killed and the other wounded and captures, the show was over. So was the economic windfall.
A headline in the New York Times called the search "A Boon for the Region's Economy." A spokesperson for the regional convenience chain store Stewart's Shops said business skyrocketed during the search. Bob Smith, owner of a Best Western in nearby Plattsburgh said, "as unfortunate as it was, that was our silver lining. We had a lot of business because of the breakout." According to Colin Read, a member of the Clinton County legislature and a professor of economics, "We are going to see a pretty significant blip in the tax revenue."
Clinton County has been described as having two industries. "If you are not in the corrections business, you're probably in tourism," said Tim Bresett, general manager of Ausable Chasm. The hunt for "the most dangerous game" brought national attention and the suggestion from some local people that it would put the region on the map.
The irony is that nearby Plattsburgh, where dining and lodging establishments benefited tremendously from the manhunt, has struggled to get itself on the tourism map as the site of the Battle of Plattsburgh. That American victory against the a British invasion in the War of 1812 contributed to the negotiations that ended the war.
There are some things Clinton County could do to capitalize on its unexpected notoriety. It can create paths for tourists to travel the same route as the escaped convicts. It could sponsor paintball competitions between the cops and convicts in the area where the manhunt occurred.
I Love NY champions adventure tourism. Let's intensify the experience. Call it extreme tourism and keep Northern New York on the tourist map.