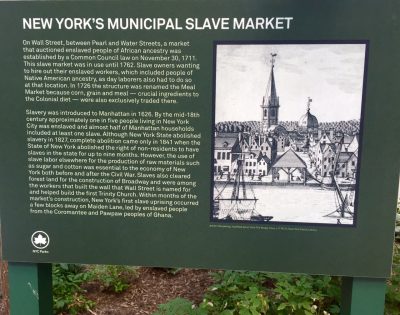 New York State has the potential to seize a leadership position in the national discussion over the Robert E. Lee statues and the place of slavery and the Confederacy in American history. It can do so not because pre-Civil War Lee was stationed in New York while he was part of the military [and not a plantation owner], but because of New York's own role in slavery both here and in the South.
In our state, the Governor has requested the United States Army to rename streets at Fort Hamilton in Brooklyn from Stonewall Jackson Drive and General Lee Avenue. The Governor and his mayoral partner also have sought the removal of the Lee and Stonewall Jackson busts at CUNY's Hall of Fame for Great Americans in the Bronx. Cuomo tweeted:
Robert E. Lee and Stonewall Jackson will be removed from the CUNY hall of great Americans because New York stands against racism. There are many great Americans, many of them New Yorkers worthy of a spot in this great hall. These two confederates are not among them.
During this time, plaques honoring Lee were removed from an Episcopal Church in Brooklyn. The plaques date back to 1912 when the United Daughters of the Confederacy commemorated Lee's having planted a tree there when he served at Fort Hamilton. The church closed in 2014 and the diocese removed the plaques that had become offensive to the community. Now Lee's life before the Civil War and before he married into a slave-owning family are to be erased.
Speaking of marrying into a slave-owning family, what about Alexander Hamilton? While he personally was not a slaveowner, the Schuylers were. The musical deliberately erases this fact from its feel-good story (see August 16, 2016, blog The American Revolution and Presentism: The Triumph of Mel Gibson).
It's bad enough that Hamilton's adultery was included, but there is no sign that Hamilton or any of the three Schuyler daughters were troubled by Daddy owning slaves. Sooner or later Hamilton will be taken to task just as Lee, the son of an imprisoned debtor, has been for not contesting the father-in-law and/or wife for their slave-owning ways.
In this light consider Cuomo's additional comment:
"Symbols of slavery and racism have no place in New York."
deserves close scrutiny.
When tourists visit the New York State Parks Schuyler House in Albany, only a few blocks from Executive Mansion where the Governor stays when he is in Albany, should slavery be excluded from the tour? What about when visiting the National Park Service Schuyler House in Schuylerville near the Saratoga Battlefield? In fact, should there even be a community named "Schuylerville" given that he was a slaveowner? How about a city named after the Duke of York? In Imperiled Promise: The State of History in the National Park Service, one of the critical issues is how the NPS deals with (or avoids) critical issues like slavery (see the August 2, 2017 blog History Peril Post-Mortem, the concluding blog to a series on the NPS).  Should New York State erase slavery from its historical memory by not telling its story?
A few years ago, a New York City Councilman arrange for a history marker to be placed at one of the major slave trading sites in the American colonies. New Yorkers, apparently including the Governor, like to think that slavery was something which occurred down South and not in the morally superior North. We have Underground Railroad sites, the South has plantations. We have the moral high ground and can admonish the inferior South for not being enlightened. As it turns out in history whether we choose to remember it or acknowledge, New York was a major player in slavery in the United States including after it was abolished here as of July 4, 1827 (see the June 16, 2016, blog Forgetting July 4, 1827).
Historic sites in New York know about slavery in New York even besides the Schuyler House. There are other sites both state-owned and private also connected to slavery.
New York State Historic Site Philipse Manor Hall in Yonkers has incorporated slavery into the programs about the later-Loyalist family who first brought slaves into Westchester.
Private Philipsburg Manor in Sleepy Hollow at the northern end of the manor above the Tappan Zee Bridge (which still stands) has focused on runaway slave ads and held an NEH seminar this summer for teachers based on its work.
The Mid-Hudson Antislavery History Project deals with slavery in the Mid-Hudson Valley.
Susan Stessin-Cohen's recent book In Defiance: Runaways from Slavery in New York's Hudson River Valley, 1735-1831 addresses slave runaways in the Hudson Valley from 1735 to 1831.
On August 24, Travis M. Bowman, Senior Curator with the New York State Bureau of Historic Sites, presented "Slavery in the Mohawk Valley", examining how slavery evolved in New York under the Dutch, British, and American systems of government and how the institution was utilized at a local and personal level in the Mohawk Valley. According to the program notice, "Usually considered a 'Southern' issue, slavery played a surprisingly large role in colonial and revolutionary era New York."
On September 16, at Historic Huguenot Street in New Paltz, "Reclaiming Our Time," a public program of stories and monologues by writers responding to personal encounters with the history of slavery in New Paltz will be presented.
There is more to the story of slavery and New York then just simply the slaves in New York. Another issue was the slaves in the South. How did those slaves get there? Who financed those voyages? One might think the financing was from a financial city active in trade. New Amsterdam/New York were part of a trading network that included the transport of people as slaves.
Even when slave importation officially ceased in 1808, financing involving slaves did not. Tobacco and cotton from the United States and sugar from the Caribbean were part of a major trading network in the antebellum period. New York City financial institutions might not want to examine their records from this period too closely or else they might learn as venerable institutions of higher learning did that trading in the products harvested by slaves was profitable big business for them.
And speaking of the financial district, just who is it who built the wall of Wall Street and were buried in the African Burial Ground just north of Wall Street and the current City Hall?  For a long period of time the slave market and slave ownership in New York were second only to Charleston and South Carolina among the 13 colonies. Perhaps the Governor could share with New Yorkers and the American people what exactly he means when he righteously declares "Symbols of slavery and racism have no place in New York." How many places will he rename, signs will he remove, stories will he suppress so the ugliness of slavery will never be visible in the state?
And let's not forget Governor Pataki's much maligned Amistad Commission founded in 2005. Its grandiose mission was national in scope (see January 18, 2016, blog The New York State Amistad Commission: Do Black Lives Matter? According to New York Arts and Cultural Affairs Law, Article 57B:
All people should know of and remember the human carnage and dehumanizing atrocities committed during the period of the African slave trade and slavery in America and of the vestiges of slavery in this country; and it is in fact vital to educate our citizens on these events, the legacy of slavery, the sad history of racism in this country, and on the principles of human rights and dignity in a civilized society.
How about just focusing on New York?
Speaking of renaming things, this item comes from the Tappantown Historical Society website:
This is Tappan, a hamlet 12 miles north of New York City and two and a half miles west of the
Hudson. It was settled by sixteen families – three of the men were free blacks – on a land patent of 1686-7 obtained from the Tappan Indians of the Lenape tribe and Governor Dongan of New York. These first settlers of Tappan were thrifty Dutch farmers. It is still conjecture, however, whether the name Tappan is of Dutch or Indian origin.
Tappan also has a George Washington Headquarters and is the site where John André was imprisoned and hanged. With "zee" being Dutch for "sea," the bridge over this wide part of the Hudson drew on the historical name for it, a name that connected not just the east and west sides of the Hudson River, but the Dutch and Tappan/Lenape heritages. The namers of the old bridge respected their history. The new bridge span just opened August 25, 2017 is named the Governor Mario M. Cuomo Bridge thereby erasing another historical legacy. So it goes.
Instead of posturing statements declaring no toleration for symbols of slavery in New York, the Governor could take a leadership position of vision and courage in the needed national discussion. He could talk about that New York did have slavery and did support slavery in the South. He could talk about how the state remembers the reality of slavery in New York in its monuments, at its historic sites, and in the classroom. He could talk about the need to heal the nation rather than to be judgmental. Here's some advice to follow:
With malice toward none; with charity for all; with firmness in the right, as God gives us to see the right, let us strive on to finish the work we are in; to bind up the nation's wounds; to care for him who shall have borne the battle, and for his widow, and his orphan to do all which may achieve and cherish a just, and a lasting peace, among ourselves, and with all nations.
Image from My Roots My Blog