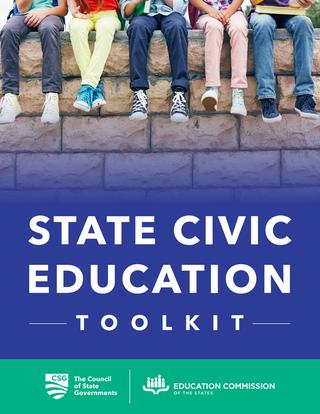 What is the state of civics in your state? In our country? Let's look at the situation in some states. This blog is not meant to be exhaustive but to survey the situation in some selected areas.
NEW HAMPSHIRE HISTORICAL SOCIETY
 A call to arms was raised in 2017 by William Dunlap, president of the New Hampshire Historical Society, in an op-ed piece in the Union Leader. He noted that about 70% of the fourth graders in the state participated in the historical society's education programs. That figure seems unusually high and I doubt that too many other historical societies can claim to reach such a proportion of students in their state. It certainly provides the historical society with a statewide insight otherwise lacking.
According to Dunlap, New Hampshire schools are eliminating or dramatically limiting social studies instruction. The results are readily observed by the historical society staff who have "observed a precipitous decline in basic historical knowledge among our student visitors, particularly in the past five years." He claims that the students "do not know what the American Revolution was, or even that we fought the British. They cannot list in correct chronological order the American Revolution, the Civil War, and World War II." I hope they can place World Wars I and II in chronological order! As a result some of the historical society's programs have had to be curtailed simply because the students do not know enough to understand and benefit from them. Historical societies are supposed to supplement the classroom work, not replace it in a field trip.
Dunlap then sounded the alarm:
Kids need an understanding of how our civic institutions work so they can become fully participating citizens and educated voters. They need a basic understanding of American history to be able to contextualize problems and keep them in perspective. In short, a poor understanding of American institutions has alarming implications for American democracy and American civic values. While workforce development is an important consideration, it will do little good to have a workforce if we have lost our republic.
He faulted the New Hampshire k-12 curriculum and concluded:
We must designate time in our schools for history and civics as we've done for math and English. New Hampshire plays a unique role in the national political life, one that requires our citizens to be well-informed and knowledgeable in American norms and ideals. Our role confers a special obligation to see that our students are properly educated in history and civics so that they too may one day contribute to New Hampshire's and the nation's civic life.
Could one simply change the name of the state and historical society and repeat the same issue elsewhere?
RHODE ISLAND
The situation in nearby Rhode Island is even more dire. In November, parents filed a federal lawsuit against the state of Rhode Island. The charge is that the state has failed to prepare children for citizenship and that such failure is a violation of their constitutional rights. Specifically, students are not being taught the skills needed "to function productively as civic participants." These functions include voting, jury duty, and a basic understanding of the political structure of the country. According to the lawsuit, in Rhode Island, schools are not even required to offer classes in government or civics, let alone requiring students to take them. Furthermore, the lawsuit claims teachers are not even trained in civics. As a result, many students lack the academic skills needed to effectively exercise their right to freedom of speech and to vote. In effect, the plaintiffs are using the absence of civics as a way to address other shortcomings in the school system such as learning to read. Even so, it still remains true that the state is failing in the preparation of its children to be ready to function as adult citizens in a democratic society.
NATIONAL ASSOCIATION of STATE BOARDS of EDUCATION (NASBE)   
At the national level, this issue was addressed by NASBE in a blog Policies to Promote Civic Engagement Take Shape on September 7 by Valerie Norville, NASBE's editorial director. She began by identifying the need and reporting on the current state of civics.
Savvy state boards of education recognize that high-quality civic education not only prepares students to vote and understand how the U.S. Constitution divides political power. It helps students acquire skills needed to make difficult choices that affect their communities, advocate for themselves and others on public matters, and contribute to healthy, informed civic engagement.
 Despite widespread concerns about divisiveness and disinformation in civic dialogue across the United States, most state boards in 2018 have not revisited civic education policies. A few states have.
She singled out Virginia for taking the lead in developing a Board of Education's Excellence in Civics Education Seal. Students must receive at least a B in the required series of history and government classes and complete 50 hours of community service, including participation in scouting organizations, JROTC, political campaigns, or government internships to earn this seal. James Dillard, board member and member of the Civic Commission,
called on the board to consider added policies to improve civic education in Virginia. In particular, he lamented the paucity of teacher professional development opportunities. "It's coming at the absolute worst time, when we need more understanding," said Dillard.
Norville concluded her post by citing the work in Connecticut's Red, White and Blue Schools program, which recognizes districts and individual schools that have taught civics in innovative ways in the classroom and through activities in the community.
CONNECTICUT RED, WHITE AND BLUE SCHOOLS PROGRAM
In 2017, a notice was sent on a new program for Social Studies Teachers called the Red White and Blue Program. According to the notice, the Red, White and Blue program is
cosponsored by the State Department of Education, and the Secretary of State's Office. The program is designed to recognize schools that do an extraordinary job of teaching civics. This year's theme is "Teaching Local Perspectives", and will honor schools that do an exceptional job of teaching local history and the background of their town or city. We welcome elementary schools, middle schools, and high schools to participate in this program. Ways to study local history and explore resources are:
Explore the state or local town's history
Contact your local Historical Societies
Visit the town hall or museums if available
What role your town has played in the state's history
Who are important individuals in your town's history
Engagement with Junior Achievement or Connecticut History Day
The program comes complete with lesson plans, rubrics for k-5 and 6-12, and a variety of suggestions regarding reaching out into the community. In her article above, Norville referred to the first group of schools to be recognized for their participation in the program. The theme for 2018 was "Exploring our Historical Roots."
In a related but separate program, Connecticut also launched Where I Live: Connecticut, a new social studies resource for third/fourth grade about Connecticut. Where I Live: Connecticut is designed to support the new social studies frameworks for Grade 3, "Our State and Our City/Town: Yesterday and Today." In the accompanying packet, teachers will find content that builds on the Grade 2 frameworks, "Making a Difference." It is also designed to support the new inquiry arc methodology and is chocked full of nonfiction reading for English/Language Arts teaching. Where I Live: Connecticut was piloted in 18 districts and more than 50 classrooms in the spring, 2017 before going live.
There is a specific section for historical societies and museums in the program. In effect, they are asked to register their municipality for the program.
Submit a "My Town" for Your Town
See a "My Town" example HERE and follow the instructions below to add your town to Where I Live: Connecticut. 
Answer each of the following questions in 100-150 words. Keep sentences and paragraphs short and uncomplicated–but don't worry, we'll revise to grade level.
Your town's story should cover its history, economy, geography, and civics. Please discuss all people's perspectives–the Native Americans who were there when the settlers arrived, African Americans (enslaved and free before 1848), and immigration in different eras. Please note if it was founded due to a geographic feature such as a river, or if technology of some kind influenced its development and growth (such as the railroad). Does it have a historic town green? Is the town character defined by factory buildings, farms, maritime activities? Please consider diversity of race and gender in selecting who to include in the notable people section.
Answer these questions in a WORD document (we'll do the formatting once we load it into the Where I Live website.)
Where is my town?
How was it founded?
How do its residents make a living?
How did it grow?
Who are its notable people?
Please e-mail us high-resolution images that you have rights to or are in the public domain including a map, if possible, a population chart, and up to three images.
Please include links to resources that you'd like students and teachers to access such as field trip or programs that you offer.
Both the Red White and Blue and Where I Live: Connecticut programs seem like good ideas that address a critical issue in preparing children to be adults in a democratic society. I wonder if the people who implemented and operate the programs are available to give workshops to social studies teachers and history societies and museums outside of Connecticut.
If you are involved in a civics program in your state, please share it with me and I will help spread the word.