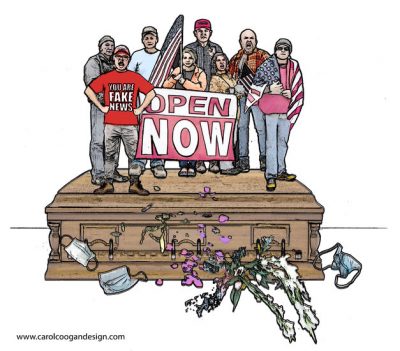 The coronavirus has had many non-medical effects on America…and you don't need a red pill to see them. Think of the talking heads, some of whom receive (and open) these posts. Now we can see your kitchens, your livings rooms, your offices with the required bookcase. Sharp-eyed people or more technically-advanced people can even identify the books on the shelves. We can see men without ties and women without makeup. Will the talking head practices revert to normal once the crisis ceases or will some of the changes become permanent?
With Trumpicans, we have had an opportunity to glimpse their world view from something as simple wearing masks. I doubt if anyone only a few months ago anticipated that masks would become a political issue and part of the culture wars, but they have. Masks serve as a reminder that anything no matter how seemingly innocuous is grist for the culture war mill.
So what can we learn from the Trumpican preference not to wear a mask?
Are Trumpicans Thrill-seekers Who Like to Live on the Edge?
Trumpicans explain their opposition to wearing masks along the lines of: We don't need the Government telling us what to do. We are free to make our own decisions and decide what risks we want to take. After all, tomorrow, I could get hit by a car.
Part of this explanation is based on the fact Trumpicans don't get the virus. After three months, they can see who does get infected and dies and who doesn't. The reality is that Trumpican states and even more so, Trumpican counties, have had a far lower rate of infection and deaths than states and counties that voted Democratic. And if there is a hotspot in a Trumpican area it could be meat plant. That means people who aren't real Americans anyway. Now the land of Field of Dreams is the state where people at meat plants don't count unless they are 10% infected or more.
Let's pursue this idea of taking risks just as we do every day when we could be hit by a car. Automobile accidents are in the 30,000+ fatality range annually. That means in three months, the coronavirus has already tripled the annual deaths from motor vehicle accidents. Do Trumpicans know that? Do they still like the odds?
Do Trumpicans wear seat belts? If so, why?
Do Trumpicans wear helmets on bikes and/or motocycles?  If so, why?
Do Trumpican children wear helmets on bikes? If so, why?
Do Trumpicans buckle up on airplanes? If so, why?
At the beginning of his show, Hannity often informs his audience to "buckle up." What does he mean when he uses that metaphor?
Maybe Trumpicans naturally like to live dangerously and take risks and that separates them from wimpy sissies who wear masks.
Trumpicans Demand Their 007 License to Kill   
Even if Trumpicans prefer to live dangerously, do they demand that people around them do so as well?
For example, do Trumpicans support "Drink and Drive"? Do they regard "Don't Drink and Drive" as an infringement on their rights? Are Trumpicans naturally able to hold their liquor so the restriction need not apply to them? Do they realize that "Don't Drink and Drive" is not only for their protection as potential drivers?
In other words, "Don't Drink and Drive" isn't only about the drunk driver. It's also about the passengers in the car. It's also about the people out for a walk who don't want to be hit a by car. It's about the people who are out for a jog, a bike ride with a helmet on, or a car ride buckled up, all of whom do not want to be hit by a drunk driver. Is it the position of Trumpicans that not only do they take risks for themselves but that everyone around them has to take the same risks? Do they think their right to drink and drive gives them the right to play Russian roulette with the lives of others?
The same considerations apply to vaccines. Think of how many people today demand the right to play Russian roulette with lives of others including children. Now imagine what will happen if a vaccine for the coronavirus is discovered but Joe Biden is President. How many more people will refuse to be vaccinated as a matter of personal freedom then?
We are at a point now where the wearing versus not wearing a mask will move beyond a political preference to an economic and legal boundary. Retail establishments, government buildings, planes and trains, will have mask-only policies. You want to go to Disneyland, wear a mask. You want to enter a hotel, wear a mask. You want watch a ball game, wear mask or stay home or go to a Trumpican bar. Here is where Trumpicans will sue to demand their right to play Russian roulette with the lives of others, their right to their 007 license to kill.
Vaccinations may mitigate the need for masks. However how will anyone know if the other person has been vaccinated? Will proof of vaccination be required before entering a venue?
Robert E. Lee versus Abraham Lincoln
No matter how poorly the coronavirus has been managed in America, Trumpicans are not going to abandon their Lord and Savior, the Chosen One, Blessed Be his Name. When the war starting going badly for the Confederacy, did Confederates abandon Lee for Lincoln? Did they shift alliances because of the pending and then actual defeat? No. No matter how many Confederates died, they did not abandon their cause. Still 155 years, Confederates prefer Lee to Lincoln even as they have become Republicans. Confederates have remained loyal to their cause despite the defeat and Trumpicans will remain loyal as well no matter how many Americans die.
How Would Trumpicans Know the Coronavirus War is Going Badly?
Now that we have crossed the 100,000 dead and rising threshold, there is a sense that Trumpicans should realize that the wartime general has done a poor job. How would they know that?
As I have repeatedly said, Trumpicans like mainland Chinese, get their news from one and only one source – the government propaganda outlet. Several weeks ago Fox resumed its normal programming – all Deep State, all the time. The onion was being pulled back layer as one guest mentioned to reveal Obamagate, the biggest corruption scandal in the history of the United States. Each day witnessed more and more of the corrupt actions of the Deep State against Michael Flynn. It was only a matter of time before Durham exposed the whole rotten under belly of American politics.
Where was the coronavirus in all this programming? It was in interviews with the wartime general bragging about what a great job he had done. It was in the criticisms of the unelected Fauci really being part of the Deep State. Why should he have the power to prevent America from being re-opened? It was in praise of heroic Trumpican governors re-opening their states with no ill effects. It was in praise of heroic state legislators trying to force Democratic governors to re-open. It was praise of heroic freedom fighters trying to liberate their state from Democratic rule.
How would Trumpicans know that Americans were still dying?
How would Trumpicans know that Little Donnee Disinfectant was the laughing stock of the world?
How would Trumpicans know that Australia, Germany, Hong Kong, Japan, New Zealand, Singapore, and South Korea have all done vastly a superior job individually and even collectively in total to the American experience?
How would Trumpicans know that 40,000-plus people arrived from China after the ban and that the virus hitting New York came from Europe where white people live?
The only way our Dear Leader deserves a "10" is in trying to maximize the number of American deaths. But the only Trumpicans who know that are the old people who are the most exposed and are willing to support Biden. And according to the heroic Trumpican Texan Lt. Governor, old people should be willing to sacrifice themselves for the greater good of an open economy where nobody needs to wear a mask.
Trumpicans still live in an a world where real men don't wear masks, real Americans don't die from coronavirus, and their Lord and Savior, the Chosen One, Blessed Be his Name, is still fighting for them and deserves a "10." At least they know enough not to actually ingest disinfectant.