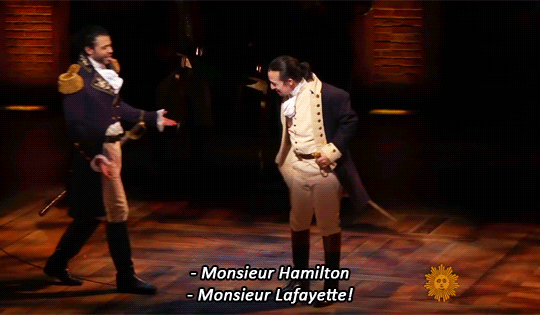 This post is the last on Lafayette's travels to New York State. For the earlier posts go to:
The Lafayette 1824-1825 Bicentennial: Are You Ready?
Lafayette in New York Bicentennial: His Second Trip
Lafayette in New York: The Third of Four Trips
In this trip, he once again makes use of the new-fangled steamboat to quickly travel from Lake Champlain in a way that would have seemed astonishing to the younger Lafayette riding these same grounds nearly 50 years earlier. He does manage to visit some the very sites I used to take the teachers to on the IHARE Teacherhostels/Historyhostels.
In the previous trips by land, he probably stopped at locations that did not make these lists which ae based where he was at night. One respondent noted a local tradition that Lafayette had visited his town even though it was not on the list. He knew where Lafayette had been the night before to the west of the town and the night afterwards to the east. Since there only was one road connecting the two locations, he was reasonably confident that the tradition of Lafayette in his town in-between was correct. So if you have not seen your name in any of these four lists that does not mean Lafayette was not there.
June 29 Lake Champlain Aboard the Phoenix steamboat
June 30 Whitehall
June 30 Schuylerville Schuyler's Mansion
July 1 Albany Banquet at Crittenden's
July 2 West Point United States Military Academy
July 3 Downriver Down the Hudson to New York
July 4 New York Reception at City Hall in Manhattan – Cincinnati Hall – Park Theatre and Castle Garden
July 4 Brooklyn Laying of the cornerstone of Apprentices Library
July 5 New York
July 6 New York Attends Transparency exhibits
July 7 New York
July 8 New York
July 9 New York Balloon Ascension at Castle Garden – American Star Race
July 9 Jersey City Richard Varick's Residence
July 10 New York
July 11 New York
July 12 New York Attends the Lafayette Circus – Dinner with Richard Rush at Dr. Hosack's
July 13 New York
July 14 New York Leaves New York City from Hoboken Ferry
As it turns out, not only was Lafayette was in New York on 9/11 in 1824 and on July 4, 1825. That means New York City has two prominent opportunities to celebrate his visits in 2024 and 2025.
You also may have noted that on some days in this list, there is little information about what Lafayette actually did then. These blank spaces highlight the need for additional research. It also suggests the need to a master map showing the 4 routes of his visit where viewers could click on the sites for more detailed information about he did there. Such a map would be a statewide initiative so it remains unclear who would host and maintain it plus gather the necessary information.
One may add that the exact same conditions will apply to the American Revolution 250th anniversary. Particularly starting after the toppling of the statue of George III in lower Manhattan, each year until Evacuation Day in 1783, different sites are prominent. From a tourist perspective, this means New York could have a series of unique anniversary trips from 2024 to 2033 related to Lafayette and the American Revolution. That's a ten year plan.
In addition, the long stays in Manhattan provide excellent opportunities for Lafayette conferences and events. One hopes by 2024, it will be safe to move about the state.
At this point the Governor has signed the legislation authorizing the creation of the American Revolution 250th commission. Hopefully, once it is up and running, there will be an opportunity to approach it about including Lafayette in the tourist and education programs.