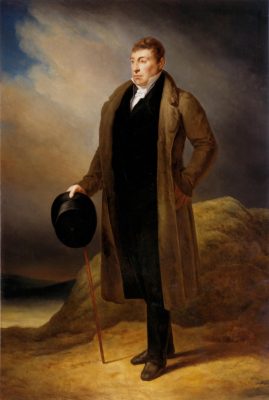 Lafayette's second trip in New York was in a different direction.  In a previous blog, The Lafayette 1824-1825 Bicentennial: Are You Ready?, I presented the first trip. He left New York and followed the Boston Post Road to Boston and the interior of New England. In this blog, I provide the stops on his second trip. This time he heads north and not by land but by water. He travels the Hudson River from New York to Albany/Troy and back.
This 1824 journey occurred as New York State was undergoing rapid changes. One year later, Thomas Cole also would travel on the Hudson and paint View from Fort Putnam. I do not know if he was influenced at all by Lafayette's own visit to West Point and honoring of the American Revolution. While Washington Irving ironically was in France, James Fenimore Cooper was in New York. He witnessed Lafayette's arrival and participated in the activities arranged for Lafayette. It certainly is worth pursuing how many of the cultured elite in Manhattan, Lafayette met and what the impact of his proposed visit to all 24 states in the country meant.
In another leg of visit, he would cross upper New York State from Niagara along the partially-built Erie Canal into Massachusetts. So he was traveling to areas that would become part of the Hudson River School even before some of the artists painted it and the writers wrote about New York. I am sure people more knowledgeable than me already have written about the connections he was making in New York City and the impact of his visit. These would be great topics for a Lafayette conference.
As I mentioned in the previous blog, I am working with two French/Lafayette organizations: American Friends of Lafayette and the American Society of Le Souvenir Français. This list was provided to me by the American Friends of Lafayette. Julien Icher is a member of that organization as well as the founder of The Lafayette Trail, a non-profit 501(c)3 organization that "aims to educate the public about the national significance of Lafayette's Tour and to promote a broader understanding of Lafayette's numerous contributions to American independence and national coherence in preparation for the 2024-2025 tour bicentennial celebrations." Readers of this blog may already have or be working with The Lafayette Trail to erect markers at their locations in recognition of his visit to their site.
| | | | | |
| --- | --- | --- | --- | --- |
| 1824 | Sept 5 | Manhattan | NY | City Hotel |
| 1824 | Sept 6 | Manhattan | NY | City Hall, Washington Hall |
| 1824 | Sept 7 | Manhattan | NY | Academy of Arts, Hospital, Almshouse |
| 1824 | Sept 8 | Brooklyn | NY | Narrows / Fort Lafayette |
| 1824 | Sept 9 | Manhattan | NY | St Paul's Church, the Park |
| 1824 | Sept 10 | Manhattan | NY | Free Schools, Vauxhall Gardens – Sword and Belt presented to Lafayette |
| 1824 | Sept 11 | Manhattan | NY | Banquet by French citizens, Chatham Garden Theatre |
| 1824 | Sept 12 | Manhattan | NY | |
| 1824 | Sept 13 | Manhattan | NY | |
| 1824 | Sept 14 | Manhattan | NY | Castle Garden Party to Lafayette |
| 1824 | Sept 15 | West Point | NY | United States Military Academy |
| 1824 | Sept 15 | Newburgh | NY | Orange Hotel |
| 1824 | Sept 16 | Poughkeepsie | NY | Forbus House, Poughkeepsie Hotel |
| 1824 | Sept 16 | Staatsburg | NY | General Morgan Lewis's |
| 1824 | Sept 16 | Clermont | NY | Robert Livingston's House |
| 1824 | Sept 17 | Albany | NY | Cruttenden's Hotel, Canal Lock, Capitol |
| 1824 | Sept 18 | Troy | NY | Emma Willard's Female Academy, Troy House |
| 1824 | Sept 19 | Albany | NY | Descent of the Hudson River – Arriving at Courtland Wharf |
| 1824 | Sept 20 | Manhattan | NY | Dinner at Washington Hall –  Park Theatre in the evening |
| 1824 | Sept 21 | Manhattan | NY | At New York |
| 1824 | Sept 22 | Manhattan | NY | C.D. Holden's |
| 1824 | Sept 23 | Manhattan | NY | City Hotel (Address by Mumford), Cincinnati entourage, James Kent |