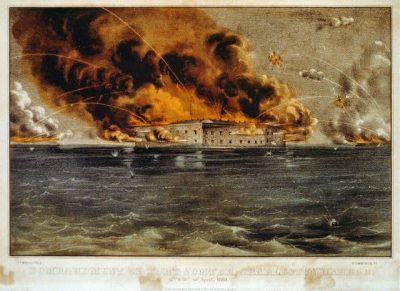 What are the contingency plans for January 20, 2021, if Joe Biden wins the election?
What are the contingency plans for January 20, 2021, if Joe Biden loses the election?
America's Third Civil War is moving forward to its showdown. So far the skirmishes in the culture war have been mostly local and mostly non-violent. Clearly now the intensity is ratcheting up. That process will continue until Election Day. Given the write-in ballots, the boiling point may not be reached until after Election Day as the time required simply to count the votes may go beyond Tuesday. And then there will be the law suits. Lots and lots of lawsuits.
Two pre-election Civil War scenarios have been presented in the publications I receive. The first was published in the January/February 2019 issue of The Atlantic by Elizabeth Goitein, a co-director of the Liberty and National Security Program at the Brennan Center for Justice, entitled The Alarming Scope of the President's Emergency Powers. I have slightly revised her possible scenario to bring it up-to-date.
Imagine that it's late 2020. Trump's approval ratings are at an all-time low. A disgruntled former employee has leaked documents showing that the Trump Organization was involved in illegal business dealings with Russian oligarchs [and Saudi royalty]. A disgruntled government employee has leaked Trump's taxes showing that he has violated the law many times for many years.  The coronavirus and trade war with China and other countries has taken a significant toll on the economy. Trump has been caught once again managing ineptly, and his international gaffes are becoming impossible for lawmakers concerned about national security to ignore.
In straw polls pitting Trump against various potential Democratic presidential candidates, the Democrat consistently wins. Trump reacts. Unfazed by his own brazen hypocrisy, he tweets that the Ukraine and China are planning a cyber operation to interfere with the 2020 election. His Secretary of State, Mike Pompeo, claims to have seen ironclad (but highly classified) evidence of this planned assault on U.S. democracy [and the release of Covid-19]. Trump's inflammatory tweets provoke predictable saber rattling by the Chinese leaders; he responds by threatening preemptive sanctions and tariffs. Some Defense Department officials have misgivings, but others have been waiting for such an opportunity. As China's statements grow more warlike, "Chinaphobia" takes hold among the American public.
Proclaiming a threat of war, Trump invokes Section 706 of the Communications Act to assume government control over internet traffic inside the United States, in order to prevent the spread of Chinese disinformation and propaganda. He also declares a national emergency under International Emergency Economic Powers Act, authorizing the Treasury Department to freeze the assets of any person or organization suspected of supporting China's activities against the United States. Wielding the authority conferred by these laws, the government shuts down several left-leaning websites and domestic civil-society organizations, based on government determinations (classified, of course) that they are subject to Chinese influence. These include websites and organizations that are focused on getting out the vote [and resisting voter suppression].
Lawsuits follow. Several judges issue orders declaring Trump's actions unconstitutional, but a handful of judges appointed by the president side with the administration. On the eve of the election, the cases reach the Supreme Court. In a 5–4 opinion written by Justice Brett Kavanaugh, the Court observes that the president's powers are at their zenith when he is using authority granted by Congress to protect national security. Setting new precedent, the Court holds that the First Amendment does not protect Chinese propaganda and that the government needs no warrant to freeze Americans' assets if its goal is to mitigate a foreign threat.
Protests erupt.
On Twitter, Trump calls the protesters traitors and suggests (in capital letters) that they could use a good beating. When counterprotesters oblige, Trump blames the original protesters for sparking the violent confrontations and deploys the Insurrection Act to federalize the National Guard in several states. Using the Presidential Alert system first tested in October 2018, the president sends a text message to every American's cellphone, warning that there is "a risk of violence at polling stations" and that "troops will be deployed as necessary" to keep order. Some members of opposition groups are frightened into staying home on Election Day; other people simply can't find accurate information online about voting. With turnout at a historical low, a president who was facing impeachment just months earlier handily wins reelection—and marks his victory by renewing the state of emergency.
Over all, this prognostication remains fairly believable. I tried to update it to reflect the coronavirus and to diminish the Iran factor. I did not revise it to account for the extensive voter suppression activities already underway in the attacks on mail-in ballots, the cleansing of voter rolls in Trumpican-governed states, and the pending deployment of the Trumpican Voter Suppression army. These actions will only heighten the tension. We can witness in Hong Kong what easily could happen here.
The second example "How Far Would Trump Go to Keep Job? Foes Brainstorm Options,"   (NYT, May 25, 2020, print), is briefer as reported in the article. My awareness of this article triggered my reviving The Atlantic one. Preparing such scenarios seems more relevant now as we approach the moment of truth. In this version:
In October, President Trump declares a state of emergency in major cities in battleground states, like Milwaukee and Detroit, banning polling places from opening.
A week before the election, Attorney General William P. Barr announces a criminal investigation into the Democratic presidential nominee, Joseph R. Biden Jr.
After Mr. Biden wins a narrow Electoral College victory, Mr. Trump refuses to accept the results, won't leave the White House and declines to allow the Biden transition team customary access to agencies before the Jan. 20 inauguration.
The approach here is more domestic-based but ultimately leads the same moment of truth for the United States. It also means that if Joe Biden wins he will face more than legal battles that will drag on for weeks. He will receive no transition support since according to the incumbent, Biden didn't win and isn't entitled to any. Therefore as much as possible Biden needs to be ready Day 1 with a full slate of officials who know what they are doing. This interim period will provide a window of opportunity for any foreign entity wishing to take advantage of the American vulnerability. It puts the American military in a bind since it already knows what the rest of the world knows: the American commander in-chief is a blithering idiot, a simpleminded person of limited knowledge, attention span, and retention. Who knows what he might order to be done? Who knows who will obey him?
I first considered the topic of the 2020 election chaos in a blog back in 2018 about Anonymous
Suppose the very stable genius is wrong about 2020 (assuming he is still in office and chooses to run again)? Will the President honor the election results? Will the President leave the White House voluntarily? Will he demand a full investigation into the rigged results? Will he remain in the White House until the investigation by his Attorney General (not a stupid Southerner[Sessions]) is completed?  
In the follow up on March 17, 2019, I added this perspective on my earlier blog:
Those of you who read this blog [2018], may I have thought I was off my rocker. I am pleased to note that five months later the Fixer, who well knows the personality of Person #1 and what he is capable of, raised the exact same concerns in his Congressional testimony. There was not the chance to resolve this issue in the 2018 elections since the Democratic tidal wave was so huge. Even for someone living in an alternate reality there are limits as to how many Congressional districts can be contested. The situation is quite different at the presidential level.
Suppose in 2020, the Democratic candidate wins by the same small margin as the 306 electoral vote landslide in 2016? How many states would need to be contested to switch the national results? At this point it is impossible to know. Indeed we may never know if the margin is comparable to the Congressional vote in 2018. An almost 9% spread is difficult to finesse to an Electoral College victory.
I revisited the subject on May 6, 2019, When Did You First Know Individual #1 Would Reject the 2020 Results If He Lost? following an article two days earlier. Remember Nancy Pelosi's concerns (Pelosi Warns Democrats: Stay in the Center or Trump May Contest Election Results, NYT, May 4, 2019):
PERSON #1 WON'T LEAVE THE WHITE HOUSE VOLUNTARILY
Few people outside Ms. Pelosi's inner circle were aware of how worried she was that Mr. Trump would try to stop the opposition party from taking control of the House unless the Democrats' victory was emphatic enough to be indisputable.
 "If we win by four seats, by a thousand votes each, he's not going to respect the election. He would poison the public mind. He would challenge each of the races; he would say you can't seat those people." In recent weeks, Ms. Pelosi has told associates that she does not automatically trust the president to respect the results of any election short of an overwhelming defeat.
 She said the victory in 2020 needed to be by a margin so "big" that it cannot reasonably be challenged.
 "We have to inoculate against that, we have to be prepared for that," as she discussed her concern that Mr. Trump would not give up power voluntarily if he lost re-election by a slim margin.
The questions I asked on March 17, 2019, remain valid.
Will Individual #1 unleash his muscle in his militias, military, police, and Second Amendment people to protect him from the greatest threat to the United States ever?
How long would it take the Supreme Court to adjudicate all the legal claims filed?
If his Supreme Court betrayed him, would Individual #1 honor its ruling?
Who would actually extract Individual # from the White House?
Based on The New York Times article, it appears that more people and with more standing than I have now realize the issue is not some wild-eyed hypothetical but a real world possibility with the clock ticking. We are headed for a showdown. Of course, if the post-election legal fight drags on long enough, it could lead to Nancy Pelosi becoming President on January 20, 2021 (Could Nancy Pelosi Become the First Female President?: A Constitutional Crisis).
One final possibility to consider is suppose Biden loses. How will people react to four more years of our immature child president? Will that result push people over the edge? That is a subject for another blog.