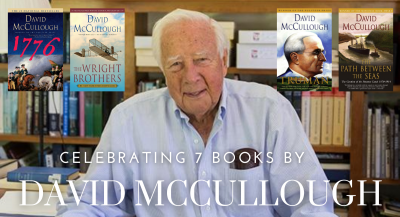 Historian David McCullough's death in August made the front page of The New York Times. For how many historians past or still living can one make or will one be able to make that claim? The title reads "Spellbinding Author Who Took His Audience to 1776 and Back." The obituary lauded his achievements as a storyteller in print and on television in interviews and in documentaries. He could tell tales that could be become the basis of TV series. For a story-telling species, that is high praise indeed.
But we also are an academic species. The scribe has been an exalted part of human society since the dawn of writing in ancient Mesopotamia. In this regard McCullough had critics especially recently. The last column of the obituary noted this development:
…and his most recent book, published in 2019, "the Pioneers: The Heroic Story of the Settlers Who Brought the American Ideal West," which provoked sharply critical reviews in The Times and The Washington Post as part of a wider controversy. "A new generation of historians, scholars and activists took to social media to accuse McCullough of romanticizing white settlement and downplaying the pain inflicted on Native Americans," wrote The Associated Press.
In a remembrance read within the academic arena, Linda Chervinsky wrote about McCullough's importance to her. He changed her life from that of a future lawyer to becoming an historian due to her reading as a teenager his book John Adams. She praised McCullough as a historian and storyteller citing book after book that moved her. Then she came to The Pioneers.
McCullough's last work, The Pioneers (2019), defied this pattern. Rather than turning our attention to underappreciated figures, he further perpetuated the myth of the brave pioneer taming the wilderness. To be sure, the white settlers who traveled west to make a new life for themselves required tremendous bravery to leave their homes, their families, and the lives they knew. But they also required cruelty to seize lands inhabited by Native peoples and a tremendous capacity for violence to wage war on the Native nations that made their homes in the Ohio Valley.
What made McCullough's previous works so accessible was his willingness to unflinchingly bare the flaws of his characters. John Adams could be pompous and petulant. He disowned one of his sons, Charles, for failing to conquer his (ultimately fatal) addiction to alcohol. That coldness is hard to read, but it's an essential part of the story.
If McCullough had brought that level of scrutiny to western migration, just imagine what he could have done for our national origin story. He could have introduced countless readers to a more nuanced, complicated vision of American exceptionalism. Instead, he perpetuated a tired stereotype.
That is a tall order for someone in his eighties.
This remembrance itself then led to discussion on Twitter. Rather than getting bogged down in the weeds, let me turn back to an earlier effort to understand the writings of McCullough. Last year, there also was a multi-authored review section of the Journal of the Early Republic (JER 41 Summer 2021) dedicated to The Pioneers. It launched a new feature called Critical Engagements for the publication. It represented an attempt by the Society of Historians of the Early American Republic (SHEAR), the publisher of the journal, to determine:
1. how his book would fare if it had been written as an academic book subject to peer review<
2. what can academic historians learn from authors of such popular "airport" or "(white) Fathers' Day" books about how to reach a larger audience.
Sometimes these books are called "Founders chic" and have been penned by such public luminaries as Ron Chernow and Joseph Ellis in addition to McCullough. They sell really well.
Speaking of fathers, one would be remiss in an analysis of the Fathers' Day book about Founders without calling attention to "Dad Cinema." Previously I had written about Tom Cruise, Kevin Costner, Donald Trump, and Joe Biden: The Heroes We Want vs the Leaders We Have (July 12, 2022). Since then Joe Biden with his aviator sun glasses while not soaring in the polls has been rising following a string of victories on multiple fronts. By contrast Donald Trump is facing ever-mounting legal challenges and even Republicans now worry about the November elections.
Dad Cinema is an unsung and perhaps dying form of cinema replaced by interchangeable and numerous superdupers representing all identities in apocalyptic special-effects flicks. Just as Chernow, Ellis, and McCullough are not likely to be replaced, neither are Kevin Costner having catch with his father in a field of dreams or maverick Tom Cruise in his impossible missions. Consider these titles about the recent movie:
An Open Letter Imploring Dads to Watch 'Top Gun: Maverick'
Top Gun: Maverick is the Best Movie to Bring Your Dad To
'Top Gun – Maverick' is Action-Based "Dad Cinema" At Its Very Best
Joseph Kosinski, the director of Top Gun: Maverick, was asked in an interview by The New York Times (8/30/22):
How do you feel about being called the savior of Dad Cinema?
Being a dad with three kids, I take that as a compliment. I made a movie about firefighters ["Only the Brave"], which is also known to bring grown men to tears. I'll wear that badge with pride. To see young kids have a great experience, but also to have an experience with their dad and their grandpa or grandma, that, to me, is the most gratifying thing.
Returning to the academic analysis of McCullough's The Pioneers, I had started a review of this study with two blogs:
Historians vs. David McCullough – The Pioneers: The Heroic Story of the Settlers Who Brought the American Ideal West (1/27/22)
History Scholars versus David McCullough: The American Revolution (1/30/22),
before being sidetracked onto other topics and completing the review.
Since that time and even since his death other history-related controversies have erupted.
1. The President of the American Historical Association (AHA) has apologized for his President's Message in the current newsletter. There have been not one but two op-ed pieces in The New York Times (print, 8/26/22 and 8/31/22) on the controversy.
2. I have learned that the AHA will be publishing a review of The New York Times 1619 Project presumably following the format of SHEAR on The Pioneers.
And I still would like to comment of the AHA roundtable of Jill Lepore's These Truths: A History of the United States, the last major effort by an individual historian to craft a national narrative within the academic context. History is definitely in the news.
Previously, I have written two blogs contrasting two modes of learning and experiencing the 250th anniversary of the American Revolution, the more physical, visceral, place-based approach versus the academic ivory-tower approach (Sense of Place versus the Ivory Tower: The American Revolution 250th July 23, 2022). Both are essential for the health of the country. There is a tendency for them to operate in separate silos with neither knowing how nor wanting to communicate with the other. Academics would rather mock and denigrate the fathers than learn how to speak dude.
Chervinsky is right when she recognizes the need for a national narrative for the 21st century, but it seems increasingly unlikely if anyone would even try yet alone succeed at writing one your father would buy.