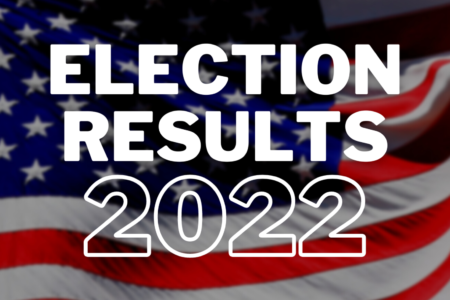 In the battle between Donald Trump and the Constitution, the 2022 elections may be considered the Battle of Gettysburg. The current Civil War is being fought differently than the last one. That Civil War was fought at National Park Service sites. This one is being fought through the voting at all levels and the occasional violence on January 6 and with a hammer.
It is easy at this point to be caught up in the details of individual elections and not see the forest for the leaf. The Battle of Gettysburg 2022 Elections is a critical one in the determination of who will win the overall war. This midterm election was an anomaly because, as previously stated, there were two Presidents were on the ballot. Although neither one was actually on the ballot, the vote in part was a referendum on both 45 and 46.
Under normal circumstances, one would expect 46's party not to fare well. In the past there have been tidal wave shifts against the incumbent President. Everytime a voter saw a gas price while driving or food prices while shopping, the voter was reminded that a change was needed.
On the other hand, when an 82-year old grandfather was struck with a hammer, the voter was reminded what was disgusting and repulsive about 45 and his followers. To watch Tumpicans take joy in and make fun of the hammer attack was a bridge too far for many Americans. Are these the type of people you want in charge of the country?
Fortunately for Trumpicans, many voters still vote local, the price of gas or my party. But others worry about the threat to democracy.
BATTLEGROUND
The time immediately prior to the Battle of Gettysburg 2022 Elections represents the high water mark for the Trumpican forces. Just as Napoleon and Hitler were going great guns for a while, eventually they reached their limits and it was all downhill from there. Similarly, for the Confederacy, Robert E. Lee's campaign into Pennsylvania marked his deepest penetration into the North. Once the Union prevailed at Gettysburg, it was back to the South. Similarly, Trump's sally into Pennsylvania led to a double defeat of his two-handpicked candidates. Republicans already debate the squandered opportunity of the nomination of two Trumpicans.
Up until Election Day, it was full speed ahead for Trumpicans. Republicans were purged from the Party either through retiring or by being primaried. Occasionally, some would win, but in general all those who favored impeachment were gone. Instead, people who supported the claim that the election had been stolen were the nominees.
Laws had been passed to suppress the votes of Democrats.
Candidates had been selected to ensure the vote count be favorable in 2024.
Supreme Court cases had been filed so only gerrymandered state legislatures could decide who had won.
An army of vote suppressors had been recruited and trained.
The only thing left was the actually vote.
THE BATTLE IS ENGAGED  
The same person who predicted a red wave in 2018, predicted one in 2022. He was so sure of the results, that a week after the election on November 15 he was prepared to announce his candidacy for2024. Apparently, he is becoming more and more ballistic about his not being in the White House now and more and more difficult to be handled. Perhaps old age is beginning to affect his mental necessities where he increasingly obsesses over his lost past. The White House has become his Rosebud except it never was his to own in the first place.
The Battle of Gettysburg 2022 Elections expose him as a loser. Sure he can influence who wins a Republican primary. Sure he can "endorse" who wins in a Republican district. But once a candidate has to venture out into the state electorate, the results are not as favorable.
2024 PRESIDENTIAL ELECTION
45 the Loser has direct significance for the 2024 elections.
Previously I had suggested that DeSantis would wait until 2023, before issuing a challenge. That timetable needs to be speeded up. 45 already was fuming about DeSantis long before the 2022 Election Day. Then he decided to fire the first formal shot by giving DeSantis one of those clever junior high school nicknames. He further sought to undermine any potential presidential bid by DeSantis by threatening to smear him and his family. Now DeSantis is a big winner with a huge financial stockpile and 45 is again a loser.
The future does not bode well for 45. Two trials already are underway in New York related to the Trump organization that no one will defend because they are too busy taking the Fifth. It is only a matter of time before he is indicted for Mar-a-Lagogate and vote tampering in Georgia. The House Select Committee will issue its report further documenting 45's effort to overthrow Constitutional rule in the United States leading to further legal complications. As people lose their fear of retribution, even more of them may be willing to come forth. In short, he has nothing good to look forward to legally in the next two years. His legal woes will be like those gas signs, a constant reminder to the voters why it is time to move on.
How many people are going to run in 2024 with a call to relitigate 2020? Just some old guy puttering around in his luxurious nursing home surrounded by his souvenirs… and he won't even have them anymore either.
Then what happens when Russia loses in Ukraine. On Election Day, the Russians announced a major pullback. More to come. This smart savvy invasion of no cost is leading to the defeat of Russia. What are the implications of an Ukrainian victory? What are the ripple effects of a Putin defeat in Russia, in Iran, in China, in Syria, and elsewhere? What are the kudos that will be extended to the supposedly near-death Biden when it turns out Brandon prevailed over Putin?
TRUMPICAN AGENDA
Election Day 2022 burst the bubble of the 45 Loser. He reached the limits of power the day before the election. Even if Republicans take control of the House and Senate, they are well aware that the red wave did not materialize. They are well are of who should be held responsible –  the same person who was responsible for January 6. Republicans in the House and Senate know that if they came out of box in 2023 with guns blazing to relitigate, investigate, and impeach the past, that the American voting public has no interest in it.
Americans looking at those gas prices aren't interested in a retribution agenda. If the only goals of the Trumpican Party are to help rich people get richer and squeeze the benefits of the little people that they are not a winning formula.
In the meantime Donald Trump will be fuming constantly on Twitter or some other social media platform. Even Foxhub is ready to move on. As of right now he may the leading candidate for the 2024 Republican Party presidential nomination. By the time the actual campaign comes around he will just be an immature child with emotional maturity of a three-year old fighting to stay out prison. It will even be safe to be a real Republican then and he may be an afterthought will no role to play.
Give credit where credit is due. He completely disrupted the American political system and put democracy at risk. Now what is at risk is his own freedom. His November 15 announcement, if it happens, is likely to be pitiable compared to the escalator ride a mere seven years ago.