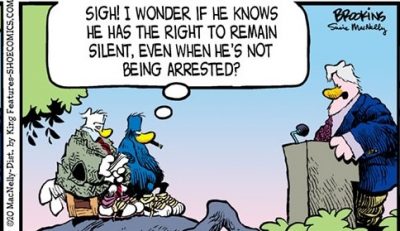 The New York Times has investigated the brain of Donald Trump. That was not its intention when it published above the fold on the front page "Despite Timely Alerts, Trump was Slow to Act" (April 12, 2020, print). Its intention was to document the failures and shortcomings of the impeached wartime President in his handling of the coronavirus crisis. In that effort it appears to have succeeded.
Somehow the subject of the article became aware of it. Obviously he did not read it. Obviously also no staff member briefed him on the contents of the article. He may have seen the headline on a print copy. (I don't know if the White House still receives print copies.) He may have seen and heard it discussed on a news show other than on Fox. However it happened he did become aware that he had been taken to task for his failures and shortcomings. Naturally he responded as he would be expected to respond.

He is even more reliable than Old Faithful in his eruptions.
But the article did more than simply document his failure and shortcomings in managing the coronavirus crisis. It also provided a window into how his mind operates and on what level.
Example #1 [from the front page]
The president, though, was slow to absorb the scale of the risk and to act accordingly, focusing instead on controlling the message, and protecting gains in the economy and batting away warnings from senior officials.
CONFEDERATES FIRE ON FORT SUMTER. ABRAHAM LINCOLN SLOW TO ABSORB THE SCALE OF RISK
What can we learn from this passage?
1 Adults in the White House understood the scale of the risk. Their brains had the mental necessities to understand the situation, to recognize the full gravity of the pending crisis; he did not, his brain does not function at that level.
He provided a demonstration of the smallness of his mind at the news conference the following day. During the Q&A, he got into an exchange with a reporter about what he had done. He kept answering that in January there were no deaths and no infections. Other people in the White House were capable of projecting into the next weeks and months when there would be infections and deaths on an epidemic scale. He was not able to do so. His analytical skills were limited to DOW JONES DOWN. ELECTION LOST. Beyond that he was out of his league. His inability to grasp the magnitude of the risk matches the silliness of his forbidding a cruise ship to dock to keep the number of cases down on his watch. After all, he declared the virus would not strike here so the ship had to be kept a sea. We have contained the threat.
2. It's all about him. Obviously.

3. Every day is like another episode on TV and he has to control the narrative. Obviously.
The takeaway from this passage is not about his failure to act. The takeaway is not about his choosing Option A instead of Option B. The takeaway is his lacking the cognitive skill to grasp the situation. He didn't understand what adults in the White House could understand.
Example #2 [page 14]
These final days of February, perhaps more than any other moment during his tenure in the White House, illustrated Mr. Trump's inability or unwillingness to absorb warnings coming at him. He instead reverted to his traditional political playbook…squandering vital time as the coronavirus spread silently across the country.
GERMANY BOMBS LONDON. WINSTON CHURCHILL UNABLE OR UNWILLING TO ABSORB THE SITUATION
What can we learn from this passage?
1. He still had not grasped the situation. He lacks the ability to do so.
2. He reverted to form, in this case being the seventh-grade-smart-aleck-dumb-aleck that is his true self.
At the infamous press conference Monday, he got into an exchange with a reporter about China.

The discussion went back and forth. He was having problems since he was trying to defend his world of make believe in which he is most comfortable against real world questioning. Finally he could fake it as an adult no longer. He had exhausted himself and reverted to his old standby: FAKE NEWS.
There are limits as to how long he can do the penguin walk and fake being an adult. He can maintain that façade for brief intervals like a child going to grandma's funeral or delivering a State of the Union address. A two-hour press conference exceeds his mental capacity to keep it up. At some point he inevitably will go off script and revert to being the person he truly is.
Example #3 [page 15]
Mr. Trump took a conciliatory approach [towards China] through the middle of March, praising the job Mr. Xi was doing.
That changed abruptly when aides informed Mr. Trump that a Chinese Foreign Ministry spokesman had publicly spun a new conspiracy about the origins of Covid-19: that it was brought to China by U.S. Army personnel who visited the country last October.
Mr. Trump was furious. [He responded on Twitter, "Oh Yeah! Oh Yeah! Oh Yeah! I'LL SHOW YOU!] The China Virus.  
CORONAVIRUS WREAKS GLOBAL HAVOC. IMMATURE CHILD PRESIDENTS BOASTS OF HIS SOCIAL MEDIA PRESENCE
What can we learn from this passage?
CHINA HAS HANNITYS TOO! CHINA HAS HANNITYS TOO! CHINA HAS HANNITYS TOO!
SO DOES RUSSIA!
No one has a monopoly on bull-trump. China is just as capable of slinging it as Fox, the Presidential spokespeople, or the impeached wartime President himself. He has been lucky so far that the Democrats have not given him a taste of his own medicine. Perhaps they should observe how the Chinese, Russian, and Iranian Hannitys act.
How then after weeks of failure did he finally grasp the situation?
Example #4 [page 15]
But in the end, aides said, it was Dr. Deborah L. Birx, the veteran AIDS researcher…who helped to persuade Mr. Trump. Soft-spoken and fond of the kind of charts and graphs Mr. Trump prefers, Dr. Birx did not have the rough edges that could irritate the president. He often told people he thought she was elegant. 
What can we learn from this passage?
1. Mad Dog tried the same technique. Do you think he was soft-spoken without rough edges? Do you think he successfully hid the fact that he was dumbing down his presentation to the level a person with limited cognitive skills and of great ignorance could understand? Do you think he threatened the masculinity of Bonespur Boy?
2. The key to leading him to knowledge appears to be the proverbial old-fashioned school marm. For all we know, Dr. Birx reminds him of teachers he had in elementary school, teachers before his father put in him military school in the vain hope that he would man up.
3. If he were in elementary school today, he would be classified as "special." He proves the need for special-ed teachers who can give students the 1:1 time they need to be able to learn despite certain challenges.
As Jill Filipovic wrote (A day after claiming 'total' power, Trump caves in, CNN, April 15, 2020):
This is an important moment to reemphasize that Donald Trump is not a learned man. Yes, he has a business degree, but he shows no interest in learning, no curiosity about the world around him, and little apparent ability to ingest much in the way of new information that is not presented in simple pictures or on TV. Comprehending complex material seems far beyond his grasp.
His intelligence briefings have to be pared down to child-like levels, and he still barely reads them, and resists receiving them regularly. Some believe he's indifferent to the printed word. Does anyone really think this man has even read, let alone understood, the US Constitution?
In conclusion, The New York Times article written to expose the failures and shortcomings of the impeached wartime President also reveals that those failures and shortcomings are not his fault. When you are a child living in the land of make believe, you make up the rules. If you want to be king, then you are king. The problem occurs when you try to live in the adult world and even Kellyanne Alternate Reality Conway can't save you. Our president genuinely lacks the mental necessities or cognitive skills required to function as an adult, a deficiency that cannot be hidden during a crisis unless you only watch Fox. Unfortunately mental limitations are not a high crime or misdemeanor or removable under the 25th Amendment. At present there is no legal remedy for removing a President during a crisis because he can't grasp the situation.