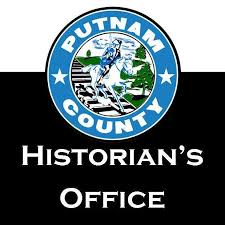 My review of conferences attended and/or would like to have been able to attend continues with the Putnam County Historians' Roundtable. I did attend this conference. The meeting was called by the Putnam County Historian's Office and was held December 7, 2019, at the Putnam County Historical Society in Cold Spring.
Although I am not a resident of the County, my involvement with it goes back many years. I initiated a County history conference (Dan Ricci, one of the attendees spoke at it) in 2011. The conference drew over 100 people. In comparable terms it would be as if a county history conference in Westchester where I live drew about 900 people … and in the thousands in some of the boroughs in New York City. It showed there is a definite interest in history in the County. Since then there have been a couple of conferences and I hope it will be renewed.  On the County's birthday, there is a celebration with awards given to various people and organizations for their contribution to County history (see Kudos to Putnam County Historian's Office, the Oneida County History Center and for Upstate History Conferences, August 6, 2019).
The Roundtable has been held periodically over the years. It is a straightforward event. You go around the table and each person talks about what they or their organization has been doing. There may or may not be a formal presentation of some kind. The cost is coffee and doughnuts and someone may bake cookies. It is a social networking opportunity to bring people together from the towns and villages in the County in a relaxed and informal atmosphere.
The attendees at the Roundtable ran the gamut of the segments of the history community:
A graduate school intern – she did not participate but I certainly would like to know what exactly this grad student does as an intern and if she could serve as an example for other graduate students
An elementary school teacher and a high school social studies teacher
Municipal historians including the high school teacher
Municipal historical societies
Historical Museums
Cemetery Committee
County Tourism Department Chair.
So while the number of attendees was not large, it did include a wide range of the different facets of the history community.
TOURISM
Tracey Walsh is the comparatively new chair of County Tourism. Fortunately for the history community, she brings a love of the County history to the position. She already knows many people involved in County history and was a teacher herself. In this regard, she is a breath of fresh air. She will take a proactive role in promoting tourism in the County. That means she won't simply be waiting for the history community to show up in her office and say, "Here is an event we are doing. Please promote it." Quite the contrary, she intends to be out there in the community to learn what is going on and to see how she can help. Even before the meeting she had contacted me about being added to the distribution list for my blog so obviously I think highly of her!
Tracey updated us on various tourist related developments specific to Putnam County.
I had the opportunity to speak about two items which I have blogged about in the past:
1. The value of history signs in and of themselves as tourist destinations even when there is no museum, gift shop, or bathroom at the location
2. The creation of actual paths or itineraries for weekend or weeklong programs. These require cooperation and collaboration among the various history locations to be created.
I left the meeting with impression that it really will be possible to do something along these lines for the 2020 summer/fall tourist season.
THE SESQUINCENTENNIAL
At this point, the County has not undertaken any actions to prepare for the 250th anniversary of the American Revolution. The Roundtable served as an opportunity to chat about how the County might pursue it.
Jennifer Carlquist, the Executive Director, Boscobel, is very interested in this subject. Boscobel is a Loyalist house formerly in Westchester now on a spectacular location on the Hudson River, especially at sunset.  The site has an attendance of about 81,000/year. One drawback is the lack of motel lodging in the vicinity so visitors are always on their way to someplace in other counties where they will stay for night. She also wants to know about how to reach out to schools.
Fortunately I was able to offer some assistance here. The annual Westchester/Lower Hudson Valley Council for the Social Studies conference was held the Friday following this Roundtable. As a member of the Board, I was pleased to inform her about the opportunity to present to the teachers at the conference next year. This lead to a brief discussion about the disconnect between the schools and the historic sites with their separate conferences and never the twain shall meet. I brought this point up in my last blog on the New England Museum Association conference and will return to it in my next blog about the social studies conference, the last conference I will be reviewing for 2019.
I also had the opportunity after hearing Jennifer discuss her site to invite her to speak at a teacher program on Slavery in Westchester I organized for April in New Rochelle. I do enjoy these meetings where we get to hear and learn about what others are doing.
Another topic raised for the Semiquincentennial was signs. Putnam has a lot of them thanks to Benedict Arnold and John André. People will want to see where Arnold lived in Garrison across from West Point as he was rowed to work (there's not much left). There are many markers along the way. What shape are they in? Are there any markers/brochures/websites which show the entire route? People will want to follow the trail down to Hudson when he made his escape (and maybe have a replica of the Vulture to sail on). People also will want to follow the trail John André took. That means Putnam where he rode, Westchester where he was caught, and Rockland where he was imprisoned [in a still functioning restaurant] and hanged, need to work together along with Orange County where West Point is located. The reopening of Constitution Island a boat ride across from West Point in Putnam should factor into this as well. Will the four counties be able to work together to create an Arnold/André tour? Will the state tourism department assist? This issue will occur with many incidents in the American Revolution that are not bound by our political boundaries at the county or state level. Let's see what happens.
EDUCATION
Mary Jean Cerbini, a 5th grade teacher in Mahopac and from the Bronx, spoke about her local history in the classroom program. It includes the creation of a book by the students. Unfortunately, this program is her fifth grade program meaning it is not a program the other 5th grade teachers in the school use. This led to a brief discussion about the place of local history in the state-mandated curriculum. This topic also came up in the social studies conference. Teachers can do a lot of wonderful things involving local history but so often it is a labor of love by that particular teacher. Unless the state curriculum is changed so local history is integral to it and not just an option for the individual teacher who happens to love it, local history is bound to be peripheral. The absence of local history is related to the absence of civics (another topic at the social studies conference). While occasionally a 16 year-old can become a superstar and Time Person of the Year, most civics starts locally with the places students can visit, the officials students can meet, and the issues students can see right in their own community.
In a brief 2+ hour meeting (the historical society was about to open to the public so we did have to finish!), a lot can be accomplished. Kudos to Jennifer Cassidy of the County Historian's Office for reviving the practice and for the proactive role she is going to take in the future. This kind of low key event is something every county can do. I am sure many already are doing something like this. It would be nice to hear what you are doing.