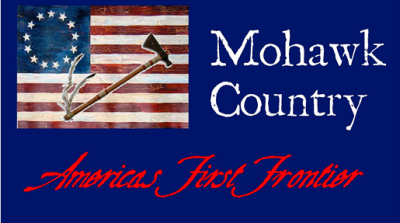 In this post, I complete the review of the familiarization tour in Central New York by I Love NY in August. The background information on the participating tour operators and the first day of the three day tour was presented in Is I Love NY Familiar with your Historic Site. At the conclusion of the post, I noted three history topics touched upon in the tour:
1. The Palatine migration to America and the Mohawk Valley
2. The American Revolution in the Mohawk Valley
3. The Erie Canal
and asked "Let's see what other sites were included in the remaining two days of the tour" related to these topics. These remaining days shed light on how if at all I LoveNY pulls all the sites together.
Monday Aug. 28th: Oneida & Chenango Counties
8:30-9:30am: Breakfast presentation with the DoubleTree Hotel Utica team (2nd floor ballroom)
9:45am SHARP: Depart DoubleTree Hotel Utica
Wolf Mountain Nature Center – Smyrna, NY (Chenango County): Will Pryor, Founder & Head Animal Curator will lead a walking tour (approx. 1 mile) to meet the animals, learn about how the center formed & purpose in having a wolf sanctuary. A non-profit organization situated on 60+ acres of woods, fields, and ponds in the rolling hills of Chenango County in upstate NY. Educated, dedicated volunteers will introduce animals, teach about their diets, habitats, and share personal stories about the center's animals.
12:30pm (approx.): Northeast Classic Car Museum – Norwich, NY (LUNCH) (Chenango County): Tour and enjoy lunch in this educational facility that preserves, interprets and exhibits vehicles related to the evolution of transportation, with particular emphasis on the role of the automobile and its impact on American culture.
Destination Group Travel Show at Turning Stone Resort & Casino – Verona, NY (Oneida County):
The Destinations Group Travel Show is an intimate, free-flowing networking opportunity bringing US tourism suppliers (hotels, attractions, destinations, tours, etc.) to you in a free-flowing tradeshow atmosphere, allowing you to gather new ideas and inspiration when creating unique itineraries and planning travel destinations in New York and beyond!
Don't forget your business cards!!
Turning Stone Presentation and site inspections by the Turning Stone Casino team.
Destination Group Travel Show Networking & Dinner Reception and enjoy the Casino!
9:30pm (approx.): Program at Turning Stone Casino ends
A little time to enjoy the Casino on your own
10:30pm SHARP: Bus will depart for hotel
11:00pm (approx.): Arrive to DoubleTree Hotel Utica
Note – As previously reported, in January 2016, I participated in a workshop called by the Oneida Nation to discuss funding for a possible documentary on the Oneida emphasizing their participation on the American side in the American Revolution.  At my suggestion NPS staff from the Fort Stanwix site in Rome who also manage the NYSOPRHP site for the Battle of Oriskany were invited and did attend. The Oneida maintain a cultural center as part of the Turning Stone complex. It does not appear from the description that the Oneida heritage was part of this tour.
In another post, New York State Indian Paths through History,  I reported on the challenge in creating an itinerary encompassing all the Haudenosaunee peoples. This can be considered a fourth history topic of the Mohawk Valley.
Tuesday Aug. 29th: Oneida & Montgomery Counties
Today is check-out day! Please bring your luggage to the front desk to be stored (unless you are staying Tuesday night).
Breakfast buffet at DoubleTree Hotel Utica is available starting at 6:30am (2nd Floor Ballroom)
8:45am SHARP: Depart DoubleTree Hotel Utica
Liberty Fresh Market/Taste NY & Erie Canal Lock E13 – Fultonville, NY (Montgomery County): Lock E13: Taste NY representative will give an overview of the facility and how to coordinate groups to stop there. History and overview of the Erie Canal; past, present and future. https://www.governor.ny.gov/news/governor-cuomo-announces-opening-new-lock-e-13-living-history-rest-area-mohawk-valley
[Note – In the Mohawk Valley Teacherhostel/Historyhostel we did not stop at this lock. We did spend time at the NYSOPRHP canal site at Schoharie Crossing.]
Arkell Museum – Canajoharie, NY (Montgomery County): Museum tour and hands-on activity. The Arkell Museum celebrates the history and culture of New York's Mohawk Valley and America itself with works by legendary 19th- and 20th-century painters alongside advertising art for iconic Beech-Nut products that were made in the area. The museum features more than 350 paintings and sculptures.
[Note – In the Mohawk Valley Teacherhostel/Historyhostel we did stop here.]
Fort Plain Museum – Fort Plain, NY (Montgomery County): Abbreviated tour and Mohawk Country discussion. Established by the Mohawk Indians and settled by soldiers during the American Revolution, the village of Fort Plain contains fascinating and significant history captured at the museum. Visitors can share common ground with Gen. George Washington, who visited the site in 1783.
[Note – In the Mohawk Valley Teacherhostel/Historyhostel we did stop here. For three years now the Museum has held an American Revolution conference including talks and bus tours.]
1:30pm (approx.): Saranac Brewery – Utica, NY – (LUNCH) (Oneida County): Tour of the Brewery and lunch, including Utica specialties. Founded in 1888 by German-born immigrant Francis Xavier Matt (FX), the Matt Brewing Company is one of the few remaining great American regional breweries. The brewery hosts behind-the-scenes tours year-round and are home to the Tavern, where patrons can enjoy a pint and socialize.
Munson Williams Proctor Arts Institute – Utica, NY (Oneida County): Tour the main building, permanent collection and rotating exhibit: Roaring into the Future: New York 1925-1935. A renowned art collection, fascinating exhibitions and educational programs for all ages. MWPAI has two buildings – one designed by Philip Johnson and another that is Fountain Elms, an 1850 Italian Revival mansion.
4:00pm (approx.): DoubleTree Hotel Utica – Utica, NY: (FAM TOUR ENDS)
Thank you for your time and we look forward to working with you and your clients in…
CENTRAL NEW YORK
There are people in the Mohawk Valley interested in promoting the history and heritage of the region. At approximately the same time as the familiarization tour the following press release was issued.
Guy Park Manor Restoration Group Forms
A meeting of concerned Amsterdam residents and local historians was held this past Wednesday evening to discuss the rehabilitation and restoration of Guy Park Manor said the committee's spokesperson Norm Bollen [also of Fort Plain Museum, one of the stops on the tour]. "Guy Park Manor, built is 1766, is Amsterdam's oldest building", said Bollen. It deserves to be restored and opened once again to the public as a place to explore our colonial history and promote heritage tourism in our city.
The initiative, spearheaded by the newly formed Mohawk Country, Inc. was attended by trustees of the Historic Amsterdam League, the Amsterdam Daughters of the American Revolution and the Old Fort Johnson Historic Landmark.
 "Heritage tourism is a 5 billion dollar industry in New York", said Bollen and Montgomery County has more colonial American and Native American heritage sites than anywhere in the upstate New York area. Reopening Guy Park Manor as a heritage tourist attraction will help shape the City of Amsterdam and Montgomery County into a great American Heritage destination. A well thought out destination tourism program is a vital component to any economic development plan. Tourism is your "window" on the area for others to look in on your community and see what your community has to offer.
 Mohawk Country, Inc. represents colonial era historic attractions throughout Montgomery County. Their goal is to promote, protect and preserve the counties historic attractions, and in the process create a new tourism model for Montgomery County. Since the demise of the [state-sponsored] Mohawk Valley Heritage Corridor Commission there has been no agency working to preserve and promote our heritage.
The committee plans to reach out to local politicians for support and petition the state to work with the organization in reopening the historic site to the public. Guy Park Manor was originally operated by New York State Parks & Recreation but was closed over 20 years ago. Reopening the site as a tourist attraction would be good for the city and create a companion attraction to the new Pedestrian Bridge.
For more information on the Mohawk Country initiative email mohawkcountryusa@yahoo.com
The press release touches on many of the issues in previous posts over the years. It identifies a significant problem and the lack of state leadership. No one in I Love NY has history expertise and it is not the job of tourist people to have such knowledge. On the hand, it is I Love NY's responsibility working through the county TPA and/or through the consultants it hires to reach out to such expertise. This familiarization tour was a rapid "everything including the kitchen sink" smorgasbord of sites and not a thematically-honed tour. It was not specifically intended to highlight the history heritage of the Mohawk Valley. When will it?