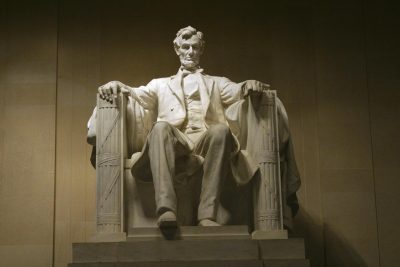 Once upon a time more years ago than I care to count, my sister had an epiphany. Suddenly discrete data packets in her brain coalesced into a vision of breathless clarity and intense emotion. She was effused with the joy and happiness that only one who has seen the truth possesses. Overcome with the intensity of the experience she stood up and proudly exclaimed:
I JUST REALIZED THAT MY BIRTHDAY AND THE DAY I WAS BORN ARE THE SAME DAY!
For all she knew, she was the one and only person on the planet who had attained such knowledge.
How old do you think she was when she had this moment of understanding?

I was reminded of this bit of family lore when our immature child President announced to the world that in the eighth decade of his life, he had suddenly learned that Abraham Lincoln had been a Republican…and that not many people knew that. He apparently was quite proud of himself for now being the possessor of such obscure but important knowledge.
His moment of insight suggests that prior to this learning experience he had thought, along with most others, that Lincoln had been a Democratic President. Instead of simply making fun of him for being a blithering idiot, one should inquire as to how he came to think that Lincoln has been a Democrat.
Certainly it was not something he had learned in school.
Certainly it was not something he had read in a book.
Certainly it was not something he had learned from Fox where Lincoln never is mentioned.
So how then did he come to think of Lincoln as being a Democrat?
He may have presumed that since the former party of Lincoln now is a Confederate party of malice, that Lincoln therefore must have belong to the opposition party.
He may have presumed that since Steven Spielberg had produced a movie about Lincoln that therefore anyone who was a hero to La La Land liberals must have been Democratic.
He may have presumed that since New York State Governor Mario Cuomo had been a big admirer of Lincoln that therefore Lincoln must have been a Democrat as well.
He even may have been vaguely aware of Martin Luther King standing at the Lincoln Memorial at his "I have a dream" speech and since all Middle-Passage blacks are Democrats, therefore Lincoln must have been one too.
In short, we will never know for sure how it came to be that he thought Lincoln was a Democrat only to just recently discover that he was in error.
This eureka moment of understanding raises two critical issues. First, it calls into question his vaunted skill on not needing to be prepped, of not needing to read, of not needing to know anything in advance because he is so smart he can quickly size up the moment, understand the players, and determine the correct course of action. By now we are all in awe of his perceptive ability to make sense of health care, Korean-Chinese history, and taxes and to realize how easy the job of being President of the United States of America is for him even though he had no relevant experience and little knowledge going into the job. After but 100 plus days in office, the job is old hat to him, even boring since it is so easy. Unlike with his predecessor, there is no drama to his administration where everything runs like clockwork in a well-oiled smoothly humming machine.
Secondly, his Lincoln-as-Republican realization calls to mind what else he didn't know about Lincoln besides his political party. For example, Lincoln concluded his second inaugural address with the famous words:
With malice toward none, with charity for all, with firmness in the right as God gives us to see the right, let us strive on to finish the work we are in, to bind up the nation's wounds, to care for him who shall have borne the battle and for his widow and his orphan, to do all which may achieve and cherish a just and lasting peace among ourselves and with all nations.
Is malice towards none a characteristic of our current Republican president?
Is charity for all a characteristic of our current Republican president?
Is binding up the nation's wounds characteristic of our Republican president?
Does Lincoln having been a Republican have any meaning to people who claim to be Republicans today?
In Lincoln's annual message to Congress, he referred to America as "the last best hope of earth." Such thoughts continued the tradition begun by John Winthrop even before there was a United States. They were proclaimed most recently and prominently by Republican President Ronald Reagan who declared our country to be a shining city on a hill that the eyes of the world are upon. The America of Winthrop to Reagan and even beyond had a special role in human history. Even the Politically Correct acknowledge America's special role in human history. True it is as the Great Satan but that still is a pretty impressive global role in human history.
Where is the vision today? In a world where everything is transactional, where everything is about the deal, where everything is about making money, there is no vision to inspire the world in a journey to a better tomorrow. So he now knows that Lincoln was Republican, so what?
Does Lincoln having been a Republican have any meaning to people who claim to be Republicans today?
Are there any ramifications to America's abandonment of its role as a city on hill that the eyes of the world are upon? Certainly Turkey is happy about it. So is the Philippines. And Venezuela would be too if its autocrat prevails in the battle against democracy there.
Former Deputy Director of the CIA David Cohen warned of the danger to America of a purely commercial policy. He drew on his own experiences working with undercover agents from other countries. They were people who put their lives on the line for America precisely because it stood for everything our immature child president rejects. The values of the city on a hill that the eyes of the world are upon offered an alternative to the life they knew in their own country. They dreamed of living the American dream.
Cohen writes: "that image of the United States as the 'last best hope of earth," proclaimed by our leaders for decades, is an enormously effective recruiting too…" He goes on to tout the value of "the American idea" in promoting our interests. As he put it: "Tarnishing the idea that America stands for something uniquely good makes it harder for the C.I.A. to recruit spies." Cohen concludes his op-ed piece with a ringing endorsement of America's role in human history in starkly immediate terms for the safety of the country: "relinquishing America's place as the shining city on the hill will do real and profound harm to our national security." Our immature child president genuinely lacks the mental necessities to understand this reasoning. What about the former party of Lincoln?
Speaking again of Lincoln, let me conclude with one other area where his vision and that of the party that he belonged to differ – immigration.
In a debate with Stephen Douglas on July 10, 1858, in Chicago, the future President redefined how one was to define an American in a way those who are ignorant of Lincoln have not yet learned. Suppose one wasn't a Son or a Daughter of the American Revolution? Could one still fully celebrate July 4? Listen to Lincoln's answer:
In every way we are better men in the age, and race, and country in which we live for these celebrations. But after we have done all this we have not yet reached the whole. There is something else connected with it. We have besides these men-descended by blood from our ancestors-among us perhaps half our people who are not descendants at all of these men, they are men who have come from Europe-German, Irish, French and Scandinavian-men that have come from Europe themselves, or whose ancestors have come hither and settled here, finding themselves our equals in all things. If they look back through this history to trace their connection with those days by blood, they find they have none, they cannot carry themselves back into that glorious epoch and make themselves feel that they are part of us, but when they look through that old Declaration of Independence they find that those old men say that "We hold these truths to be self-evident, that all men are created equal," and then they feel that that moral sentiment taught in that day evidences their relation to those men, that it is the father of all moral principle in them, and that they have a right to claim it as though they were blood of the blood, and flesh of the flesh of the men who wrote that Declaration, (loud and long continued applause) and so they are. That is the electric cord in that Declaration that links the hearts of patriotic and liberty-loving men together, that will link those patriotic hearts as long as the love of freedom exists in the minds of men throughout the world.
For Lincoln, one did not need to be a blood-descendant of the American Revolution to be one with the spirit of the event. Through adherence to the principles of the Declaration of Independence every American stood as one with those who had fought and died for America's birth. The new Republican Party that Lincoln had joined was the immigrant party (except maybe not so clearly the party of the Irish), the party whose political interests were served by reaching out newly arrived and would-be Americans. By disavowing immigrant restrictions it succeeded in holding on to a fair share of the foreign-born vote, especially among younger Protestant voters. These immigrants from Scandinavia, France and Cornwall, among other places, supported Lincoln, Union and America.
Learning that Lincoln was a Republican should be the first step and not the only step for the president of the former party of Lincoln. If he is having trouble learning what it means to be an American, perhaps there are some Russians who can help him.
Konstanin Anismov, Russian immigrant and father of Maria Anisimova who graduated from the Wharton School of the University of Pennsylvania and of Amanda Anisimova who will represent the United States as the youngest player in the French Open since 2005, on his immigration to America:
We really like Spain, but then we recognized when we visited America that everyone who comes here is going to feel like home. In Europe, you always feel like a foreigner because it is a completely different culture. America is a united country where people come from all over the world, and after a couple of years, they feel this is home. ("Only 15, but Ready for Her Grand Slam Debut" NYT 5/27/17).
If only the former party of Lincoln or the party of identity politics believed that. Is there no Lincoln in American politics today?