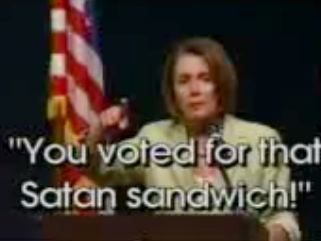 Several years ago, Rachel Maddow, MSNBC, devoted the opening segment of her show to government shutdowns. She was interested to know why the federal government always seemed to be shut down, on the verge of a shutdown, or threatened with a shutdown. She traced the cause to a group of RHINO Representatives then called "Tea Party" and now called "Freedom Caucus."
Her examination led her to the conclusion that these representatives came from districts where they did not have to worry about Democratic candidates. I do not recall if she used the word "gerrymander" in her analysis, but what she did was to compare the state vote totals for Representatives with the actual allocation of Representatives for the state. As best I can recall she used the three states of Michigan, North Carolina, and Pennsylvania for her data set. What she found in each case was that the number of Republicans elected was disproportionately higher than the statewide Republican vote. The result was the proliferation of these RHINOs who were rambunctious, disruptive, and uppity leading to government shutdowns.
Her analysis stopped there. Let's examine what she omitted.
WHY DOES THE MORE REPUBLICAN A DISTRICT IS MEAN THE LESS THE REPRESENTATIVE ADMIRES LINCOLN?
Just because a district is primarily Republican in its demographics should not necessarily mean its representatives are people of malice who despise or do not admire Abraham Lincoln. How come the first Republican President and Mount Rushmore President is not a hero to the RHINOs from Republican districts? What about Teddy Roosevelt? What about Dwight D. Eisenhower? What about Ronald Reagan? Nancy Pelosi on the floor of the House recently quoted Reagan on immigration to deafening silence from Republicans. She demonstrated that Republicans have abandoned not just Lincoln but Reagan, too. After all, a Republican who could win in California is of no interest to Republicans today.
WHY ISN'T THE CONGRESSIONAL BLACK CAUCUS UPPITY?
The Congressional Black Caucus is about equal in size to the RHINO Freedom Caucus. To the best of my knowledge, its members never worry about Republican Party opposition candidates. Their seats are as safe and secure as those of the RHINO Freedom Caucus. Members can hold them for decades and sometimes even bequeath them as a legacy. Maxine Waters may be colorful may she is not uppity like the RHINO Freedom Caucus. The Congressional Black Caucus is not in the business of shutting down the government even though it is just as well positioned numerically to do so as the RHINO Freedom Caucus.
WHAT ABOUT THE WHITE URBAN LIBERALS LIKE NANCY PELOSI?
Another group of elected representatives who never have to worry about opposition candidates are the urban white liberals like Nancy Pelosi herself. I am not familiar enough with Congressional politics to know how such representatives there are. Regardless of the exact number, one presumes there are enough of them from the major cities of the country to be a formidable presence. For example, my own suburban New York district is represented by Nita Lowey who has been in Congress forever, had no opponent in the 2018 election, and now through seniority and the Democratic takeover holds a powerful committee position in the new Congress. She is not uppity nor are her fellow white urban liberals.
2010 Elections
Maddow's analysis was incomplete. It failed to show why this particular group of Representatives who do not have to worry about opposition candidates acts in a way entirely inconsistent with the way other similar groups of Representatives behave. Nor did it address the diminished status of Lincoln, Roosevelt, Eisenhower, and Reagan in the Republican Party. Nor did address how it came to be that Republicans were in position after the 2010 census to draw such gerrymandered districts so that they could elect Congressional (and state) representatives far in excess of popular vote count.
The missing piece from her analysis was the impact of the 2010 elections, a wave election that substantially benefited the Republican Party. This redistricting did not happen in a vacuum. It occurred in response to other events. Yes, there had been problems with the economy. Yes, America had elected its first bi-racial President. And then there was healthcare.
Remember Nancy Pelosi and the passage of a healthcare? Now that she has returned for second stint as Speaker of House, her accomplishments the first time around are being touted. Foremost among her achievements as a great Speaker is the passage of healthcare legislation. When confronted with Republican obstacles to its passage, she adamantly declared almost eight years ago:
We'll go through the gate. If the gate's closed, we'll go over the fence. If the fence is too high, we'll pole vault in. If that doesn't work, we'll parachute in but we're going to get health care reform passed for the America people.
Like Churchill voicing the indomitable British will to never surrender, Pelosi exclaimed the Democrats would triumph no matter what wall the Republicans built to prevent them from reaching their goal.
It was at the moment when Pelosi became the poster-person for the condescending arrogant self-righteous elitists, a position she holds to this very day. There is in America a significant portion of the population that adheres to the motto "Don't tread on me." These people do not like being told what to do. It is relevant whether or not what they are being told to do is in their own interest. The guiding principle is that they are being told what to do and have no choice but to comply, to obey, to be treated as slaves.  Since colonial times, this segment of the American population has expressed its antipathy to condescending arrogant self-righteous elitists. They hate having no choice and that is what Pelosi told they had: no choice. Then came the elections. Payback.
I get home delivery of the New York Times. I read the paper with two hands, the way people are supposed to get the news.  That means about once every other month, there will be an op-ed piece by Paul Krugman on healthcare. He will praise what it has accomplished, note there is room for improvement, and mock the Republicans for being unable to even develop an alternative of their own despite all their whining and shouting. But what economist Krugman never does is to consider the political costs of healthcare.  He never considers what subsequently happened to the Democratic Party beginning in the 2010 election. While it is easy to blame deplorable white racists who fear losing white privilege, that also is an explanation that makes condescending arrogant self-righteous elitists feel good about themselves. Perhaps instead of telling Don't-Tread-on-Me Americans what was going to be done to them, they might have started by asking the people what they wanted. Instead, like the Very Stable Genius, they already knew the answer and were ready to force it on people if necessary.
While there may not be a direct connection between Pelosi going over, under, around, and through the wall to prevent healthcare to the 2016 election, it is a major part of the story that helped worsen the divide among Americans that a skilled con artist could exploit. Somehow this spoiled billionaire with no sense of empathy or sympathy has convinced Don't-Tread-on-Me Americans that he cares about them. Keep in mind though that the Queens boy from the wrong side of the river has his own genuine issues with the elitists from the right side of the river in Manhattan.
Ann Coulter
At the same time that Maddow was omitting all this from her analysis of the government shut down, Ann Coulter, the second woman, offered an alternative view. She expressed how proud she was of her "boys," apparently not a racially offensive term when used by white people about white people. She exulted in their courage. As a result of their heroic actions, spending was cut and the budget was balanced. At least it was in that timeline. In our timeline, the practical results were non-existent. However, it did enable uppity, rambunctious RHINOs to feel empowered.
So here were are years later with yet another shutdown. In this instance, the shutdown was snatched from the jaws of cooperation. When Fox, Ann, Rush, and the leaders of the RHINO Freedom Caucus read the weeny President the riot act he quickly folded. What had been a professional wrestling arena campaign gimmick suddenly became a hole he was digging himself deeper into. The talking heads are right: whatever compromise should emerge to resolve the situation, the Republican base can be conned into thinking it is a victory. However that may not work with Fox, Ann, Rush, and the RHINO Freedom Caucus. They will be harder to con hence the hardening of the lines.
Now the shutdown ratchets up in intensity threatening to become a national emergency. It may come down to first there being enough Republican Senators to pass the budget legislation and second there being enough the override a veto as well. Come to think of it, that would require the same number of Republican Senators as to remove a President should he be impeached. There is a lot a stake here.
Maybe in the end, Pelosi will not only have helped to elect Trump, she and Ann will have helped to remove him.