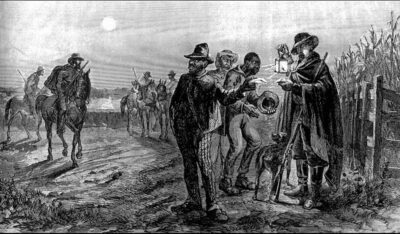 Is your head spinning? Mine is. Hard to keep up with all that is going on. News items that would generate attention fall by the wayside as newer news pops up. Sometimes even while waiting for a magical hour when a decision is going to be made about one thing, one finds one's self overwhelmed by real BREAKING NEWS.
In this blog, I will attempt to sort out some of the issues which would be standalone items in other circumstances but instead are hurry up and get out of the way. There is another item rushing down the tracks.
SLAVE CATCHERS
Once upon a time not so long ago there were people in the United States, mainly Confederate based, called slave catchers. Their job was to hunt down runaway slaves and to return them to their rightful owners as the law was so defined then. And if by "accident" they captured a free African as in Twelve Years a Slave, who cared. What was important was the money to be made by taking people from the North and "returning" them to the South.
Even give the existence of slavery, there was a catch. The person captured in the North was being captured in a state where slavery had been banned. These actions raised all sorts of legal questions about the legitimacy of taking someone from a free state and transporting them to a slave state.
Yet that is exactly what Confederate states and others are attempting to do in the present. Only this time the issue is not the entire body, just portions of it. The Confederates today are asserting the same authority and control over the body of women that they once had over Africans. This time the control is through abortion. First, the Confederates ban it in their own states. Then the Confederates ban it for people from their state who travel to another state for the procedure. The Confederate states want your medical records. No matter where you go and what is legal there, you are still subject to the laws of your home state. These abortion catchers claim legal jurisdiction over you even if you are in another state jurisdiction.
Once again we are witnessing the divorce of the country at work. The United States is becoming two countries legally and politically even if there is no formal succession. This process of division is only likely to accelerate. Under ordinary circumstances, one would think the 21st century version of slave catchers where Confederate men seek full control of the bodies of women in Confederate states would warrant more attention. But it is just another news item in the torrential outpouring of events from Hurricane Trump.
SWAMP BUILDER
In 2016, Swamp Builder pledged to appoint the finest people and judges who would reverse Roe v. Wade. Mission accomplished. Trump succeeded in appointing more incompetent and/or crooked people to cabinet positions than any other President. If they were not being prosecuted, it was only because his trusted Attorney General had no interest in doing so.
When it came to judges, the Federalist Society and Mitch McConnell had list of people ready to be appointed, no questions asked. Swamp Builder got the Supreme Court he wanted and the judges he wanted. The reversal of Roe v. Wade fulfilled a national promise. Now he is hoping that one of his federal judges will rescue him from some of the crimes he committed.
In the meantime, he is preparing for the Executive branch he will inherit in 2025. Now he and his supporters know how the federal government operate. They know who can prevent the immature child with the emotional maturity of a three-year-old from playing President where he can do whatever he wants and make money doing it. This time around if the opportunity presents itself, a cadre of MAGAs are ready to do to the Executive branch what they did to the Supreme Court the first time around.
These MAGAs are much more organized and knowledgeable than the person they serve. They can identify all the independent arms of the government which should reined in and placed under the direct control of the President. Shades of being king. Shades of following what other authoritarian leaders around the world have done. The consolidation of power in one person will eviscerate the system of checks and balances which has maintained our freedom from government control.
The people who are most vociferous in exclaiming the need and right for individuals to maintain an arsenal under the Second Amendment are the ones most eager for Joe Biden to have vast new powers should he win again. Obviously, MAGAs are anticipating that with voter suppression that will never happen. The ability of state legislatures to decide who wins in state has been curtailed. But somehow it never occurs to MAGA that the imperial authoritarian President they are creating would one day have the power to turn against them. Under ordinary circumstances, one would think the 21st century version of seeking authoritarian rule by Donald Trump would warrant more attention. But it is just another news item in the torrential outpouring of events from Hurricane Trump.
FELON TRUMP
Where do you begin to tell the story of the most impeached President and indicted former President in the history of the United States? And this does not even include the civil and criminal cases against him and his organization. Is there any day on the calendar when he won't be involved in a legal matter in some way? And there is more to come.
The accepted wisdom as pronounced by the elitists is that these accumulated cases will have no impact on the loyal support of the Congressional weenies, Congressional morons, and MAGA base. So far that judgment appears correct. He is a lock on being the nominee in 2024. The one supposed challenger has self-destructed even before any primary votes have been held. At this point in time there is no one who is even a remote threat to his renomination. That is an achievement in its own right.
However, time does not stand still. Even people who only get there news from Foxhub, will at some point realize that their Lord and Savior, the Holy One, Blessed Be his Name, has an extraordinary number of legal cases in which he is involved. They are so many it is hard to find time to schedule all his court appearances. As his freedom of speech to insult people is curtailed by judicial order, his professional political wrestling rallies may even become more incoherent, dumb, and self-centered. He is not fighting for MAGAs, he is fighting for himself.
The proof will be when the trials actually begin. He will not even defend himself in a court of law, only on social media, Foxhub, and professional political wrestling rallies. No one will take the stand on his behalf either. The witnesses testifying against him will all be Republicans or his employees with nary a weaponized Department of Justice agent in sight. The constant drumbeat of how he was not only a loser for himself but for others who took up the mantra that the election was stolen will cause some people out of self-preservation not courage to say enough is enough. How stupid a human being do you have to be run in 2024 on a platform of the 2020 election was stolen given the failure in 2022?
So besides an election campaign based on:
Hunter Biden and the corrupt Biden family
Crooked Hillary
Genius Putin
add to it:
the control of the bodies of women no matter where they go
consolidating power in the hands of the most impeached, indicted, convicted candidate in the history of American Presidential politics the 2020 election was stolen.
Does that seem like a winning hand?