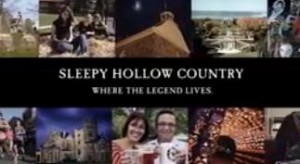 Halloween is boffo at the box office. It's not your father's Halloween. In recent years the holiday has soared in prominence and become an economic powerhouse. Time magazine had an article in its culture section entitled "Monsters Inc.: Inside the Weird World of Professional haunting." This was a followup to last year's smaller article on "Tombstone Tourism: A Second Life for Cemeteries." The New York Times published "House Haunters" while my local paper had a front-page article "In the Lower Hudson Halloween Is SCARY-BIG BUSINESS." Clearly something big is occurring and historic organizations often are cashing in.
Regular readers may recall that when the Path through History began, I reported that Historic Hudson Valley was in the process of abandoning or diminishing its emphasis on traditional tourism. Instead it was switching to the blockbuster approach just as Hollywood has. The change occurred when a program on the pirates of the Hudson had huge attendance. It opened the organization's eyes to the potential of the spectacular.
That approach carried over to creating major events for Halloween. Those events now aren't just for a single weekend but extend of many weekends as the appeal of such family and adult programs has skyrocketed. In case you are not aware, Historic Hudson Valley is located in Sleepy Hollow, yes that Sleepy Hollow as North Tarrytown decided to re-brand itself after GM closed its plant. As a result it has enormously powerful built in historic legacies which it maximizes to the hilt. It has the grave of Washington Irving, his home, the Old Dutch Church and burial ground. The latter are across the street from the Dutch Philipsburg Manor, one of the Path sites which really can't compete with Halloween. The Sleepy Hollow Cemetery is next to the Church burial ground and naturally has midnight tours.
The numbers are staggering. According to the local paper the attendance last year was 80,000 and over 100,000 are expected for the Great Jack O'Lantern Blaze at Van Cortlandt Manor . There is some serious money involved here as people eat, shop, and lodge locally contributing sales tax and revenue to the community. The new television show Sleepy Hollow with its aerial shots of the Hudson River and the Tappan Zee Bridge will only generate more tourism even though it distorts the actual village. The real village of 10,000 people has become a TV small city of 144,000. That is the number of people who will be raptured according to the Book of Revelation. The TV show has taken a few liberties with Irving's book but it does show an awareness of the stories which are of interest.
Of course, not every community is blessed with the legacy of Washington Irving. So create your own. Haunted houses are big business. People make a living designing them. These building s tend to open in late September and remain open until early November possibly bringing in $1,000,000. This year one estimate has 31,000,000 visitors paying $15-30 per person. The Headless Horseman Hayrides and Haunted Houses in Ulster Park has six houses on its 45 acres. There is even an industry trade organization, the Haunted Attracted Association.
What does this mean for historic sites? What does this mean for historic sites that have no connection to Washington Irving, Halloween, or 45 acres of land. Can historic sites cash in?
We are a storytelling species and we like stories of gore. Without zombies, werewolves, and vampires, Hollywood would be in big trouble both on the big screen and TV. There are to ways to cash in on this without sacrificing your integrity as an historic organization. The first is cemeteries. Pretty much every town and village has one. That means there are people buried there, people with stories dying to be heard.
According to the Time article on "Tombstone Tourism," Richard Moylan, president of the Green-Wood Cemetery in Brooklyn, had an epiphany in 1999. He was in Baltimore when he visited the local Green Mount Cemetery and saw an empty place even on a beautiful day. Times have changed since the rural cemetery movement began in the 1830s. Back then, pre-Central Park, rural cemeteries were scenic idyllic settings appropriate for family visits for restoration, contemplation, and a pleasant experience.
New York embraced the rural cemetery movement and these cemeteries can be found in Poughkeepsie, Albany, Troy, and elsewhere. Moylan's revelation was that if you open the cemetery, people will come. And so they did. On organized tours. Cemeteries are now open for business. This is especially true on Halloween. Danielle Fontaine, Sleepy Hollow's director of marketing and sales recognizes the need to balance the tourism against the business of being a working cemetery…and that the money generated by the former helps defray the expenses of the latter. They are boffo at the box-office and you never know who will leap out from behind a tombstone in the dark of night!
Houses too may have stories to tell. The odds are at some point in the history of your community there was a murder. Historic houses need to reach out into the community with stories to tell and its not going to be about the colonial ancestor with eight kids who then had 64 grandchidren! People's eyes will glaze over before you get to the third painting. Think storytelling not docent. I know that many historic sites uses their buildings to tell a story, not just on Halloween, but at other times as well. Moving about the house as different people in costume act out an historical event from your communities history is a way to connect your audience to its past. I wrote about a musical performed on stage to tell the story of the Town of Rye. We are not blessed with the historic houses which can be used for such storytelling as we have no real historical society, no museum, and no such building; but many other communities do.
So if you are not performing a story in some way, think about why not. If you perform your story, people will come and that is what historic sites need, the people of their own community to come and be part of their legacy whether it is on Halloween or not.