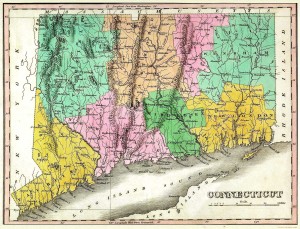 Our neighbor state has been trying to promote the teaching of history in the schools. The Connecticut League of History Organizations (CLHO), an organization similar to the Museum Association of New York, sent a notice to its members to take a survey with the message: "We NEED your help to get Connecticut history into the hands of Connecticut teachers and students."
The goal of this effort was stated as "LET OUR TEACHERS KNOW THAT CONNECTICUT HISTORY IS ALIVE AND WELL."  CLHO asked the question which could be asked in New York as well: "Connecticut's history rarely ever makes it into the classrooms in our state. Why?"
CLHO was reaching out to its members as the people best poised to take a leadership role in making state history accessible to teachers everywhere, when they wrote: "As a historical society volunteer, a board member, a docent, an archivist, a librarian, or in any other paid or unpaid staff job, there is no one better qualified than you are to identify those local stories that will enthrall and excite our Connecticut kids."
CLHO also seeks to use History Day as an opportunity to encourage students to learn about state history: "One of our top goals is to encourage students, parents and teachers to choose topics in Connecticut history for their History Day projects."
New York, of course, is active in History Day as well. It would be interesting to know how many of the topics selected in New York for History Day are about history in New York. Certainly here is an opportunity to promote local history.
CLHO pointed out that the theme for the contest this year – Rights & Responsibilities in History – could be addressed with local incidents and events. The survey therefore asked the CLHO members to identify possible topics based on their local history. A series of specific questions were asked to determine if a certain type of event occurred in each of the state's towns or regions such as: "Do you have photographs or other archival material which would be of use? Would you be willing to work with teachers and students in preparing their presentations?"
As part of the effort CLHO is hosting a History Day kick-off event. This event will bring together historical re-enactors and the persons they portray. It seems as if they intend to bring together the theatre of storytelling with the scholarship. Considering that we are a storytelling people and I just wrote about using one's local history as the basis for a play or musical, this effort is welcomed. The different constituencies of the history community that I frequently write about as not working together in New York are all invited to participate in this conference: teachers, students, parents, historical organizations, and two Central Connecticut State University historians. That university has taken it upon itself to be an active leader in the state history programs in Connecticut.
In addition to this free program, there will be a  fee-event in the afternoon and evening. It will comprise a panel, dinner and performance on Interpreting History entitled  "Not What Happened – Interpreting History." Funding for these events was provided in part by Connecticut Humanities and the New England Foundation for the Arts somewhat similar to NYCH and NYSCA in New York. Nice to see these organizations working together. Imagine if the same could be done in New York, not just at the state level but at the regional levels which are more comparable in size to Connecticut. Perhaps if New York History Day became a more state- and local-based program that reached out to the community, New York State History Month that State Historian Bob Weible just wrote about would be easier to resurrect. Perhaps that could be a topic at a meeting he will call.
If you have any comments about this effort, you can direct them to Liz Shapiro, Director of the Connecticut League of History Organizations (liz@clho.org or 860-685-7595).
P.S. When Liz isn't busy with History Day, she participates in six regional conferences covering the state on various topics or themes. Admittedly the state is smaller than New York, but you may recall my recommendation that the history community could get more bang for Cuomo's $1,000,000 bucks if we had 10 people for each of the then-10 Path regions where each one would the job of doing in their region what Liz is doing at the state level. And what ever happened with that $1,000,000 anyway?