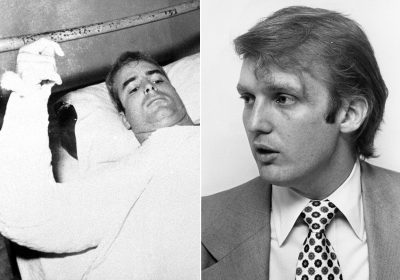 John McCain is an American hero. To call him a hero is not to necessarily agree with all that he said and did. Even he has regrets about things he has done. What it does mean is that when the batting average of his life is calculated it will be sufficient to warrant inclusion in the American Hall of Fame.
McCain's significance extends beyond who he is as an individual. His importance extends to the country he loves and the party which nominated him for the office of President. All things considered, when one looks at the Republican Party today, it is hard to imagine how it could have nominated any of the candidates it nominated in the 21st century prior to 2016 given where we are today. As a result, part of McCain's story is not only who he is a person, but what he represents. The decade from his nomination in 2008 to the present is one that will be studied by historians seeking to determine what happened to America.
Let's start by comparing and contrasting the 2008 candidate who lost and the current president.
John McCain dedicated his life to the service of his country.
Little Donny Waany is a narcissist who always puts his own interests first.
John McCain put his life on the line for the country he loves.
Little Donny Waany fights in scripted professional wrestling arena performances and would never put his life on the line for anyone.
John McCain reads books.
Little Donny Waany can't.
John McCain has favorite authors.
Little Donny Waany has favorite cable TV announcers.
John McCain's closest Republican friend is Lindsay Graham.
Little Donny Waany closest Republican acolytes are Nunes the Clown and former Christian Mike Pence. Nunes couldn't detect the Russian violation of America in the 2016 election to help Trump and hurt Clinton even though Senate Republicans and the intelligence community could. He couldn't detect a Russian operative if she was staring him in the face. Pence is chomping at the bit to replace his chaotic adulterer-with-a-Playmate-and-porn-performer boss.
John McCain has friends who aren't Republican and whom he invited to speak at his funeral.
Little Donny Waany once donated to the Clintons when he thought it would help him and now demonizes them when he realized it wouldn't.
John McCain can give a speech.
Little Donny Waany is functionally incoherent even within the limitations of a tweet.
John McCain is an outcast in the Republican Party and can be ridiculed with impunity by the White House without the Republican Party standing up to defend him.
Little Donny Waany sees no reason to apologize for his staff ridiculing John McCain. After all, he did it first.
John McCain is a person of honor.
Little Donny Waany thrives on demeaning and insulting people.
John McCain tells the truth.
Little Donny Waany can't.
John Mc Cain believes in America's role in human history.
Little Donny Waany doesn't even understand the concept.
John McCain is an adult.
Little Donny Waany is an immature child.
It's hard to believe the two people are members of the same party yet alone could be nominated to the same position a scarce eight years apart.
Already in 2008, change was in the air. McCain now regrets his decision to pick Sarah Palin as his running mate. In hindsight we can see she was the wave of the future for the Republican Party. All things considered, Palin rates more normal than previously given credit for. Better a candidate who can see Russia from her backyard than Putin's poodle whose top
priority is to end the sanctions against Russia. If elected do you really think Palin would have refrained from condemning Putin by name for his attempted assassination of Russian dissidents in England and then congratulated the dictator on his election victory? Just as Little Donny Waany has helped boost the memory of the presidency of George Bush in hindsight, so too he will boost the memory of Republican vice-presidential candidate in 2008. She may have been many things but a swamp-building-bigoted-liar wasn't one of them.
What frequently is overlooked in the decade of degradation of the Republican Party since 2008, is the role of the Democratic Party in causing and supporting it. It is easier for Democrats to claim the high road than to look in the mirror. It is easier for condescending arrogant self-righteous elitists to blame Putin for the electoral loss just as Donny Waany blames the 5 million illegal voters for the popular vote lost then for them to face the shortcomings of their message. It is easier for condescending arrogant self-righteous elitists to look down on the deplorables then to recognize them as worthy of respect who should be treated as human beings. It is easier for condescending arrogant self-righteous elitists to salivate over the coming demographic deluge then it is to face the truth of the Party's own contribution in expanding the voter pool who would find the immature child acceptable as a leader. There was a time when Democrats took pride in feeling your pain, now they relish in causing it and exult in the demographic tidal wave that will wash these people from power forever.
Donny Wanny didn't create that voter pool, he exploited it for his own purposes. Who would have predicted that there would come a day when evangelicals would embrace a dishonest adulterer with no core values save his own gain? Something had to happen for evangelicals to willingly stoop so low and abandon their values. So far there is nothing to indicate that Democrats even realize their role in causing this to happen, that they care, or that they are going to do anything about it.
Perhaps the non-Peolosi supporting Congressional candidates with military backgrounds demonstrate that the real world is sinking in with Democrats. The cessation of declaring war on people who think of themselves as Americans and not hyphens shows that at least some Democrats have woke and smelled the coffee. Democrats would be better advised to reach out to Republicans who admire John McCain than to condemn all Republicans as Trumpies. Once there were Scoop Jackson Democrats whom the Democrats abandoned and then welcomed their leaving the party and voting Republican. Now there are John McCain Republicans who have been abandoned by the Republican Party, are disgusted with what it has become, and are looking for something better. There is nothing to be gained by insulting them and everything to gain by reaching out to them. The true tragedy would be if there is no place in either party for Americans who admire John McCain, American hero.