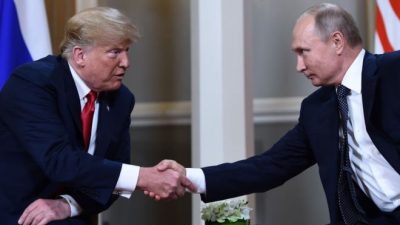 "We're going to win. We're going to win so much. We're going to win at trade, we're going to win at the border. We're going to win so much, you're going to be so sick and tired of winning, you're going to come to me and go 'Please, please, we can't win anymore.' You've heard this one. You'll say 'Please, Mr. President, we beg you sir, we don't want to win anymore. It's too much. It's not fair to everybody else.'" Vladimir Putin said. "And I'm going to say 'I'm sorry, but we're going to keep winning, winning, winning, We're going to make Russia  great again."
Russia is on a roll. Despite limited economic resources, it is moving ahead to disrupt the Western Alliance and the United States. Where it can divide peoples, it does so. Where it can fill a void, it does so. Where it can reap the benefits from the America Alone policy, it does so.
Recently Putin's Pence handed Russia a win. The sudden and abrupt withdrawal of the United States from Syria was an unexpected gift. Putin could not even take credit for it. He could not claim to have initiated the sequence of events that led to this victory. Out of nowhere, alpha male Erdogan in a phone call to the submissive child president of the United of the States suggested that it was time for America to go home and let Turkey take care of business. He readily agreed to the surprise of everyone who was an ally or enemy of the United States.
Let's look at what this strategically brilliant, dare one say "perfect," decision led to.
American allies know they cannot rely on America anymore
Roger Cohen: "Europeans now shrug when they don't laugh. The consensus is that the United States has lost. There is nobody home." (Trump's Gut, and the Gutting of American Credibility, NYT 10/19/19, print).
Mowaffak al-Rubaie, former Iraqi national security advisor: "This guy is all emotional. It is unpredictable….For Americans, their friends are disposable. The Americans, you look for them and they look for the closest exit. You turn around and you don't find them." ("Policy Zigzags by Trump Put Mideast in Fog," NYT 10/13/19, print).
Shimrit Meir, Israeli columnist: "If you are someone that is a rival on the other side ⸺ you're Iranian, Russian, Turkish, ISIS, Hezbollah ⸺ you understand that this is a time for gain." ("Policy Zigzags by Trump Put Mideast in Fog," NYT 10/13/19, print).
Who is the reliable partner to whom countries should turn? Who is it who touts its stability and consistency over the years?  As America bombs its own military facilities before the Russians can occupy them, who is exulting? Besides the Russians there are others.
Now, let's consider what Putin has done and gauge whether he has overplayed his hand. I am not referring to his ventures into Africa. Trumphole countries that do not want to be vassals of China cannot turn to the United States for assistance. This bigoted President has no interest in them not even to build a resort. He will accept no refugees from them since the United States is full up…and he does not want any immigrants either. The result is void for Putin to fill. And he gets to test the disinformation techniques he will use in the 2020 elections.
Instead, I am referring to the Ukraine. As I previously stated, What Do Seth Rich and the Ukraine Have in Common? Answer: Sean Hannity, Putin's tried and true tactic to discombobulate America is to give people what they want so they can make a mess of it.
It worked with the Seth Rich story on Flying Monkey Sean Hannity.
It worked with the Steele Dossier for the Democrats. The disruption still has not ceased after the Mueller report. Secret testimony now disclosed is shedding more light on the activities within the Trump campaign and White House on what they did. Meanwhile Flying Monkey Bill Barred-for-Life is traveling the globe seeking to indict the Deep State in part as a result of the Steel Dossier.
It probably worked with some voters when exposed to social media telling them exactly what they wanted.
It worked with the Ukraine.
Did it work too well? Putin advanced on three fronts in the Ukraine. First, it was the Ukraine and not Russia which interfered in the 2016 election. That initiative commenced in 2016 though the manipulation of Paul Manafort. Recall the press conference where the two national leaders joked about whether the Russians had violated the United States. Now we know that not only did Putin say "no," but he steered the gullible American President towards the "true violator" that even the American intelligence services had yet to discover: it was the Ukraine.
The second Putin ploy was that the Ukraine had the infamous server that the longtime-Democrat-and-Clinton-supporter now pretending to be a Republican sought. We are beginning to be able to see how much he really wanted to locate those 33,000 emails. Somehow all Duped-by-Russia Hannity's tirades about how crooked Hillary had acid washed the server and destroyed the emails was ignored. They had not been scrubbed, they were in the Ukraine! What a perfect example of the child-mind at work. And this is the very stable genius who is steering the ship of state.
The third Putin ploy is that Joe Biden and son were involved in a corruption scandal just waiting to be exposed. Unearthing this scandal would make Ridiculous Ruddy, attack mutt, the hero as he once had been after 9/11. His discovery of the reality of what originated as a figment of Putin's mind would validate Ridiculous Ruddy's shallow life. Clearly Putin knows how to play the conspiracy-minded President.
In each instance, Putin was providing the exact false story that the mark would eagerly embrace. But the results in the Ukraine maneuver may not be to Putin's liking. The would-be hero is now facing potential indictment. His assorted cast of lowlife associates may now be ready to spill the beans. Never-Trumper and Deep-State operative Sondland posing as an ambassador-buying Trump-donor may now be ready to tell the truth and expose the abuse of power, cover-up, and obstruction even more: Of course, it was a quid pro quo. Get real. Sondland thought he was purchasing a nice cushy job where he could enjoy the good life in Europe. Little did he know how the Trump State operates. He apparently wants no part of it. Would that Vice President Brown Nose reach a similar epiphany! (Will Mike Pence Become a Profile in Courage?  so Nancy Pelosi won't become President?)
Impeachment was the consequence Putin did not factor into his Ukrainian subterfuge. True if the red wave had not been successful in the 2018 elections in drowning House Republican candidates, impeachment never would have happened. Unfortunately for Putin, the Democrats now are in charge in the House and Putin's most valuable asset in the United States is now at risk. Even though Putin will not lose his Pence though Senate removal, it is quite possible that a majority of Senate will vote for removal. The American people will see that the President of the United States exploits the power of the presidency for personal gain, lies about, and orders people to obstruct justice. Fortunately for Putin, Trumpicans do not care what this President did or did not do as long as he remains in office fighting for them. Putin has played weak hand well exploiting the submissiveness of the simpleminded immature child President but he may have overreached with the Ukraine since the United States may still be governed by the Constitution.