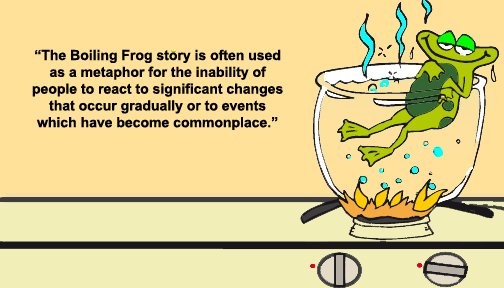 Everyone knows the story of the frog and boiling water. If you put a frog in a pot of boiling water, the frog immediately will jump out. The frog will live to hop another day no worse for the wear. Instead, suppose the frog is placed in a pot of water at room or pond temperature and then water is then heated. What happens to the frog then? The frog dies. It keeps adjusting to the new normal until it is too late and it dies. The story is a good one whether it is true or not for frogs. That's because it is true for people.
Imagine this scenario for being placed in a pot of boiling water. The year is 2000. Suddenly you visited by the Ghost of Christmas Future or a Terminator or Marty McFly or Clarence the Angel. You are told about the year 2020. You instantly become fully immersed in the year 2020. [This works better in science fiction than in the real world.] What do you see in the world of 2020 compared to the world you know in 2000?
A president who can't tell the truth except by accident.
A president with no morals, no ethics, and no conscience.
A president with no sense of sympathy or empathy.
A president who is full-scale narcissist.
A president who is a bigot.
A president who is incapable of reading a book.
A president who has trouble speaking in complete sentences.
A president who has elementary-school level writing skills.
A president who has alienated America's allies.
A president who prefers dictators and authoritarian leaders to democratic ones.
A president who fires anyone who is professional and loyal to the Constitution over him.
A president who will only accept happy talk from subordinates.
A president who thrives on insulting and demeaning people.
A president who operates on the level of a seventh-grade-smart-aleck-dumb-aleck.
A president who had the brains of an immature child.
A president at the time when a new disease killed tens of thousands of Americans because he lives in an imaginary world and has no management skills.
A president at the time when a new disease caused the largest unemployment numbers since the depression in little over one month.
A president who forfeited America's leadership role in the world that it had held since World War II.
A president who is the laughingstock of the world.
A president who thought disinfectant could cure people of a virus.
A president who 40% of the American population accept as their Lord and Savior, the Chosen One, Blessed Be his Name, who can do no wrong.
So there you are in 2000 suddenly confronted in one overwhelming moment with the totality of President Donald Trump in the year 2020. In an instant, all at once, you are hit with the staggering onslaught of having to absorb all the conditions itemized above.
What would your reaction be if you are not a Trumpican?
You would scream. You would scream as loud as you could possibly scream. You would scream for as long as you possibly could scream. And then you would scream again. After physically exhausting yourself and while laying helpless in bed or on the floor, you would ask the Ghost of Christmas Future or the Terminator, Marty McFly, or Clarence the Angel how could such a dystopian world could exist? Could anything be done to prevent such a dystopia from occurring? Was such a dystopia inevitable or merely a possibility?
Of course, such an event in 2000 did not and could not occur. There was no way anyone could realistically predict the election to the American presidency of the immature child simultaneous with the coronavirus. Maybe someone could and did predict one and not the other, but both seems farfetched. No such script would have been accepted by Hollywood. No such book proposal would have been accepted by a publisher. Even Donald Trump would not have believed anything so outlandish.
But in the real world, we were not dropped into a pot of boiling water. In the real world we did not awaken after being a coma for 20 years. In the real world, we experienced the future one day at a time, like heating a pot of water. And we adjusted to the new normal little by little until at last we died…or will be able to avoid the horrendous future shown by the Ghost of Christmas Future, the Terminator, Marty McFly, or Clarence the Angel? Will we be able to make things right and live the world of George Bailey and Donna Reed? Isn't that what everyone wants?
Meanwhile in the real world as we ponder our future, the pot keeps boiling. Look at what the unhinged President has been able to accomplish recently.
Fauci has been muzzled.
Flynn has been exonerated.
Obamacare has been targeted even during a health epidemic.
Food stamps have been curtailed even as hunger mounts.
Inspector Generals have been neutered and replaced with West Wing World replicas.
We know that Mike Pence has sold his soul.
We see that Kayleigh McEnany has too.
We watch as Deborah Birx struggles to keep hers.
We watch as Mike Pompeo campaigns for the 2024 Trumpican Party presidential nomination…assuming that the current incumbent won't run then even from prison.
We learn about the value of human life to the President with no conscience. No more talk about zero deaths soon. No more talk about 50,000 deaths, or 60,000 deaths, or 75,000 deaths. We wonder when in June we will hit 100,000. Hannity will still crow that it is far less than 2 million so why believe the so-called experts and scientists. It is past the time to liberate Americans so We the People are able to live free and let die. By the way, 3,000 deaths/day for a year is over 1 million people. If there is still no vaccine and/or the prospective death rate increases as we are freed from oppressive governors, will Hannity and co. still be exulting then?
So now the President has made a decision. That's what he is supposed to do. The buck stops with him. He takes responsibility. He is the wartime President and We the People are his warriors. In a war, people die. Bonespur Boy accepts that. He knows that in a war, he will have to order people to their death. He accepts the projection that 3,000 people/day will die between now and the election. He can live with that number. After all real men can't get infected and real Americans can't be either. If old people who are going to die soon anyway die and…you know…those people  die, too, that is a price he is willing to pay to re-open the economy so he can be re-elected and maintain his immunity. The gut instincts that enabled him to exploit the pain of Americans in 2016 now tell him that Americans, especially Trumpicans will accept 3,000 deaths/day as the new normal. The frog will be stay in the gradually heating pot.
Measuring His Performance: The Target Dates
April 2011: Birtherism – reveal Hawaii findings on Obama soon: STILL WAITING
October 2016: sue all his women accusers after the campaign: STILL WAITING
May 25 2020: celebrate the victory over the coronavirus: in 17 days!!!!!!!
June 2020: Back to Normal
July 2020: We're rockin' now
Fall 2020: Deep State Indicted
Fall 2020: Deep State proves China responsible for coronavirus
NOVEMBER 3, 2020: CLAIM VICTORY NO MATTER THE RESULTS
January 20, 2021: Arrested by New York, spends night at Rikers.