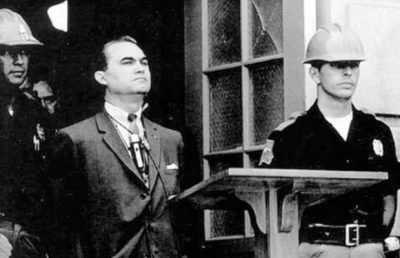 In a stunning move, the Florida Covid Governor threw his hat into the ring as a candidate for president in 2024 on the Republican line. He did so with his heroic channeling of another southern governor by blocking his state from a federal invasion. His words update those of the 1968 presidential candidate:
If you are coming after the rights in Florida, I am standing in your way.
And I can tell you: Florida, we're a free state. People are going to be free to choose to make their own decisions.
Times have changed. This time the southern governor defying the federal government will not have to run as an independent. Instead he can run as a Republican.
END SOCIALIST SLAVERY
The Florida Covid Governor is campaigning on the standard southern message of ending slavery. He has identified multiple ways in which the socialist slave government deprives individuals of their freedom of choice. And if there is one thing that southern Republicans champion above all else including their right to be packing any weapon anywhere, then it is freedom of choice for each and every individual. The idea of the government making the choice for you is abhorrent. Florida Covid intends to leverage the freedom of choice mantra right straight to the White House in the 2024 election.
The following items have been, are being, or should be removed from the mandatory compulsion list by the government. Henceforth, they are to be considered optional at the discretion of adult individuals who are free to make their own decisions.
Covid masks
Catcher masks
Goalie masks
Football helmets
Surgeon masks
Motorcycle helmets.
People are free to wear such items if they so choose but are under no obligation to do so. The socialist slave state does not rule in Florida.
Other items where freedom to choose trumps all other considerations include:
Seat belts in cars
Child torture contraptions in car backseats which could be considered child abuse
Seat belts in planes over Florida air space
Obtaining a driver's license
Having automobile insurance
Having automobile inspections
Obeying stop signs, traffic lights, or any other traffic sign
Obeying speed limits
Obeying speed limits by schools
Obeying school bus signs to stop
No drinking and driving
No texting and driving
No left turn on red
No driving through red lights.
As one can see, many of the infringements on our right to be free relate to driving.  People should be free to drive wherever they want at whatever speed they want based on any rules and regulations they want without consideration for anyone else.
Again as a reminder, Florida Covid Governor is not saying that you do not have the freedom to obey these rules and regulations. He simply is saying you have the right not to follow the rules imposed by a socialist slave state. Informed adults can make intelligent decisions about what rules to obey and which ones to ignore. And even if the decision is not an intelligent one, it still is up to each individual to make that decision and not for a socialist slave to make it for you for the supposed "common good." The "common good" is for free individual choice. The Florida Covid Governor will be asking people to take the pledge to say "No to Socialist Slavery."
A complete list of removal of socialist slavery rules and actions is not available at this time.  Other actions contemplated at this point are
Elimination the chlorination of water
Elimination of the fluoridation of water
Elimination of the certificate of occupancy.
And where Florida Covid Governor goes, Texas Covid Governor goes too.
JEB BUSH VERSUS RON DEGENERATE
 Times have changed. It is not that long ago when people expected another Clinton-Bush presidential showdown. Think of how different the world would be today if low-energy Bush with his Mexican-American wife had been the standard bearer for the Republican Party. Their son would not have sold his soul and for nothing for one thing.
For another, House frat-boy Matt Gaetz would still be a Bush loyalist. His has no values beyond playing the game of power. In a sense he is like the proverbial canary in the mine. He recognized that Bush was going nowhere and switched to the winning side. Now that he faces his own legal trouble, he aligned with the popular Marjorie Taylor-Airhead (MTA). He knows that MTA has a national audience whom she can rally to his cause in the event he needs help against the justice system.
Florida today is not the Florida of only a few years ago. Times have changed. Instead of a governor leading the charge for vaccination, the Covid Governor is an obstacle to safety.
CAMPAIGN STRATEGY 
 Florda Covid Governor is not a stupid person. He is not a simpleminded immature person with the emotional maturity of a three-year old. He fully recognizes that Trumpicans are the key to his political success at the national level. He knows that Woke Democrats will continue to alienate white people and there is little Joe Biden can do to stop them. He knows that Trumpicans prefer image to substance and have limited reasoning skills. One only has to observe MTA's performance in Alabama or Pillow Head's analysis of how the election was stolen to know that there is no limit to what Trumpicans will believe in support of their view of the real world and to oppose Woke Socialism. For the Covid Governor being denounced on CNN pales in importance before being praised on Foxhub.
One should note that Florida Covid is aiming for 2024 and not 2028. No matter what, he will not be the vice-presidential candidate in 2024.  Whoever is that vice-presidential candidate in 2024 will have the inside track to the presidential candidacy in 2028. This analysis is based on the presumption that Republicans will not take back their party no matter what happens in the 2022 and 2024 elections. America's third civil war will only intensify. Trumpicans will be seeking a candidate who defies and challenges the Woke socialist state.
To be the candidate in 2024, Florida Covid needs to be able to push his former mentor aside. He needs the January 6 Committee and the Department of Justice to bring criminal charges of sedition against all those who participated in the attempt to steal the election and overthrow constitutional government in the United States. Only then can Florida Covid step into the opening created in the Trumpican Party with the decapitation of its criminal layer. Only then can he push the criminals aside and stand tall as the true practitioner of Trumpism without the legal baggage. Only then can he be the candidate of revenge.
Florida Covid is fighting the good fight with a goal in mind. If people die as result, then that is the price he is willing to have them pay. They are collateral damage on his hopeful path to the presidency in 2024.