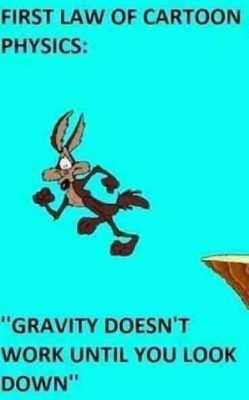 Here is what I wrote last June 19:
There is a longstanding cartoon routine of someone running off a cliff. The figure may be human or an animal and it is almost always male. The figure runs straight off a cliff and then appears to be running on air. The laws of gravity are suspended and the figure remains aloft, legs churning. Finally comes the moment of truth. He realizes his predicament and looks down. There below him, far, far below him, is the hard ground. Suddenly reality takes over. The result is SPLAT! Actually, since the fall does not kill him, it's not too real.
So far that moment of truth has not yet arrived for the current cartoon character running on air. He has managed to maintain his illusions for far longer than I would have anticipated. There has been no Cuban Missile Crisis. No 9/11. And his hurricane failure occurred in Puerto Rico and not Louisiana. Thanks to John McCain and a few others he was not able to strip Trumpicans of their healthcare otherwise the Trump really would have hit the fan.  Is it really possible to sustain his delusions for an entire four-year term?…
There are a few simple tests to monitor his grasp of the real world, his willingness to operate it, and his success if he tries. We don't need to wait to see how he deploys his campaign resources to know if he is operating based on real polls or his fake polls. We'll know in a month because of health care.
"You'll see that in a month when we introduce it. We're going to have a plan. That's subject to winning the House, Senate, and presidency, which hopefully we'll win all three. We'll have phenomenal health care." 
 So claims the very stable genius who is the smartest person in the room and the only one who can solve America's problems.
That month of waiting for his "phenomenal health care" plan has long come and gone.
Now he says
"the people are getting better, they are all getting better"
"You may ask about the coronavirus, which is very well under control in our country."
"We're doing a great job with it. And it will go away. Just stay calm. It will go away."
And there will be a miracle. Now it is the vaccine which will be ready soon, soon, very soon. Imagine if we did have a "phenomenal health care" plan as promised last June and people didn't have to be worried about the cost of coronavirus healthcare.
Playtime is over for our immature child president. Try as he might with his Fox assistants, ignoring, denying, and insulting the real world doesn't cut with the coronavirus. When it first appeared, mainland China tried the Trump approach. It suppressed whistleblowers. It ignored the facts on the ground. It stood by while people died.  And then its leader took credit for solving the problem and being an example to the world of what every other country should do. So besides in trade, the Middle Kingdom and the City on a Hill now are competing as to who should be recognized as the world savior.
America initially followed a similar path as mainland China. The impact of the coronavirus was downplayed. Democrats and the media were insulted. It was all a hoax. Still the stock market tanked and the numbers of infected and died rose. These past few days I have received too many emails about conferences cancelled, lectures postponed, and places closed.
This morning I woke up to see the street where I grew up on the front page of the newspaper. For most of my life, New Rochelle was best known for Dick Van Dyke. Now the National Guard will be enforcing a containment area in New Rochelle that looks like it includes the house where Carl Reiner once lived. It is a strange feeling to see your childhood community on the front page with the words "National Guard" and "containment."
At this point, no one knows what is going to happen. Eventually, of course, the coronavirus one day will pass as an imminent threat. No one knows when that day will or how much damage it will cause. No one knows how long it will take for normalcy to return.
Think back now to the ancient crisis of the targeted killing of Iranian Major General Qassim Suleimani. Today, March 11, would have been his birthday. On a personal note, March 11 also was the birthday of my father and of a neighbor around the corner from us in New Rochelle, Benjamin Ferenz, the Nuremberg lawyer. Today he is celebrating his 100th birthday. I hope he is in Florida and not at his home in New Rochelle or else he would be caught in the lockdown too.
It was only two months ago when Suleimani died but in Trump time that is eons of crises ago. At the time, Peter Baker (New York Times, January 6, 2020), began an article with:
For three years, President Trump's critics have expressed concern over how he would handle a genuine international crisis, warning that a commander in chief known for impulsive action might overreach with dangerous consequences.
But this time the crisis is not self-induced. This time it can't be solved by behaving like a seventh-grade-smart-aleck-dumb-aleck. This time it can't be solved by Hannity and his parade of Flying Monkeys who have sworn to defend the Wicked Witch of the White House. Iran and mainland China have their own Hannitys, too, and saying "Death to America" won't solve their problems either. "Lock her up" and "Build a wall" aren't enough. We need real leadership.
Part of the challenge is coping with the uncertainty. It is no secret that stress aggravates all other physical conditions. Our mental health pays a price for ongoing stress whether it is the abused wife who never knows when she will be struck again, the workers who never knows when they will be laid off or what time their next shift will be, or the kid who never knows when he will stopped by the police. Now We the People know that uncertainty and stress. Where will the coronavirus strike next. If I get it, will it kill me? Besides any specific legislative action, We the People need our Comforter in Chief to tell us not that everything is alright since we know better but that everything will be alright.
No one is less qualified to be America and world's Comforter in Chief than our current President. He can't do sympathy. He can't do empathy. He can't tell the truth. It's always about him. It's always about what he has done. If he tried to be Rudy Giuliani on 9/11, the results would be frightening. He cannot understand why in a moment of crisis, Americans would prefer the calmness of Joe Biden to the ongoing stress of what will this President say, tweet, or do next. Fortunately the coronavirus crisis is not like the Cuban Missile Crisis where a single action might destroy the world. Fortunately he hasn't eliminated all the government employees with professional abilities in health care and who will speak truth to power. Fortunately these health professionals can be the adults in the room.
This is one crisis where the solution will be despite the President instead of because of the President since on his own our immature child President would drive We the People over a cliff while yelling how great he was.
Can anything get through to him?
Maybe the plunging Dow Jones. Wall Street knows better than to believe him or Fox. After all it was in New York where America's biggest individual financial loser first made his mark as a con artist who could not be trusted.
Maybe the rich people he helped get richer know the truth and share with him the true situation including how poorly his performance is playing in Peoria.
Maybe watching some of the leading Congressional Trumpicans self-quarantine, including people who were in direct physical contact with him will bring the real world home to him.
Maybe Tucker Carlson will get through to him in a way Sean Hannity hasn't:
"In crisis, it's more important than ever to be calm. But staying calm is not the same as remaining complacent. It does not mean assuring people that everything will be fine. We don't know that. Instead, it's better to tell the truth. That is always the surest sign of strength."
Maybe it will be the senior White House official said, "The gravity of the moment was pretty clear."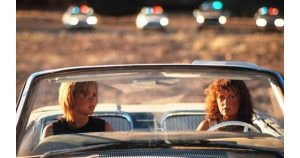 Does he at last understand the gravity of the situation? Does he at last understand that real leadership is needed? Does he at last understand that Fox can't solve the problem? We may know in 60 minutes.