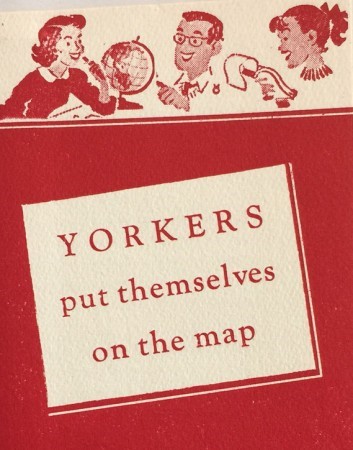 In a recent post about the absence of any institutional or organizational leadership in the New York State history community, I used the image of the Yorkers without any explanation of what a Yorker was. Two readers submitted comments about the Yorkers to an even earlier post on the subject of the NYSHA even before I had distributed the post with the Yorker image. Their comments and suggestions form the basis of this post.
THE YORKERS: A DETROIT PERSPECTIVE
In the first instance, the comment from Chris Philippo provided a link to a blog by Tobi Voigt, Detroit Historical Society, writing in 2014 for the 75th anniversary of the American Association for State and Local History (AASLH). Her interest was getting young people involved in local history. In the course of writing the post she thought of New York's experience with the Yorker program.
[S]tarted in the 1940s, this junior membership program worked through membership chapters across the state. [I wonder how many chapters there were.] According to a mid-1950s brochure [image above]:
"A Yorker chapter may be formed by organizing five or more students with an adult sponsor. Each chapter member receives a subscription to THE YORKER, bi-monthly magazine of the junior historians [This magazine must on file in some libraries and/or archives], a membership card, a gay felt emblem [I presume he meant "gray" but given how words change meaning I wouldn't swear to it.] reminding him [or her] he is one of an army of 7,000 students of the story of the Empire State. He may write for THE YORKER, may enter any of the Historical Association's three museums free at any time, whether coming with a student group or individually."
Yorker chapters (which included boys and girls) were encouraged to:
"go on pilgrimages; present assembly programs, plays, radio scripts; assemble collections of historic books and objects; participate in essay and other contests; make historical murals and sculpture; assist local historians and in historical celebrations."
The chapters had regional and state officers and gathered each spring for a convention.
After this historical description of the Yorker program, Tobi turned to her personal reflections on the organization and its meaning for the present.
Yes, these junior membership programs were clearly a lot of work. And I know they folded for some very valid reasons, but I absolutely love the concept. For years I have been pondering how the junior membership program can be reinstated/reinvented.
Firstly, we are always quoting that statistic that says "If a person doesn't visit a museum before age 12, they aren't likely to become adult museum visitors." Could a junior membership program encourage students to get involved and then become life-long patrons?
Secondly, we talk about the decline of social studies and history in public school curriculums. These junior programs had an extracurricular academic component. And better yet, they had the students out DOING history. For the Detroit Historical Society, at least, they saw historical study as a way to develop informed citizens and future leaders. Can a new junior membership program help us make history relevant in the lives of kids today?
I love that programs like National History Day [which NYSHA still supports] have stepped in to fill the void, and my organization supports that year-long, school based program as a contest coordinator. But I still find myself wondering if individual museums and historical societies can create their own special program. If we created a new junior program, I'd be sure participation in National History Day would be included as an activity.
What are your thoughts?
Does anyone have a junior membership program? Please consider writing a blog about it!
Did you have one that didn't work well? Please share your lessons learned.
Is anyone else out there as intrigued about this concept as me, or am I quickly becoming as antiquated as junior memberships themselves?
THE YORKERS: A WESTERN NEW YORK PERSPECTIVE
As to the situation here in New York, I received an email from Terry Abrams, the Administrative Coordinator for the Western New York Association of Historical Agencies (WNYAHA), on the subject of the Yorkers. He wrote:
I have been reading with avid interest your blog posts about the state of New York State history. I have thought a lot about the many valid points you have raised, and I want to respond to some of them. Most of what I want to say has already been said by others, and I am in agreement with much of what you have discussed. Nevertheless, I think it is useful to add another voice to the chorus.
I think the decline of NYSHA can be traced back to the elimination of the Yorker program. When I was in Jr. High School, we had two Yorker clubs, one for the seventh graders, and one for the eighth graders. Living in western New York, a big part of the attraction for joining was going on the overnight field trips to Cooperstown, and Albany, respectively. As I recall, in order to join the Yorker clubs we had to write an essay on some aspect of local or NY history. While the advisors for the two clubs were pretty lenient as far as letting students join, this did at least indicate an interest in history. I also recall going on field trips to local area museums during the year. The big event in 7th grade, was toward the end of the school year, when we traveled to Cooperstown to see the Baseball Hall of Fame, the Farmer's Museum, and the Fenimore Museum. In 8th grade, we went to Albany to see the Capitol, and the State Museum, which at that time was still located at the top of the Education Department building.
I can't say for certain how much influence this experience has had on my becoming part of the history community. I do know, however, that at least two of my classmates are active members of their local historical societies. Incidentally, the two clubs were named after local historical landmarks. He 7th grade club was called The Grant Club Yorkers, named after the pole raised locally for President Grant's re-election campaign.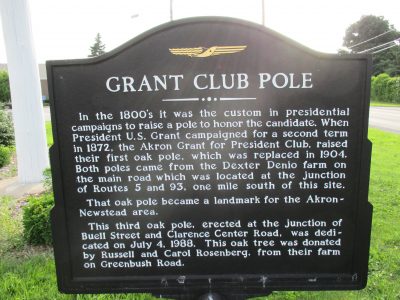 The 8th grade club was called the Octagon Yorker club, after the Rich-Twinn Octagon house, part of the Newstead Historical Society in the village of Akron in the Town of Newstead in Erie County.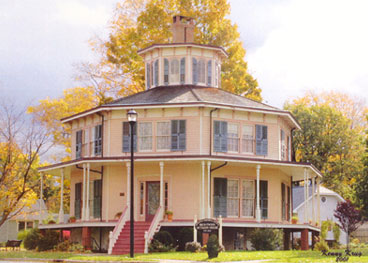 At that time the other Yorker clubs had disappeared, but I know that there were ones at the high school level at one time. While the schools now have History Day, I wonder how much the loss of Yorker clubs has affected student's interest in history. While searching online about when they disappeared (sometime in the mid 80's apparently) I came across this: (go to the history link at the top of the page and click on "Yorker Museum" It will download a pdf about the history of the Yorkers in Sherman.)
I know that it varies from place to place, but it seems that fewer and fewer historical societies have a relationship with the schools. Do any of them coordinate with History Day?
Terry raises an interesting question. According to the National History Day website quite a few museums and libraries in New York are listed as contacts for students. One also should add municipal historians to the mix of resources and contacts. Of course, one major difference is that the Yorkers focused exclusively on New York State history, National History has an annual national theme which can be applied locally by participants but does not have to be.
SUMMARY
So what can we learn from this trip down memory lane? The Yorker program working in conjunction with National History Day is a great way to reach out into the student community and connect it with local history. Logically it should be operated by NYSHA which still maintains its connections to National History Day. Obviously that is not going to happen.
Here is a program where it would be beneficial for the New York State history community to meet with the New York State Council for the Social Studies. It is a volunteer organization. The annual conference this year will be in Albany in March. There are eight regional councils covering most of the state. Perhaps the New York State Historian could take responsibility for the revival of the Yorkers with the support of the Regents. Let's add Yorkers to the list of what needs to be done.