The Society for Historians of the Early American Republic (SHEAR) held its annual conference in New Haven from July 21-24. I was only able to attend the weekend sessions on the last two days. Below is my summary and comments on the first session I attended on Saturday, July 23.
THE PUBLIC AND THE EARLY REPUBLIC: A ROUNDTABLE ON IN AND BEYOND THE ACADEMY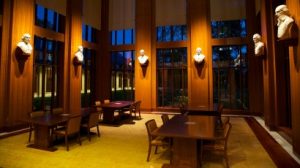 Douglas Bradburn, Washington Library, Mount Vernon
He reported that Mount Vernon receives approximately 1.1 million visitors annually.  I spoke with him after the session about this number. Approximately 350,000 are students in the 8th grade. The visits to Mount Vernon by the students often are combined with visitations to other historic sites in area.  I recall a few years ago attending a history conference at Columbia University where the executive director of Williamsburg discussed attendance there. When he started his new job, everyone was excited about the site having finally cracked the 1 million barrier. Now the challenge for the organization was to reach 2 million. Attendance subsequently declined to 600,000+. I don't know what it is now.
Bradburn stated that people at historical societies and museums need academic help to learn the history relevant to their site.  Towards that end, he proudly discussed several initiatives at Mount Vernon. These included a new education center, a "presidential" library [Mount Vernon is a private site not part of NARA], a digital encyclopedia, streaming monthly book lectures, holding a public symposia, conducting a teacher institute and other programs.
I was particularly interested in the online lecture library. During the break, I had the opportunity to catch-up with Liz Covart. I had not seen her for a few years but I do hear her on her Ben Franklin's World podcast. I wanted to pick her brain about creating a New York History podcast and she gave me useful information about what is involved. She also noted the great response by the New York history community to her podcast based on the statistics of who is accessing the website.
Several possibilities occurred to me as a result of the presentation and hallway discussion.
Podcasts are the wave of the present – the future is here.
Podcasts and taped lectures provide an excellent way to have facilitated discussions at schools, libraries, history museums, and historical societies. The facilitator could be a social studies teacher, local professor, curator, or enthusiastic person with conversational skills. Such programs even could be offered for professional development credit for teachers. The key would be [for SHEAR] to create a good database of what is available online that interested organizations and people could use in an organized manner and disseminating that information to appropriate organizations like the New York Council for the Social Studies (NYCSS), the Museum Association of New York (MANY), the New York Library Association (NYLA) and the New York Council for the Humanities (NYCH). There is a lot of potential in podcasts and online lectures and I am sure there is a lot going on that I don't know about.

Marla Miller, University of Massachusetts
In her non-profit capacity as Vice President of the National Council on Public History (NCPH), Marla spoke about trends in public history and what history sites are doing today. She expressed the comparatively recent discovery that visitors like it when Toto pulls back the curtain and get to see the real deal rather than the tidy spic-and-span look. People don't want to see what ancient people looked like in their Sunday-School clothes; they want to see them messy. [These aren't her exact words and she can berate me when she comes to Westchester this September to learn about the Sing Sing Museum project.]
Marla discussed exploring partnerships that previously had been ignored. She specifically mentioned the history museum and healthcare.  Museums can provide therapeutic benefits and reach out to senior citizens to discuss concerns in the past relevant to their lives today. Another possibility was to bring objects from the museum or historical society to the senior homes. She gave a shout out to Harriet Beecher Stowe, Hancock Shaker Village [I am not sure or didn't write down which one she meant], and Martin Van Buren (Patricia West) for those sites innovative work along with Eastern State Penitentiary [she's into prisons now in CT]. She called for listening to others and promoting one's interest in public history. Marla definitely needs to return to New York and we should create sessions at conferences to highlight in more detail what these various organizations are doing.

Walt Woodward, University of Connecticut and Connecticut State Historian (title not listed on program)
I keep hoping that Connecticut will take back the Town of Rye (where I live) but I have been unsuccessful in getting Walt to endorse the project.
Walt spoke in the capacity of the state historian reaching out the general public and not as a scholar in the academic world. He has a podcast (but I didn't have a chance to follow-up with him on it) and gives about 75 public lectures per year. His experience has shown him that there is a tremendous public interest in Connecticut for history. He strongly advocates for historians to leave the ivory tower and venture out into the public arena. Walt generously provided some guidelines to be followed if you are so inclined.
Don't speak academic or undergraduate-lecture style jargon to the general public.
Don't assume prior knowledge (or that they read the assignment before the lecture).
Complexity is not clarity.
Nuance can be mind-numbing.
Park your biases at the door – leave out the progressive politics. You are there to share your presumed expertise in the past, not to indulge in being a know-it-all on a TV talk show.
Don't be arrogant – you aren't the god's or goddess's gift to humanity where the little people should bask in the aura of your greatness and be thankful that you have chosen to enlighten them.
The public audience loves history and wants to hear from people who knew it well and can communicate to them in an effective manner. Naturally no one in the audience was guilty of violating any of the prohibitions the way I am doing by writing this post!
Note – Walt didn't exactly use these words; he has his own sense of humor but I think this captures the gist of his presentation.
Peter Onuf, University of Virginia (Commentator)
In his wrap-up, Onuf raised three issues.
The standard model of history doesn't have a future – what, then, is the future?
If students don't care about history, then the professors need the skills of the public historian who has the job of reaching out to a general audience and then to apply those skills in the classroom to reach the students.
Fellowships are replacing tenured jobs as the wave of the future for Ph.D. graduates, a future that already has arrived.
Questions and Answers
Craig Friend (Director of Public History at NC State University) to Walt on citizenship. Walt replied that the public historian needs to connect content to the lives of the audience by drawing on the ideas of the people who lived in the historic sites. Brad noted that citizenship is a critical interest at Mount Vernon. The new citizen ceremonies have included people representing 140 countries.
Recommendation – Perhaps a good way to start connecting newcomers to local historic sites would be to have immigration ceremonies at the location. It could include everyone who became a citizen in the last year especially in smaller communities.
A question was asked about relevance and presentism. The questioner expressed a concern that audiences and students push analogies to far ["The Triumph of Mel Gibson" will be the subject on a post on presentism].
Marla answered that a speaker can use that as a point of entry. History provides the opportunity to build bridges between the living and dead citing the example of NPS Patricia West at Martin Van Buren's home.
Andrew O'Shaughnessy, Monticello, asked a question which I didn't write down so I can only provide the answers.
Walt is critical of the elimination (or reduction) of history in a STEM world. The history community is doing a poor job of communicating to the general public of history's importance. There is a need to intervene in creating the k-12 curriculum.
On a personal note, I remember years ago at a Connecticut Council for the Social Studies annual conference receiving a handout, which I probably still have, showing that local and state history would be included in social studies every year even in ancient civilizations and global studies classes. Of course, the implicit assumption was that social studies would be taught every year along with math and English.
Marla suggested academics expand the view of the job market to include public history. Linda Carter, Williamsburg, from the audience, added that convincing academics of the importance of public history is a challenge. Brad echoed this comment.
Brad also mentioned using Google to determine what the public is interested in based on the searches.
If I may conclude with some general observations. In New York, there are separate statewide conferences for public historians, history museums, social studies teachers, and academics. Getting people to work together on an ongoing and sustained basis with actual deliverables is a challenge indeed. A session for public historians in an academic conference definitely is good, but what is next? What, if anything, are the NCPH and SHEAR going to do moving forward? Obviously I am not privy to such discussions or familiar with the national arena, so maybe this observation is of little merit.