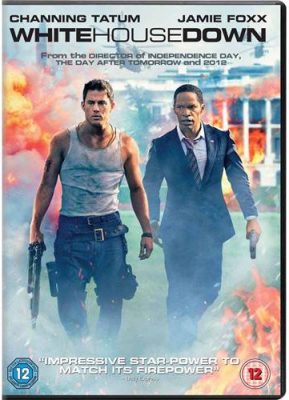 "White House Down" is a movie about a physical assault on America.
"Tantrum Trump" is about a political and social media assault on America that could become a physical assault on January 6, 2021.
"White House Down" had people who rose to the occasion and became heroes.
"Tantrum Trump" has no profiles in courage, no heroes, no Howard Bakers. The Sore Loser is acting to cement his legacy as the biggest baby in American history, a whining, weenie with no morals, no ethics, and no conscience, who has no objection to destroying the United States even without being actually on the Putin payroll.
Despite this, what's left of the Republican Party will not act to stop him.
All the way back in October 2019, I wrote a blog Will Mike Pence Become a Profile in Courage? My conclusion then as now is NO!!!!!!!!!!! No matter what he will never invoke the 25th Amendment. He will certify the election of Joe Biden on January 6. But he will do nothing to prevent the savage chaos which will engulf the United States during the last four weeks of his term in office.
Back in June 2020, I wrote a blog Mitch McConnell: Howard Baker (Time to Go) vs Stay the Course (Go Down with the Ship). My conclusion then was that he would stay the course even if it meant going down with the ship. That did not happen on Election Day but it could happen on January 5. Still he will not rise to the occasion no matter what harm the Sore Loser inflicts on the country, the Republican Party, or the Republican Senate Majority.
Remember the talk about his creating an alternate TV network (or show)? What he is really doing is creating an alternate party. He has always been a Trumpican first, last, and only. Now he is not only unhinged, he is unleashed. He sees January 6, 2021, looming before him. He knows the Democrats will support the election of Biden. He knows the Republicans will support the election of Biden. He knows he needs to make sure the number of Republicans left in Congress are too few to override the Trumpicans. He needs Vice President Brown Nose to continue to be for him what he is to Putin.
At long last, some Republicans are finally seeing that the long-time-Democrat-and-Clinton-supporter doesn't care about the Republican Party. It was only a vehicle which he could hijack for his own needs as he was unable to do with the Democratic Party. His exultation of the loss of Republican Mia Love in the 2018 elections was simply a prelude to what is occurring now. Tom Friedman asks "Will Trump Force Principled Conservatives to Start Their Own Party?" (NYT 12/23/20 print). His answer was, "I Hope So." Friedman thinks at some point, "some Republicans will say 'enough.'"  He wrote that before "Krakatoa, East of Java" on the night of 12/23. It still isn't enough.
We are facing the extraordinary situation of a sitting President openly attacking his "own" party. He is actively undermining his own party. He is doing this now even before he leaves office and relocates to Mar-a-Lago where he can't legally live anyway. His desire for revenge against still-Senate-Majority-Leader Mitch McConnell trumps any concern for the Georgia Senate elections. He couldn't care less about those Republican incumbents having to explain why they supported a disgraceful bill. He couldn't care less about those Republican incumbents having to explain why they oppose a $2000 relief check. He couldn't care less if those Republican incumbents lose. In fact, when he had his hissy fit, he never even thought about them.
His throwing the Republicans under the bus has produced strange moments in American history. Consider the situation of his chief of staff. A lifetime ago in October, I wrote:
When Marked Down was appointed Chief of Staff, I was very happy. "Why?" you might wonder. In the House of Representatives, Marked Down was one of the fiercest Trumpicans. He was loyal to core. For him, Russia and the Ukraine were hoaxes. He attacked Fake News. He was one of the chief Flying Monkeys defending the Wicked Witch of the White House from any and all witch hunters in any and all witch hunts.
Now he is in meetings with criminals, traitors, and nutcases talking about martial law. If there is one thing Confederates prize above all else it's the sending of Federal troops into states to seize stuff. It's like a dream come true for every Confederate and right-wing militia.
Speaking of right-wing militia's, their moment of truth will soon be upon us. They have been called to action. They have been called to Washington, DC. They have been called to "Stop the Steal." Back in September, I wrote the blog Will the Militias March on Washington November 4? Obviously I was wrong on the date. I was not thinking about January 6 or all the post-election actions which have transpired. So while the question raised has been answered in an immediate sense, the true issue raised in the blog about the actions the private militias will take has not.
What will they do when all the legal maneuvering comes to an end? For months they incessantly heard about a rigged election. They have heard about the end of the world as they know it if their Lord and Savior, the Chosen One, Blessed Be his Name, is removed from office. They have seen it on Twitter. They have seen it on Foxhub and other stations.  Now the moment of truth has arrived. The clarion call of Sarah Palin to take back the country rings true. Now is the moment. Now is time to act. If not now, when?
Suppose a few hundred armed militia decide to march on Washington. What will the response be?
Suppose a few thousand armed militia decide to march on Washington. What will the response be?
Suppose 250,000 armed militia with motorcycles and trailers packed with provisions pour forth in caravans from around the country and descend on Washington as they did in South Dakota. What will the response be?
Suppose there is a million man march in support of the one person who can save the country. What will the response be?
I have no idea. Who even has the authority to stop an insurrection led by the Commander in Chief? The local police forces could be overwhelmed. Who could stop the private militias from entering the Capitol? The previous actions in the Michigan statehouse are small-scale compared to what potentially could occur. I don't even begin to know how you map out a defense against caravans of heavily armed private militias descending on Washington especially if they are violating no laws in traveling there. Oh, you say, they don't have a parade permit as if that would stop thousands of people bent on saving their Savior.
At this point, no one knows what will happen. We don't know how many will show up?  We don't know what the impact will be on Representatives and Senators trying to reach the Capitol amidst maybe thousands, tens of thousands, hundreds of thousands heavily armed private militias screaming "Stop the Steal! We know where you live." There is a lot of uncertainty still with two weeks to go and four weeks to go. It's hard to imagine the situation not getting meaner, uglier, and deadlier as the Sore Loser becomes more and more desperate, more and more unhinged, more and more unchecked since there are no profiles in courage in the Republican Party and no one will rise to the occasion.
P.S. Finally, there is the burning question all Americans are asking: When will Rudy get his Christmas pardon?