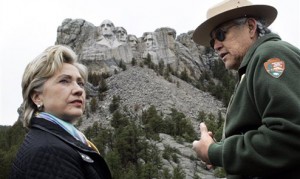 This summer New York Times op-ed columnist Frank Bruni wrote: "NBC recently announced plans for a mini-series about Hillary Clinton, whose current exaltation seems bound to end with her visage on Mount Rushmore. The network would do as well to consider a docudrama devoted to Weiner."
While there is no doubt that her presidential campaign train has left the station (soon to approach warp speed), his mention of Mount Rushmore got me thinking. The well-known dictum: "If you build it they will come" is the goal of visitor centers at all tourist sites. But where would you build it? Where should her presidential library be?
Typically, presidential libraries are associated with the home of the president. For example, New Yorker Franklin Delano Roosevelt who started the process, built his presidential library not only in his home state, not only in his home county, not only in his home town, but on the grounds of his home. FDR was so involved in his home he was even a local historian. The Fred W. Smith National Library for the Study of George Washington opened September 27 as a private library at Mount Vernon. But suppose you have no such home or roots, then where would you build a library? Consider the possibilities.
Childhood State
This seems like an unlikely choice. Like so many people in upstate New York, once she left home for college she returned only for brief visits. She hasn't lived in Illinois for decades.  One presumes that Barack Obama will construct his library in the state of Illinois and city of Chicago where he lived, worked, began his political career, had his presidential campaign headquarters, started a new political organization for his post-presidential career, and will return when he leaves the White House.
Early Career State
It's not unusual to begin a career in the boonies. One has to start somewhere and the path to a corporate headquarters may begin in a backwater. I doubt if anyone considers Arkansas to be her home state. Even the president who was born there, and has a library there, doesn't live there anymore – he lives in New York.
Corporate Headquarters
In many ways Washington, DC is the most appropriate place. It is the only place she ever wanted to live, and she has been focused like a laser on living there. Even while living in Arkansas she visited the nation's capital frequently. It makes sense that the library would be in the city where she dedicated her life. However, for an ex-president to build a library in the nation's capital might seem unseemly, to have crossed a line, to have crossed the Rubicon and violated the nation's common turf.
That leaves New York, her current base of operations. Staff have been relocated from the nation's capital to the Big Apple.
So given this narrow window from 2013-2016 when she would live in New York, where in New York would you build her library? Libraries frequently are associated with colleges. Right now Columbia University/Barnard College for Women and NYU are growing like gangbusters. So while space can be expropriated (even in Manhattan), that space is already allocated, making finding additional room on campus for a library problematic. Cornell University in upstate New York is continuing its expansion in New York City by creating a technology center for the 21st century on Roosevelt Island. Again the space is allocated. A library with a college affiliation and located on campus in New York City seems unlikely.
Other parcels of land may no longer be available. The Ground Zero area has been rebuilt. The development plans for Governors Island, an Army post whose mission was to prevent the British from capturing New York as they had in the American Revolution and where Confederates were held prisoner, have been moving full speed ahead. That window of opportunity has closed. Even the bitterly contested six-acre Seward Park urban renewal project in the Lower East Side finally is moving forward. This leaves the 6.4 acre former Con Ed site just south of the UN and along the East River as the best prospect. It provides an excellent location and setting with room for a second presidential library if needed.
The backup location is Westchester. The former Readers Digest site in Chappaqua has been a source of contention for years and visitor traffic would overwhelm the hamlet's infrastructure. There are other office parks along I-287 with easy access and there are private estates on smaller roads which also could be considered.
Returning now to Bruni's comment on Mount Rushmore, that seems inappropriate. The Mount is too small, too crowded, and too full of dead white men. She is entitled to her own mount and New York can fulfill that need.
I believe, that no single act can do more to generate massive sustainable tourism in Upstate New York that carving the face of Hillary Clinton on her own mountain.
If you can think of one act that would do more, please let me know, please let the New York History Blog readers know, please let the Governor know (as he is desperate to jump-start tourism upstate).  Even a return of the Winter Olympics would only be for one season, although some of the same infrastructure considerations would be involved. In fact, it probably would be easier than getting the Olympics to return. The New York Times Sunday travel section had a big article about the Presidential mountains in New Hampshire. Why not do it in New York?
It should be noted that the chief carver at Mount Rushmore was Luigi Del Bianco from the village of Port Chester in the Town of Rye, Westchester County (where I live). His grandson Lou does a re-enactment of his grandfather's life. So there already is a New York connection to Mount Rushmore.
So what began as a presumed tongue-in-cheek comment by a member of the media can lead to the revitalization of the upstate New York. Truly it may be said, "If we carve it, they will come."