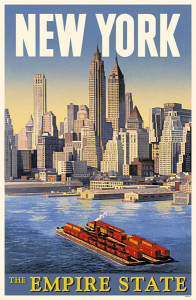 Just before the July 4th weekend, New York State Governor Andrew Cuomo issued a press release on the state of tourism. The release covered tourism in its totality and did not address specific sectors like adventure tourism, winery tourism, historic tourism, and LGBT tourism, the four pillars of I Love NY promotions. It also did not differentiate between business, vacation, or shopping travelers. (Macy's chief executive Terry Lundgren in 2013 called Macy's " a tourist place" with roughly 6,000,000 tourists a year).
That being said, the number of travelers to the Empire State from elsewhere is impressive and the economic impact is substantial.
The headline of the press release boldly declares:
NYS Tourism Impact Exceeds $100 Billion
Tourism Employment Increased By 16 Percent Since 2011
New York Remains Most Visited State by Overseas Travelers for 14th Year in a Row
The press release then touted then upcoming ad campaign
As the Fourth of July weekend kicks-off this summer season, the Governor's summer tourism ad campaign invites residents and visitors to celebrate the state's history and experience the unmatched destinations, attractions, events, landmarks, and cultural opportunities New York State has to offer. The ads feature New York City Restaurateur Danny Meyer, former Major League Baseball Player for the New York Yankees Mariano Rivera, and Major League Baseball Player for the New York Mets David Wright. The ads encourage residents and those traveling out-of-state to visit www.iloveny.com and plan their next trip to New York today.
The rest of the release is primarily statistical information in support of the contribution tourism makes to New York.
Analyze This
Now as a New Yorker might say, "Analyze this!" One datum that leaps out is the claim about New York's 14-year run as the number one state for overseas travelers. The impressive record means since 2001, New York has been doing well as a destination point for overseas travelers.
Fourteen years encompasses more than the term of the current Governor. George Pataki served from 2002 to 2006, and Elliott Spitzer and David Patterson from 2007 to 2010. It seems unlikely that Cuomo meant to praise Pataki's leadership in boosting tourism. One wonders what  these other governors did to contribute to the overseas tourism increase during their terms in office.
Two key variables in understanding overseas travelers to New York are:
1. The Big Apple is a global magnet regardless of who is the governor
2. World events matter.
A February, 2015 article in the New York Times entitled "As Tourism Record Is Set, New York City Sees Surge in Chinese Visitors" lauded Mayor Bill de Blasio for following Mayor Mike Bloomberg in embracing tourism with nary a mention of any governor.
Spending to promote NYC tourism is up according to the Times, which noted that the increase has been steady since the recession ended. Fred Dixon, chief executive of NYC & Company (which handles NYC tourism promotion) commented that shifts in the global economy affected tourist levels. For example, a weak dollar drew "hordes" of shoppers from Brazil and other countries where goods are more expensive due to local tariffs. Dixon stated that Brazilians made up the third largest contingent of foreign tourists. China was the fourth largest foreign contingent and rising. (Interestingly, according to a May story in the Times, the Brazilians are the second-largest foreign contingent).
Ironically, many of the Chinese tourists stay in New Jersey after landing in Newark even though they are visiting New York. Why? Cheaper lodging. Maybe the second or third time they come we can convince them to enjoy the upstate experience.
Tourism Records
The World Tourism Organization reports international tourism hit a record 1.13 billion people last year. Iceland reports that its tourism has increased 100% since 2006. Japan reports a nearly 30% increase in 2014 and 43% in spending. Universal Studios had an increase of 11% from 2013 to 2014 to 6.8 million visitors. It is seeking to narrow the gap with nearby Disneyland which had a 3.5% increase to 16.8 million. Guess what they tout in Connecticut? Increased tourism.
The point of these ruminations is that just because the sun rises and sets while you are mayor, governor, president, king, or ruler of the universe, doesn't mean you caused it. When all is said and done there are some forces at work beyond the control of whoever happens to be in power.
1. Manhattan is one of the best brand names in the world for tourism. That is true no matter who the Governor, or Mayor, is.
2. Times Square is the number one tourist attraction in Manhattan and New York State so cleaning it up helped tremendously.
3. 9/11 affected tourism negatively. The 9/11 Memorial affected tourism positively drawing in millions per year since it opened last year.
4. The Statue of Liberty, Macy's, the Metropolitan Museum of Art, Woodbury Commons, and Niagara Falls are global destination points regardless of who is governor. Think in the millions.
5. If Cuomo wants to take credit for the tourism increase in New York than he needs to share it with Pataki and de Blasio and congratulate Jerry Brown for California's tourism.
6. The economy matters.
Again, the purpose here is not to deny the validity and significance of tourism in New York. But one would be hard pressed from this press release and the related articles to show that history tourism, especially upstate where the Chinese and Brazilians don't go, has benefited to the same extent as New York City. True, this press release was not directly about history tourism but reread the opening line of the press release:
As the Fourth of July weekend kicks-off this summer season, the Governor's summer tourism ad campaign invites residents and visitors to celebrate the state's history…
Cuomo's summer ad campaign in support of history tourism regards the Fourth of July weekend as the kickoff. The start of the summer tourist season according to Cuomo is not June 20-21 when the Path through History had its one and only "event" this year.  It's unlikely that anyone in the Albany-Manhattan bubble realized that it just admitted that the Path weekend is not part of the tourist season and is really a local community heritage celebration. Wouldn't it make more sense to promote history itineraries when people do travel in the summer rather than local events when they don't? But, of course, then Albany would have know about or help create those itineraries.