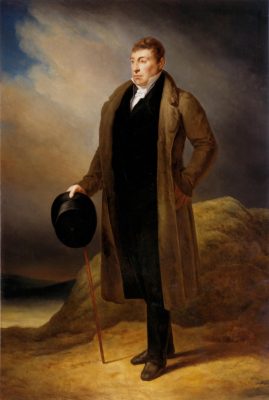 Lafayette made two trips to New England during his 1824-1825 visit. In a previous blog, The Lafayette 1824-1825 Bicentennial: Are You Ready?, I presented the 1824 visit. In this blog, I provide the stops on his 1825 visit. As you see, the 200th anniversary of Lafayette's visit in 2025 coincides with the 250th anniversary of the American Revolution. So, for example, he was at Bunker Hill for the 50th anniversary of the battle which now will be the 250th anniversary. It will be necessary for locations to keep in mind these potentially overlapping dates.
As I mentioned in the previous blog, I am working with two French/Lafayette organizations: American Friends of Lafayette and the American Society of Le Souvenir Français. This list was provided to me by the American Friends of Lafayette. Julien Icher is a member of that organization as well as the founder of The Lafayette Trail, a non-profit 501(c)3 organization that "aims to educate the public about the national significance of Lafayette's Tour and to promote a broader understanding of Lafayette's numerous contributions to American independence and national coherence in preparation for the 2024-2025 tour bicentennial celebrations." Readers of this blog may already have or be working with The Lafayette Trail to erect markers at their locations in recognition of his visit to their site.
In Lafayette's 1824 trip, he left New York and followed the Boston Post Road to Boston and the interior of New England. In his 1825 trip, he was traveling across New York from Niagara Falls along the Erie Canal (I-90 and Route 20 today) into Massachusetts and then northern New England. He ends fittingly at Lake Champlain where he boards one of those new steamboats, an invention that was revolutionizing tourism.
For more information about Lafayette's visit to New England, go to the New England Historical Society website:
When the Marquis de Lafayette returned to America for an extended tour of the 50-year-old Republic, he was no longer the slim young nobleman in a powdered wig.
At 66 years old, he had cropped his still-dark hair in the fashion of the day. He had acquired gravitas during his political career in France. Lafayette survived  the tumultuous years of the revolution and its aftermath, which for him included a five-year prison term.
I wonder how many streets and towns were named after him as a result of this visit just in your state yet alone the entire country of 24 states that existed then, all of which he went to.
Here in New York, I have contacted the New York State Historian about including Lafayette-related events on the state website for the American Revolution 250th events. He has agreed to include them. The situation may vary from state to state. I also hope to have my own County legislature designate the August 20, 2024 as Lafayette bicentennial day in the County with all the municipalities he visited that day participating.
If there are history/museum conferences in 2022, it may be appropriate to have a Lafayette session. Since any such conferences are likely to be virtual based on the present situation, it will not be possible to have a table or booth with Lafayette materials including how to get a Lafayette history marker if you do not already have one. Everything will have to be done online for now.
| | | | | |
| --- | --- | --- | --- | --- |
| 1825 | June 13 | Pittsfield | MA | Joseph Merrick's Coffee House |
| 1825 | June 13 | Dalton | MA | Nelson's Coffee House |
| 1825 | June 13 | Worthington | MA | |
| 1825 | June 14 | Northampton | MA | Warner's Hotel & Meetinghouse |
| 1825 | June 15 | Worcester | MA | Exchange Hotel |
| 1825 | June 16 | Boston | MA | Reception by Mrs. Quincy |
| 1825 | June 17 | Charlestown | MA | Bunker Hill Monument Ceremony – Webster's Address – Masonic Procession – Party at Mrs. Webster's on Summer Street |
| 1825 | June 18 | Quincy | MA | John Adams's House |
| 1825 | June 19 | Cambridge | MA | Divine Service on Brattle Street |
| 1825 | June 20 | Boston | MA | Banquet at the Mechanics Association |
| 1825 | June 21 | Reading | MA | Skinner's Tavern, Barnard's Hotel |
| 1825 | June 21 | Andover | MA | Theological Institution, Taylor's Hotel |
| 1825 | June 21 | Methuen | MA | Josiah Quincy's goodbye |
| 1825 | June 21 | Salem | NH | Londonderry Turnpike |
| 1825 | June 21 | Derry | NH | Derby's House / Adams Female Academy / Redfield's Tavern |
| 1825 | June 21 | Pembroke | NH | Fisk Tavern |
| 1825 | June 22 | Concord | NH | New Hampshire State House |
| 1825 | June 23 | Northwood | NH | Piper's Tavern |
| 1825 | June 24 | Wells | ME | Wells, Maine |
| 1825 | June 24 | Kennebunk | ME | Storer Mansion |
| 1825 | June 25 | Biddeford | ME | Seth Spring's Tavern |
| 1825 | June 26 | Portland | ME | Maine Historical Society |
| 1825 | June 27 | Hopkinton | NH | Hopkinton Common |
| 1825 | June 27 | Warner | NH | Meetinghouse |
| 1825 | June 27 | Bradford | NH | Address by Dr. Tappan – Unknown |
| 1825 | June 27 | Newport | NH | Cheney's house – J. Breck House, Common |
| 1825 | June 27 | Claremont | NH | Opera House Square |
| 1825 | June 28 | Cornish | NH | Cornish Bridge |
| 1825 | June 28 | Windsor | VT | Tremont House |
| 1825 | June 28 | Royalton | VT | Royalton Common / Bridge St |
| 1825 | June 28 | Montpelier | VT | Vermont State House |
| 1825 | June 28 | Woodstock | VT | Colonel Cutting's Hall / meetinghouse / Barker's Hotel |
| 1825 | June 29 | Lake Champlain | VT/NY | Aboard the Phoenix steamboat |