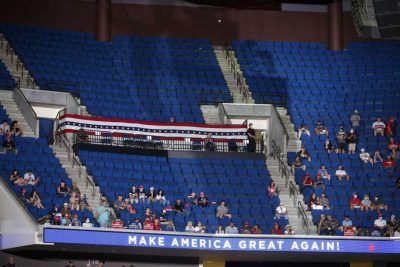 We all engage in wishful thinking. It is one way to remain optimistic, to keep up one's spirits, to have hope. It is also the proverbial Wiley Coyote running off the cliff – it works until you look down. Then SPLAT!
25th Amendment
Mike Pence has been a source of wishful thinking. When this administration began there were a series of blogs in History News Network (HNN) about him. They had to do with his activation of the 25th Amendment to end the current administration almost immediately. In a series of posts to  HNN, this contributor carefully explained how the 25th Amendment worked. But the analysis did not stop there. It was followed by a meticulously detailed description of every individual who would be involved in the implementation of the 25th Amendment to discharge the President and have the Vice President becoming the Acting President. The analysis demonstrated that the votes were there to make it happen. The writer confidently predicted that it would happen. If the current administration wouldn't be the shortest on record it would be close to it. Obviously the 25th Amendment maneuver didn't work or even happen unlike the Impeachment ploy. It should be noted that this writer also had confidently predicted that the 2016 elections would result in a Democratic victory with over 330 Electoral College votes and possibly over 350. All of this was pure wishful thinking. It gave the appearance of sound research while being based on absolutely nothing substantive. As you might expect, I don't read this blogger anymore. The again that writer has refrained from making predictions and sticks to anodyne summaries of the past.
Michael D'Antonio
Recently Michael D'Antonio decided to engage in some wishful thinking. His article "Time for Pence to jump ship?" was posted on not HNN but CNN (June 11, 2020). D'Antonio wrote:
With a schism forming [in the Republican Party], the time is ripe for a high-level official to make the dramatic break that would signal that someone is ready to stand as the leader of the post-Trump Republican Party. I would nominate for this job, Vice President Mike Pence. Unprecedented? Pretty much. But the Trump era is unprecedented too, and Pence signaled, when he agreed that he would be Trump's running mate, that he's willing to do the unexpected.
Here we can observe three examples of wishful thinking:
1. That there still is a Republican Party – the Republican Party no longer exists except in name. Actual Republicans like Romney in the Senate and some governors are few and far between.
2. That there will be a post-Trump Party after 2020 – unless his health really takes a turn for the worse he will not leave the stage especially after defeat. And if Eugene Debs ran for President from jail, so can a convicted person today.
3. That Vice President Brown Nose is willing to do the unexpected.
D'Antonio compounds his wishful thinking with the following:
Pence should weigh the merits of declaring he won't be vice president for a possible second term….Behind that mild-mannered persona lurks a savvy and opportunistic politician…. Conditions are perfect, in other words, for Mike Pence to observe that either he needs to spend more time with his family or believes the President would benefit from the excitement that would come were he to run with a fresh face — perhaps former South Carolina Gov. Nikki Haley — beside him. Pence could resign, saying Trump is just too loyal to fire him, and graciously make a path for himself to become the new leader of the GOP come the defeat of the Trump-Haley ticket in November.
It's hard not to laugh when reading this. After all, D'Antonio is the author of Never Enough: Donald Trump and the Pursuit of Success and co-author with Peter Eisner of The Shadow President: The Truth About Mike Pence. He is a serious, reputable person. His opinions are sought on talk shows. Technically, he has made a case on paper of the merits of Vice President Brown Nose taking a bold dramatic action that would thrust him into a leadership position post-2020 elections. But in fact, what D'Antonio wrote is pure unadulterated wishful thinking.
The proof was shown a few days later on June 15, 2020. The headline for The New York Times tells the tale:
As Cases Rise, Pence Promotes a Misleading Claim About Testing.
The article recounts how Pence "encouraged governors on Monday to adopt the administration's claim that increased testing helps account for the new coronavirus outbreak reports, even though evidence has shown that the explanation is misleading."  Not surprisingly, the false claim was the same on previously made by the President and which would be repeated in Tulsa. Stop the testing means stopping the number of cases of new infections means the deaths decrease.
There is no sign of bold dramatic action. There are two ways the D'Antonio scenario could work. One is if he became convinced beyond a shadow of a doubt that there was no way the ticket was going to win, he could abandon ship for his own survival. Second, if he got wind that he was going to be dumped for Haley, he might bow out first. But either way, he still would be Vice President until January and still perform as a Brown Nose. The result will be he sold his soul for nothing.
Trumpicans and the Coronavirus
Tulsa exposed the wishful thinking of Trumpicans. Consider these examples:
1. "This coronavirus is a little bit hyped. The media hypes things," Anonymous.

If only FAKE NEWS knocked off their hyped reporting, there would be no talk of 120,000 dead and they would not be dead either…or the deaths aren't really from the coronavirus anyway. Who knows how this unidentified electrician from Seattle is able to live in an alternate reality. The whole thing must be a hoax.
This second example lends credence to Trumpicans thinking it is a hoax.
2. "It's all fake. They're just making the numbers up. I haven't seen anybody die, not from coronavirus. I don't know anybody who's got it," said Mike Alcorn, Wichita, Kansas.
3. "I've been watching this closely over the last four months or so, and the numbers just don't add up," said Jeff Eskew, Oklahoma City, Oklahoma.
4. "[The virus] is a scare tactic more than anything. And I just don't believe all those deaths are coronavirus," said Donald Fanning, Wichita Kansas.
Do you see any global warming in your backyard? I don't see any global warming in your backyard. It's all fake, it's all made up.
How can you even blame China for a hoax? How can China be at fault if it's all fake? That's like saying the Bolton book is a complete lie but the lies are classified so it shouldn't be published.
Remember, Trumpicans like mainland Chinese only get their news from the government propaganda machine. What are the odds on Fox showing how much better Europe has done then the United States in reducing the number of coronavirus deaths? What are the odds of Fox showing how much better countries from around the world have done in stopping the coronavirus? What are the odds on Fox showing the rise in coronavirus deaths in Trumpican states because it is not a New York problem anymore?  The Trumpican wishful thinking on the coronavirus will continue until Trumpicans start dying in droves and they all do know someone who died from it. I suspect, that little by little more and more Trumpicans will learn to live in the real world because it will become more and more difficult to live a lie.
THE TULSA TURNING POINT
I am going to go out on a limb with my wishful thinking. Tulsa was nothing like it was hyped to be or I expected it to be based on the hype. Tulsa may signal the turning point. For weeks now, Little Donnee Wanney has been the equivalent of a caged animal who hasn't been feed. He was starved for the energy of a raucous crowd that would ignite his election campaign and power him to victory in November. Without the energy of Trumpicans he is just a tired irritable old man who has trouble walking down a ramp or raising a glass of water with one hand. With their energy he becomes the Lord and Savior, the Chosen One, Blessed Be his Name. There is no Plan B. He has no vision except that he be the center of attention and be re-elected so he can stay out of jail. If the defining characteristic of his campaign in 2016 is removed from him, he has nothing left but hissy fit tweets from his White House bunker. A crowd of over 6000 when 19,000 indoor and 40,000 outdoor were expected doesn't cut it. Where were all the people! Have they seen the light?
Tulsa is more than just a campaign event. True he can use it to take credit for making the country aware of a holiday that has been celebrated for 155 years. That is no small achievement. But Tulsa may be more remembered as a Toto moment. The curtain has been pulled backed. He looks not just like a loser to Biden but weak and wrong on everything: coronavirus, the economy, China, race, the courts, his niece, and his finances. Right now it seems as if the refs will have to throw a red flag for piling on just to save him. The military is not going to support him if he loses the election and claims "foul." Even Barr seems to have his limits. President One-Term won't want to leave the White House, but who will be left to help him remain there? All the adults are gone, the only ones left are loyalists and the son in-law. It will be easier to get him to leave the White House following an election defeat than I previously had thought. Perhaps Brian Williams is right to have started a countdown.