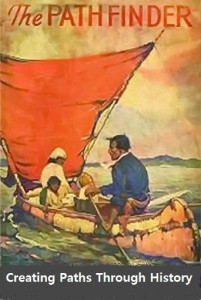 I attended The New York Times Travel Show at the Jacob Javits Center in New York City in January, as a member of the press for The New York History Blog. The event included a special session, "Focus on New York State Destinations," moderated by Tim Lewis, of Viator Inc.
The company apparently has been hired by ILoveNY to promote tours in New York State. Its website lists 19 tours in New York at present: 16 in Manhattan and three to Niagara Falls, including one-day trips from the New York City. There is a two-day bus trip to Niagara Falls from New York with a "Bargain shop at one of the large outlet malls on the way back to New York." New York State history does not appear to be a prominent part of its tour packages at present. Again, it should be noted, the company was hired to promote New York State tourism not history tourism in New York State.
According to Viator website:
Viator, Inc. sells tours and activities through the award-winning Viator.com website, ten local-language sites serving North and South American, European and Japanese markets, five fully optimized mobile sites and more than 3,000 affiliate sites that include major hotel chains and airlines, online travel agencies, city-specific sites and more. For travelers on the go – the Viator Tours & Activities App for iPhone, iPad, iPod and Android provides quick and easy hand-held access to the most memorable travel experiences, bookable up to the last minute, even in-destination!
During his introductory presentation, Tim Lewis took the opportunity to stress "destination activities" and his desire to meet with local destination sites in New York. He commented that when he visited Albany, he was unable to find destination activities.
Following the session, I introduced myself to him and followed-up with an email. It didn't take him long to identify the key weakness of the Path through History project: no one is working on creating itineraries which could be marketed or identifying the existing itineraries.
I have developed what I think is a solution to this shortcoming in the Path through History project: Pathfinders. Years ago I suggested that the $1 million Governor Andrew Cuomo pledged to the Path project be used to hire one person in each region to create paths. Obviously that didn't happen.
I also recommended that the history community learn to use the Regional Economic Development Council (REDC) process for funding, a subject that I covered in a recent nine-part series on the 2014 awards. Now the 2015 REDC season is gearing-up, and my recommendation to each and every region or county is to create Pathfinders in your region.
As I envision them, Pathfinders would be responsible for creating sustainable Paths through History itineraries using local historical assets to broaden the reach of New York history as a tool for economic development for businesses, communities, education, and recreation.
Pathfinders should be created for each individual Path through History region. Since they would be charged with creating sustainable paths through history, Pathfinders would serve for one to two years in each region. Hopefully, at the conclusion of the program Pathfinders will have produced tour programs which can be marketed to tour operators and be included on the Path through History website.
Ever since the Path through history project began, there has been no one to create paths through history, and now the failure of the last 2 1/2 years speaks for itself. There may be a way to create these paths using the REDC process, at a regional level (the REDCs only accept regional proposals). Although the language of the application would be nearly identical, their acceptance depends on the priority of heritage tourism in each region.
Since it is unlikely that New York State will ever fund the Path through History project on its own, any chance we have of turning the Path project into a success falls on the grassroots effort of those willing to serve as their regional Pathfinders.
Considering James Fenimore Cooper's book and the nickname of explorer John Fremont the first Republican presidential candidate (who is buried in Rockland County), the Pathfinder is espcially appropriate to New York's history community.