If Mike Pence were President, how many more Americans would be alive today? I posed that question in my blog on April 27, 2020, entitled If Mike Pence Were President, How Many More Americans Would Be Alive Today? At that time, I did not have a specific figure. I wrote this about the counterfactual:
This time we have hard-based scientific evidence that the situation could have been different. We know that social distancing and lock-downs work. It is possible to examine the dates of when cities in the United States (like New York) and cities throughout the world commenced a lock down. The numbers aren't hidden figures. They are visible in plain sight. We know that the earlier these actions were taken, the fewer deaths there would have been and would be.  The same applies to the states. It is possible to examine the numbers from the 50 states and observe how many lives would have been saved if a state had acted a day earlier, two days earlier, a week earlier, or two weeks earlier. We know with different national leadership fewer Americans would have died and the economy wouldn't have collapsed as much.
In my concluding paragraph, I wrote:
It is really not so difficult to imagine a different scenario being played out. The evidence is right there before us. We have the numbers. We have the multiple examples from the different cities, states, and countries.
Now we have the answer. A team of researchers at Columbia University have crunched the numbers and created a model in a report entitled "Differential Effects of Intervention Timing on COVID-19 Spread in the United States" by Sen Pei Kandula and Jeffrey Shaman. I don't expect it to be on the night stand of our elementary-school literate President or mentioned on Fox except perhaps in a derogatory way.
According to the study, the implementation of mitigation measures a week or two earlier would have made a substantial difference. They used the May 3 death toll of 65,307 as a control point for the number of deaths and March 15 as the date for the start of mitigation measures in the United States. The results for starting earlier are:
March 8 – a decrease in the number of deaths from 65, 307 to 29,410 deaths for a reduction of 35,987 or almost 55%
March 1 – a decrease in the number of deaths from 65,307 to 11,253 deaths for a reduction of 54,054 or almost 83%.
If we extrapolate the results to the pending 100,000 actual deaths, the results based on the March 1 date mean approximately 17,000 Americans would have died instead for a reduction of 83,000. Presumably these calculations would ripple through the timeline.
True, this is a model. But when asked by Jake Tapper on "State of the Union" about the impact of starting mitigation efforts in February Anthony Fauci replied:
"I mean, obviously, you could logically say that if you had a process that was ongoing and you started mitigation earlier, you could have saved lives…  Obviously, no one is going to deny that."
My immediate reaction on hearing that comment was that obviously one person was going to deny that. After all he rated himself a "10" and wouldn't change anything he has done. Fauci went on to say:
"We make a recommendation. Often, the recommendation is taken. Sometimes it's not. But we — it is what it is. We are where we are right now."
Would we be where we are right now if the Senate had voted to remove the impeached President and Mike Pence had become President in February instead? We will never know but I think it is safe to say he couldn't have done any worse. We certainly never would have heard of hydroxychloroquine or have considered the feasibility of disinfectants. Time Magazine has reported a spike in accidental poisonings with household disinfectants (May 25, 2020). The number of prescriptions for hydroxychloroquine has nearly doubled now that it has the Presidential seal of approval. How long will it be before the lawsuits against the government start?
But, of course, Mike Pence did not become President? Could he have risen to the occasion and become a profile in courage against the buffoon President? Could Vice President Brown Nose have cast aside his subordinate identity and become as outspoken and dedicated to the truth as Fauci is? I asked that question in a blog on October 3, 2019, minus the Fauci reference, entitled Will Mike Pence Become a Profile in Courage?   The blog gave me the opportunity to compare Pence to a lookalike Star Trek figure Captain Merik in "Bread and Circuses" who did rise to the occasion.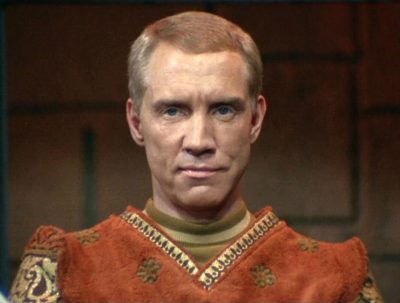 My conclusion then was that Pence would not:
What will Mike Pence do? He prides himself on his Christian values. Will he tell the truth? He prides himself on never dining alone with a woman who is not his wife. Will he tell the truth? He prides himself on his integrity. Will he tell the truth? He thinks he is part of God's plan. Will he tell the truth?
No. Even his staff knows the truth does not register with him.
He will not rise to the occasion.
He will not be a profile in courage.
He never would have been picked for the position of Vice President if he was.
Thinking about this topic now caused me to reread The Atlantic article God's Plan for Mike Pence by McKay Coppins (January/February 2018). Coppins began by describing Pence's appearance at a political rally where he passed on the good wishes of the president.
He delivers this message with a slight chuckle that has a certain, almost subversive quality to it. Watch Pence give enough speeches, and you'll notice that this often happens when he's in front of a friendly crowd. He'll be witnessing to evangelicals at a mega-church, or addressing conservative supporters at a rally, and when the moment comes for him to pass along the president's well-wishes, the words are invariably accompanied by an amused little chuckle that prompts knowing laughter from the attendees. It's almost as if, in that brief, barely perceptible moment, Pence is sending a message to those with ears to hear—that he recognizes the absurdity of his situation; that he knows just what sort of man he's working for; that while things may look bad now, there is a grand purpose at work here, a plan that will manifest itself in due time. [bold added]
Did you notice that "slight chuckle" at any of the coronavirus press conferences? You probably noticed the grimaces and groans of Fauci and Birx as the simple-minded immature child wandered off into his imaginary world. As for Vice President Brown Nose, nary a facial expression of any kind except beaming adulation. At some point someone will document the timeline of when and why Pence sold his soul.
Coppins also reported Pence as saying:
"We've come to a pivotal moment in the life of this country….It's a good time to pray for America." His voice rising in righteous fervor, the vice president promises an opening of the heavens. "If His people who are called by His name will humble themselves and pray," he proclaims, "He'll hear from heaven, and He'll heal this land!"
It is quite possible Pence actually believes what he is preaching. If McConnell has been the conduit for the appointment of conservative judges, then Pence has been the conduit for white evangelical Christians to the White House. He's doing God's work.
Pence is following God's plan.  "If you're Mike Pence, and you believe what he believes, you know God had a plan," says Ralph Reed.
Coppins own analysis probably written at the end of 2017 is tinged with tragic irony given what has occurred.
Pence is a man who believes heaven and Earth have conspired to place him a heartbeat—or an impeachment vote—away from the presidency. At some crucial juncture in the not-too-distant future, that could make him a threat to Trump.
We had the impeachment. Did you notice any change in Pence? We are having the coronavirus crisis. Did you notice any change in Pence? Do you think the President ever worries about the Vice President telling the truth?
Coppins observed:
In Pence, Trump has found an obedient deputy whose willingness to suffer indignity and humiliation at the pleasure of the president appears boundless.
Still true over two years later.
Kellyanne Conway: "Mike Pence is someone whose faith allows him to subvert his ego to the greater good."
Pence's belief in "servant leadership" makes him a perfect patsy for a skilled con artist who knows how to manipulate people.
Evangelical Marc Short [White House director of legislative affairs] told me that in moments of need, Pence turns to a favorite passage in Jeremiah: "For I know the plans I have for you, declares the Lord, plans to prosper you and not to harm you, plans to give you hope and a future."
Coppins noted this passage in conjunction with the Hollywood Access tape crisis. What exactly is that plan? Is it to go down with a sinking ship? Is it to stand idly by and watch tens of thousands of Americans die? When will that divine plan manifest itself? According to the evangelical Vice President in April:
"I truly do believe that if we all continue to do that kind of social distancing and other guidance broadly from federal and state officials, that we're going to put this coronavirus in the past. I believe by early June we're going to see our nation largely past this epidemic. I think honestly, if you look at the trends today, that I think by Memorial Day weekend we will have this coronavirus epidemic behind us."
The day of reckoning is upon us. Memorial Day Weekend is here. Will Pence face the truth of his failed prophecy? Will he see the light at the end of tunnel? Will he rise to the occasion? Will he be the leader America needs? No. No. No. And no. Are you kidding me? He will claim his prophecy has been fulfilled just as his Lord and Savior, the Chosen One, Blessed Be his Name, will.