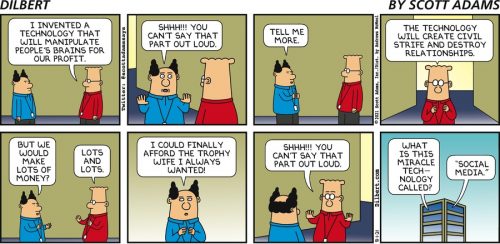 Do Tucker/Trump oppose the socialist chlorination of water? That action seems to match all the criteria deployed in the current opposition to vaccinations. It is based on science. It is a central government action. Individuals have no choice unless they are not connected to the municipal water system. For that matter, what do Tucker/Trump think about the mandatory requirement to use seat belts? Do they applaud the heroic individuals who decline to buckle up? Is the use of seat belts for children an example of child abuse?
What is going on here? Why is Tucker embarrassed to admit that he was vaccinated? Why is Trump not pounding the pavement in support of the Trump vaccine? This situation highlights that other considerations are involved besides "just the facts" or the merits of the case. Yes, vaccinations have been weaponized in the culture wars as masks were before it. Who knows if the chlorination of water be allowed if it were invented today.
LEADERSHIP
Tucker Carlson and Donald Trump are not leaders. They are channellers. They feel your pain to exploit their gain. They do not cause your grievance but they are skilled enough to sense its existence. Then they can amplify it, use it, profit from it. However, they do not cause the grievance or pain in the first place. The subtitle in the recent article in Time about Tucker tells it all: "By stoking the culture wars and peddling white grievance, TUCKER CARLSON has become the standard-bearer of the right." Notice, he stokes the existing grievance. As the article suggests, Tucker provides excuses for people to express beliefs that they otherwise might feel uncomfortable with but already had.
And if Tucker/Trump disappear from cable TV or politics, the grievance and pain do not disappear with them. Then the people simply seek or require another mouthpiece to speak for them.
In some ways, these con artists remind me of some of the figures I see in science fiction shows (Star Trek). From time to time there will be aliens with telepathic powers of some kind. They may simply read your thoughts. They may seek to manipulate them for various reasons. But they do no create them. They may tap into the deepest parts of your brain to bring to the surface memories you suppress or ignore. Then those memories provide the alien with the opportunity to exploit you.
Con artists like Tucker/Trump work the same way. They are not leaders in the sense of being able to get you to do something you do not already want to do. An example of a channeller versus a leader was just displayed by Sean Hannity. Out of nowhere, he decided to tell the truth about the coronavirus and the need to be vaccinated. Perhaps someone he knew had died or been hospitalized. He couched his plea in the standard Foxhub rhetoric: talk with your doctor, your decision is confidential, you have freedom of choice. Still the thrust of the message was clear: YOU NEED TO BE VACCINATED NOW!
His message led to an immediate blowback. Viewers could see through his attempt to sugarcoat it that he was asking people to listen to Fauci and do what they already had decided not to do. In other words, he was trying to lead them. The effort failed. The result was he did a Kevin-McCarthy on 1/6. He walked back his failed try to be a leader. He should have known that. Remember when after the election Foxhub lost viewers to other media outlets fully dedicated to the alternate universe. Then Foxhub responded by doubling down on the partisan hype. Most likely Hannity will never again make the mistake of trying to lead his viewers. Instead; he will amplify their fears, insecurities, and need to believe in their view of the world regardless of what is really happening.
One observes the absolute refusal to abandon beliefs in the actions that otherwise defy commonsense. People on death bed exclaim how could they be dying from the coronavirus hoax. Even the hospitalization and looming death of child is not enough to sway true believers from their course. Their minds have been so manipulated and exploited over the years by Tucker/Trump and others that they have lost the capacity to think straight. The increase in vaccinations over the past week show that some people finally are getting the message that the virus is for real. Unfortunately it also reveals how many people cannot be reached.
One might think that the former President would be campaigning full-stop to have his followers be vaccinated. After all, he sometimes like to take credit for the development of the vaccines under his Warp Speed program. Sometimes the vaccine even is called the Trump vaccine so as not to give Biden any credit. And he was vaccinated himself. So why hasn't he been championing the use of the vaccine?
Here we see that he is not a leader. He knows what Hannity learned by exposing himself to his viewers in his failed leadership initiative. He knows that if he tells his followers to be vaccinated they will not listen to him. Being a warrior in the culture wars trumps everything.
RONALD REAGAN
Consider the contrast with Ronald Reagan. Suppose something comparable had happened during his eight years as a two-term president. Would Reagan have worn a mask? Of course he would have. Wearing a mask did not threatened his masculinity and make him a wimp. It is simply what needed to be done to protect him and his fellow Americans from a threat. He would have made jokes about wearing a mask. He would have told stories about his days in Hollywood making westerns and wearing a mask. We are talking about someone who could make jokes even after he was shot in an attempted assassination. He would have worn a mask and so would the people who heroically refuse to today.
When the former President yanked off his mask on the White House balcony after having been released from the hospital, he was catering to his followers, not leading. The hope of some staff people that now he had seen the light and would be a leader were dashed. He remained true to himself as an insecure weeny con artist who failed to even try to be the leader the country needed. He is not going to jeopardize his extremely successful funding con by taking a leadership position.
In an earlier blog, I suggested that President Biden invite the former President to the White House to promote vaccination in a show of strength. A few days later, Frank Luntz, on CNN Andersen Cooper, made the same suggestion. Such pleas are for naught. Put aside all the comments made above and keep in mind that with our loser ex-President it is always about him.
The needs of the one outweigh the needs of the many. Think of how he condemned all the Republicans who voted on behalf of a bipartisan infrastructure bill. How could he appear at the White House with the person who stole the election, who is almost senile, and who is one-step from death's door? He can only appear at the White House if it is to remove the present occupant as will happen on August 13. Otherwise the hitman would be legitimating Biden's steal and undermining his own re-election chances.
So, no, Tucker/Trump will not call for ending the socialist chlorination of water based on science. They will not because at present, there is no grievance about chlorination of water for Tucker/Trump to exploit. But if the coronavirus vaccine was distributed through the public water system, then all bets are off. Just as all vaccines are questioned now, so would the chlorination of water. And remember, in Dr. Strangelove, the purity of water was enough to blow up the world.